United Plans November Update to
Online Payment Services Portal by MAURI MONTGOMERY
Quote
Credit card information previously stored for MyAccount online bill pay transactions will need to be updated on the new payment portal.

Robert Bernhoft
United Cooperative Services will be launching a new payment service beginning Nov. 1, 2022, that offers members greater flexibility to view and pay their electric and high-speed internet services bill online.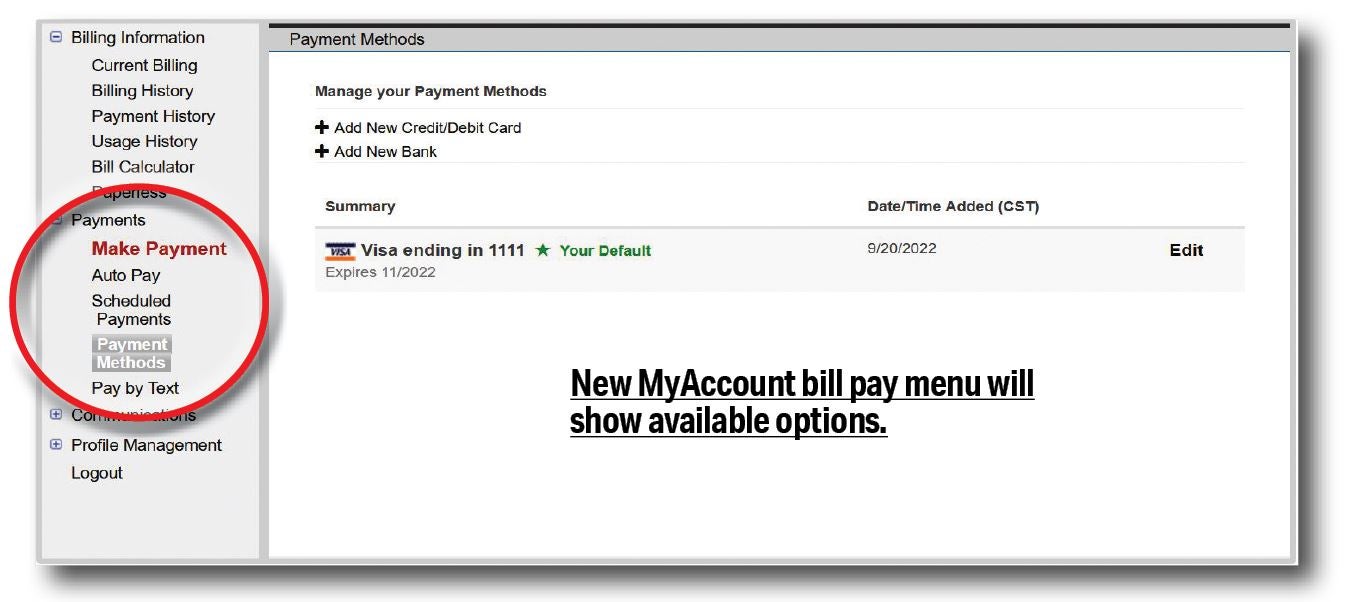 Additionally, members will have more choices in how they pay their bill, including by text message. In order to offer these enhancements,  United is changing its credit card processing vendor.
For cyber security reasons, United will not be able to transfer member Credit Card Draft (autopay) information from the current processor  to United's new credit card processor, InvoiceCloud.
 Members will need to re-establish their Credit Card Draft (autopay) after Nov. 1, 2022, to ensure their payments will be processed.
"To protect members' personal information, we do not store and cannot transfer credit card information currently residing in the system between different credit card payment processors," said Robert Bernhoft, senior vice president of information services and security. "Because of that cyber security imperative, that means that any members who have stored a credit card in the old system must re-establish their information on this new system."
Despite that temporary inconvenience, Bernhoft explained the new, modernized online payment portal will provide members more options in how they conduct cooperative business online. Many of the new features that will be offered in the November launch have been requested by members as United's online payments transactions have widely eclipsed other  preferred payment methods over time.
As part of the payment processing upgrade, members will be able to select from options such as:
Family members don't have to sign up for MyAccount to make a one-time payment on behalf of others.
Members can opt to receive text messaging  about their account, and if a credit card is saved on the system, they can respond to the text with PAY NOW to make a payment in full.
Members can choose to make a one-time ACH payment each month.
BIG CHANGE! SCHEDULING PAYMENTS:
MyAccount holders will be able  to schedule a payment for anytime between the day the account is billed and the due date of the bill.
Payments through Google Pay, Apple Pay and Venmo.
Bernhoft added that by moving forward with the new credit card processor/gateway to enhance current MyAccount features, the cooperative is also now going to have more latitude in adding more new features that members might request in the future.
"Beyond changing account payment info, it's a perfect opportunity for members to update all their United account information," Bernhoft said. "Ensuring the cooperative has every member's current email, mailing address and phone numbers is vital to providing members with exceptional  service and value."