MEMBERSHIP HAS ITS REWARDS
---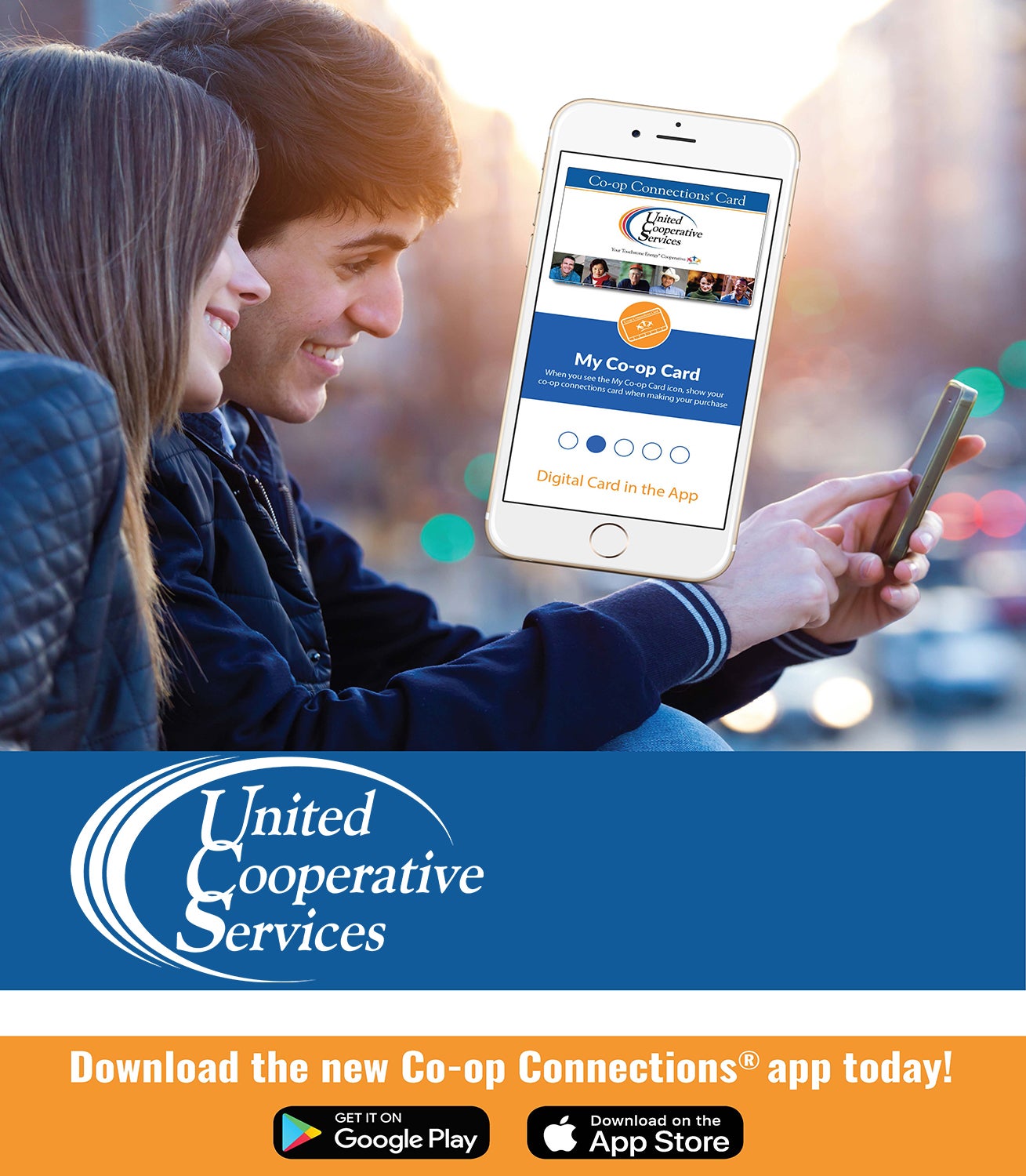 As a distribution cooperative, we at United constantly look for ways to help members control energy costs. Through a national program, we now have an opportunity to help our members save money at cash registers across the country.
The Co-op ConnectionsSM Card and phone app offer members significant discounts on products and services while increasing customer traffic and sales at participating local retail businesses.
The original plastic cards, provided at the co-op or downloaded through the connections.coop website, still offer excellent savings in United's service territory. Participating businesses are identified by a Co-op Connections sticker on their storefront windows or at registers.
The Co-op Connections app allows members to take the savings with them on their smart phones, which enhances shopping and convenience of saving while traveling—a distinctive difference between the app and the card.
By simply adjusting the zip codes on the mobile app, members can take advantage of co-op-specific discounts as they travel between co-op service territories across the country. Members can review all participating businesses easily through the app, use coupons straight from their phone or computer and receive deals from local businesses and thousands of national companies.
Members can access up to 480,000 deals with restaurants, grocery stores, theme parks, movie theaters, event tickets and more. Healthcare deals also abound for personal and pet prescriptions, dental, vision, hearing, chiropractic visits, lab work and imaging.
The card's pharmacy discount will save United members 10-60 percent on prescriptions at more than 60,000 national and regional pharmacy chain stores. This is possible through an arrangement with New Benefits, a nationally recognized provider of noninsured health benefits. Participating stores include Wal-Mart, CVS, Walgreens, Target and many more.
United continues to cultivate local businesses willing to offer discounts to our members. The Co-op Connections Card program serves as an effective economic development tool, designed so that participating businesses will benefit from free promotions in co-op communications and advertising materials. Area businesses can call any local United office and ask to participate.
Get Started with the App
Create an account on www.connections.coop.
Download the mobile app.
Login and immediately start saving.
WANT TO OFFER A DISCOUNT?
---
Seth Rosser
Energy Solutions Manager
email: connections@ucs.net
Download the Business Benefits Brochure