WALMART ENSURES EVERYDAY LOW PRICES FOR CUSTOMERS. UNITED HELPS THEM DO JUST THAT.
---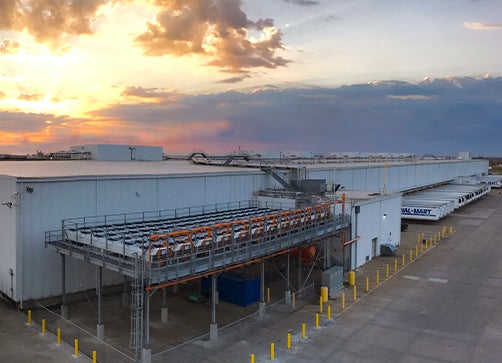 The 880,000-square-foot Walmart distribution center in Cleburne opened 20 years ago in United service territory. The distribution center is where vendors bring products that are to be distributed to stores. They store everything from perishables to toilet paper, so having a reliable energy source is crucial to keeping products in top condition for their customers.
Walmart DC is considered a high-velocity distribution center because it is not only used for storage but also to distribute their vendors' products to grocery stores quickly and cost effectively. With about 300 truckloads of products coming in and out daily, Tim Irish, energy center manager and employee of 20 years, says that the distribution center relies heavily on the service aspect United provides in order to keep the center running. Irish said that United does what they say they will and are fast to respond to any problems that arise. From tripped breakers to worn out transformers, United has arrived quickly on the scene to determine and fix the source of the problem.  He said even amid extreme weather conditions and rolling power outages during Winter Storm Uri, proactive communications from United helped the distribution center to make proper adjustments in advance to allow for continuing operation.
Irish said that compared to other energy providers in the market United provides competitive rates that enable the center to efficiently support their 967 employees and maintain their supply schedule for the centers large stock of items. Safely delivering quality products at a low price is of the utmost importance to the Walmart distribution center, and the electricity and service provided by United plays a major role in doing so.