United members gather at the Mansfield Community Meeting for a night of
cooperative updates, barbecue and learning more about their electric co-op. by JOHN DAVIS
The through-line was simple: the co-op belongs to the membership.
United CEO Cameron Smallwood welcomed a small gathering of Mansfield members June 22 for an informal town hall and barbecue dinner. During the event, he explained what a co-op was and how it operated. He also described the changes that followed 2021's Winter Storm Uri and how officials have worked to shield members from future issues.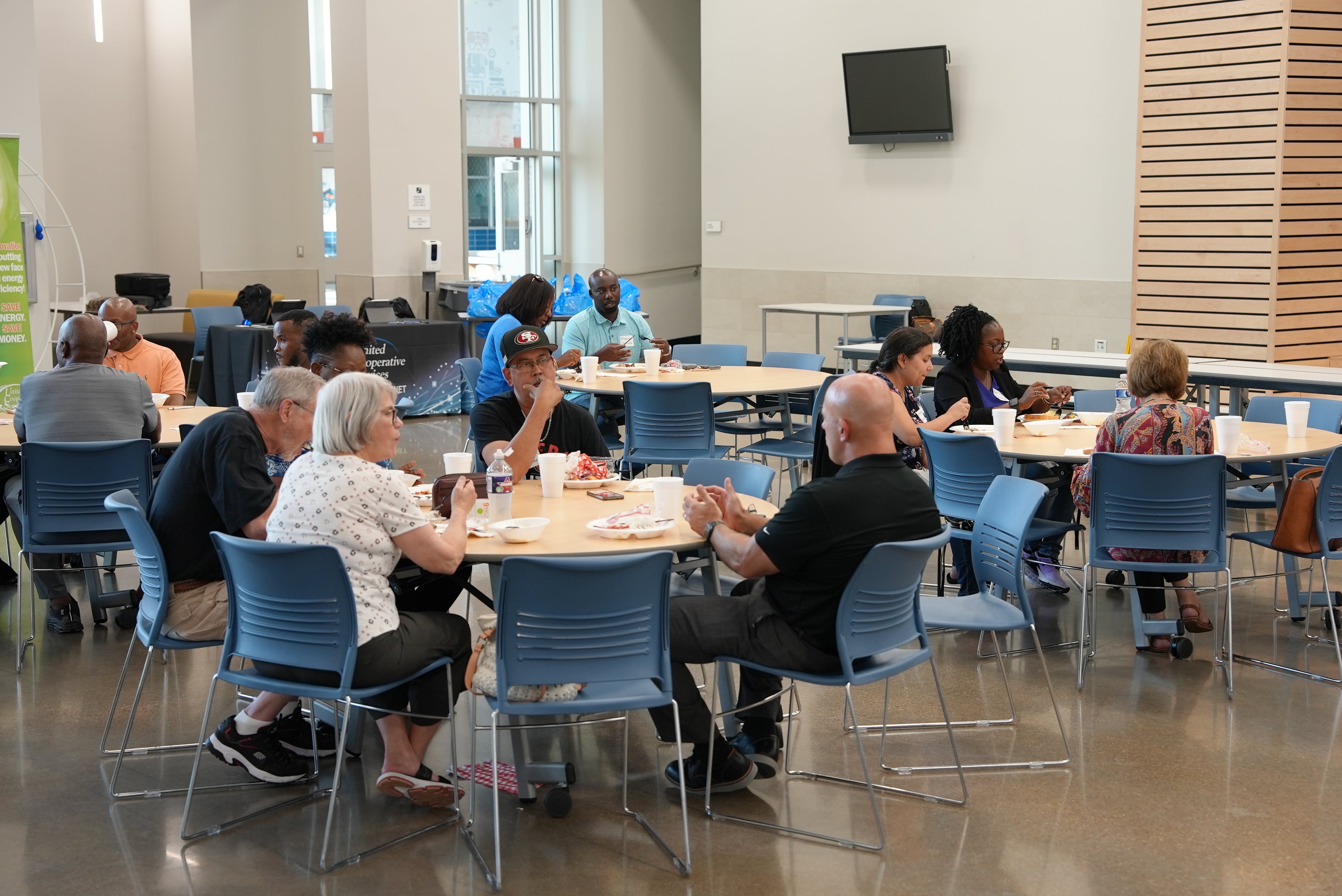 Smallwood started with a primer on the co-op for the benefit of members who had recently moved to United's service territory, since about 60 percent of attendees had been on United's lines for fewer than three years.
"You may not be familiar with the electric co-op," Smallwood said. "You may have moved here from, let's say the Dallas/Fort Worth area to Mansfield, and you don't really know a whole lot about us. But we're a member-owned company. We are a member-owned nonprofit. And so, when you buy your electricity from us, you're basically buying it from yourself. We try to do everything we can to keep the cost as low as we can and we're going to talk a lot about costs tonight and answer any questions that you have as to how that works."
As a non-profit entity with a democratically elected board selected by the membership, Smallwood explained that the co-op's motivation was in delivering exceptional service and value to its membership rather than enriching the organization. He described how any profits the co-op makes are placed into a patronage account for each member. The board determines if the co-op can return a portion to members at the end of the year in the form of member dividends.
"Ultimately, anything that we make in profit goes under your name for that year, and it comes back to you in the future," he said. "That's how it works. So, our motivation is service and value. It's not on making profit, because if we charge too much and make a bunch of profit, that doesn't make any sense."
During the past five years, Smallwood said he's seen more change than he's seen since he began his career 25 years ago. The largest changes followed Winter Storm Uri and their effects on United and the Texas electric industry.
As part of the Brazos Electric Cooperative bankruptcy settlement following the conclusion of the trial in November 2022, Brazos no longer generates electricity and recently completed the sale of its generation plants. While still a co-op, Brazos now provides transmission service that feeds its member-owner co-ops as well as maintains the substations that it's always owned. However, that change required co-ops such as United to find another energy provider.
Smallwood said United began purchasing electricity for members from Constellation Energy on March 1 of this year.  And while energy prices in Texas are still more than they were before Winter Storm Uri, United's new generation provider costs about two cents less per kilowatt hour than the high and regularly fluctuating rates United members saw from Brazos prior to the switch.
Along with price stability, the contract with Constellation has already provided members with price protection this summer as wholesale prices shot up to $5,000 a megawatt hour, he said.
"One of the so-called fixes that the government instituted in Texas following Winter Storm Uri was they were going to lower the cap from $9,000 a megawatt hour down to $5,000 a megawatt hour. So,  the highest it can get in the wholesale market is $5 a kilowatt hour instead of $9. Well, that happened in June, just to put it in perspective. The market got really tight yesterday with the heat, and folks, we haven't really gotten that hot yet. We've got hotter days to come yet, right?
"So the market reacted. It went to $5,000 per megawatt-hour for a couple hours and it stayed elevated basically all that day. Your price didn't change because of that. The kind of contract that we have now is a set-price contract, regardless of what the market is doing. Constellation is responsible for managing all that volatility."
The contract with Constellation also stipulates that members will also see wholesale power rate decreases each January during the three-year life of the contract, he said.
While some members have recently inquired about United opting into retail competition to allow members to choose their power providers, Smallwood said the vast majority of members have been against the idea since the co-op began straw-polling members during various town hall events in the past two years.
Straw-polling has revealed a 90-10 percent split between those against joining the retail market to those for joining. That same straw-poll split existed with the gathering at Mansfield.
When Texas deregulated the market in 1999, electric cooperatives and municipal electric companies were not required to opt in like investor-owned electric companies were.
Economic data since that time has shown that it has saved co-op members considerable money not to opt in.
Opting in could mean United would pay millions of dollars in new costs to meet the technological and regulatory requirements to opt in. Those costs would be added to members' bills.
Also, United has a relatively small number of meters in United's territory compared to large cities with millions of consumers, he said. That could mean fewer retail electric providers (REPs) would be interested in offering energy plans.
Fewer offerings would mean less competition and less opportunity for members to experience the same choices for sometimes cheaper energy available in the larger markets.
"Bottom line is we're a co-op," he said. "We're your co-op. You're the members. You're the owners. We are going to do what the membership wants."