How the Affordable Connectivity Program is Helping United
Members Enjoy Internet Services Without Breaking the Bank by KANYON PAYNE
The program saves her money each month and helps make her United high-speed internet possible.
Chelly Nail, a resident of Alvarado, has saved more than $500 dollars off her United internet bill since she began participating in the Affordable Connectivity Program (ACP) in 2021.
"The program has been great," she said. "I have only had to pay $40 a month for 700 Mbps. This is of tremendous value to me as a member of United Cooperative Services. I'm raising two kids, ages 10 and 13. Both are gamers, and both need reliable high-speed internet to complete their homework."
Nail said she was especially thankful for the plan's assistance after recently navigating challenging financial times as she launched her own business.
"I am starting my own dog training business," she said. "Having high-speed internet to perform all my business needs is imperative. With the service I have received thus far, I have zero fear that the internet service will be able to handle my business's needs. It may not seem like a lot. But when you have challenging times and with inflation so high, that $30 discount adds up."  
To date, about 90 members across United's service territory have taken advantage of the Affordable Connectivity Program, and those enrolled have saved more than $30,000 since the program began. Originally created as an emergency internet fund during the pandemic, it now aims to help those who qualify to save significant money on their internet bill every month.
Here's what members need to know about the program and how to qualify.
What is the Affordable Connectivity Program?
The program is a Federal Communications Commission benefit program that provides a discount of up to $30 per month towards internet service for eligible households. ACP eligibility is limited to one monthly service discount per household.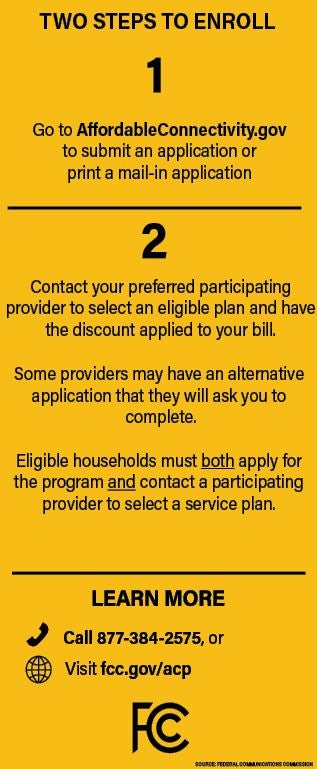 How does the program work?
The ACP provides a discounted rate to eligible households for broadband internet services. To become a participating provider, an internet service provider must apply and agree to offer discounts to qualified households. Eligible households can receive a discount off the regular price of internet service.
Once an eligible household is approved, they will receive a monthly discount on their internet bill. This discount will be applied directly to their bill each month until the end of their participation in the program. Participating providers, such as United, must also provide additional benefits to eligible households, such as free or low-cost installation and no-term contracts.
What are the benefits of the program?
The ACP is designed to provide consumers with access to reliable and affordable broadband services. The program has several key benefits for consumers, including the following:
Empowering consumers to choose the service plan that best meets their needs (including a plan they may already be on). Consumers can select from plans that offer different speed tiers, data usage options, and other features, allowing them to make an informed decision about their internet service.
Ensuring consumers have access to supported broadband services regardless of their credit status. The ACP does not require consumers to pass a credit check to take advantage of the program. This ensures that those with past due balances or prior debt will still be able to access the program's benefits.
Prohibiting providers from excluding consumers with past due balances or prior debt from enrolling in the program. This ensures that all eligible consumers have access to the same ACP discounts, regardless of their financial history.
Preventing consumers from being forced into more expensive or lower-quality plans to receive the ACP. By providing a set of standard offerings, consumers are guaranteed to receive the same level of service regardless of which provider they choose.
Providing a dedicated FCC process for ACP complaints. Consumers who feel they have been wrongfully charged or denied access to ACP can file a complaint with the FCC, who will investigate any issues.
How to sign up for the program
To apply for the program, members can begin the process by visiting United's ACP page at www.ucs.net/affordable-connectivity-program. The page contains a program application link and a member questionnaire to assess eligibility.  Once a member's application is initially approved, they are then required to fill out the ACP web form at https://www.getemergencybroadband.org/ and provide their application ID, date of birth and the last four digits of their social security number. United Cooperative Services will then enroll members into the program, and the member will begin receiving the savings on their internet bill.
For more information on the ACP program, please visit United's website at https://www.ucs.net/affordable-connectivity-program.