United's Meter Upgrade To
Conclude By Year's End by JOHN DAVIS
Even long roads come to an end.
United officials say the co-op is on track to complete by the end of the year a long-range project to replace more than 100,000 electricity meters made obsolete by their manufacturer. In their place will be the next generation of Advanced Metering Infrastructure (AMI) technology that offers better data and improved communications with United's system operations center.
The new AMI metering technology measures a member's electricity usage in the same way as the old meter that was replaced, said Jared Wennermark, senior vice president of planning & procurement. However, the new meter sends usage and other data in 15-minute increments over a wireless mesh network. The obsolete model sent usage data back to the co-op offices over the power lines once daily, and those readings were two days old.
"The communication technology that we were using with the meters had about a 15-year life, and we were approaching that timeframe when we started this project in 2020," Wennermark said. "Last year, the manufacturer completely discontinued making brand new meters of the older version we were using. So, it was a forced issue from the manufacturer as well as just the normal end-of-technical-life. The communications piece of the meter uses wireless technology like your cell phone or Wi-Fi. We stretched it out as long as we could, but eventually you just can't keep communicating with the meters using the same old technology. The newer, improved meter communications technology is much better, much faster and much more secure."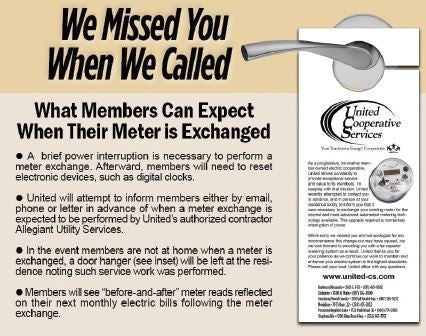 After piloting the new meters in 2016, United's contractor began a system-wide meter exchange throughout the service territory in 2020. The new meter's improved communications capabilities mean members and United energy solutions specialists have access to better usage information and faster recognition of problems on the lines for United crews, he said. That data can be used to more accurately detail a  member's usage patterns, which in turn can help them detect malfunctioning equipment in the home or help better explain to members how they can save energy and energy dollars.
The new meter communication system helps the co-op's ability to identify, isolate and determine the scope of outages, improving response time and speeding power restoration efforts, Wennermark said. It can assist with improving power quality across the distribution system and help identify blinks and voltage issues. It can also help improve safety by detecting potential overloads before they occur as well as provide real-time alerts from tampering or theft.
The new meters provide increased operating efficiencies to United since connection orders can be conducted remotely rather than in-person, such as connecting or disconnecting service.
Members likely will never notice a difference between the older, first-generation digital meter outside their homes and businesses and a new cutting-edge wireless digital meter. Technicians began with an initial 24,000-meter deployment in the cooperative's easternmost service area. Similar deployments have followed every year since.
"Looking at recent social media posts, there is a big misconception among some members who think the new meter's communication technology is somehow changing the meter readings," Wennermark said. "It does not. The new meter counts usage in exactly the same way as the older meter. The way it reads the actual kilowatt hour usage hasn't changed at all. It's digital. It's been digital. The only difference is the way it communicates that reading back to the office. Everything else stays the same."
Some members have been opposed to having their meter exchanged for the newer technology because of the false rumor, he said.
"We've explained to them that they've actually been using an advanced meter for the past 15 years or more," he said. "We'll put the meters side-by-side and show them they look exactly identical. They're both digital meters with an LCD screen. We haven't used an old gear-driven meter with the dials in decades."
In order to perform the meter exchange, a momentary interruption of power is necessary. Once the new meter is installed, members can view that data by logging on to their MyAccount at www.ucs.net. For more information, visit the Metering Upgrade page under the My Cooperative tab, or call any United office.