United's Residential and Business VoIP Services Can
Take Homeowners and Businesses to the Next Level
by ELVIN AMAYA
Voice Over Internet Protocol (VoIP) has revolutionized the way people can communicate by allowing users to make and receive phone calls, send and receive faxes and participate in video conferences by using  the internet rather than through the traditional phone line.
One of the greatest benefits of using residential or business VoIP services is cost savings. When VoIP services use the internet to transmit voice and multimedia communications, they are typically less expensive than traditional telephone services.
Due to its versatility, United has embraced this technology and offers it to internet members. United's VoIP services are perfect to suit the needs of  residential and small- to medium-sized businesses. However, United also has enterprise custom options to fit any large business' needs. The affordability of all United VoIP services can help residential members save time and money, and provide businesses in United's service territory with today's communication capability needs while  maximizing cost controls and lowering overhead.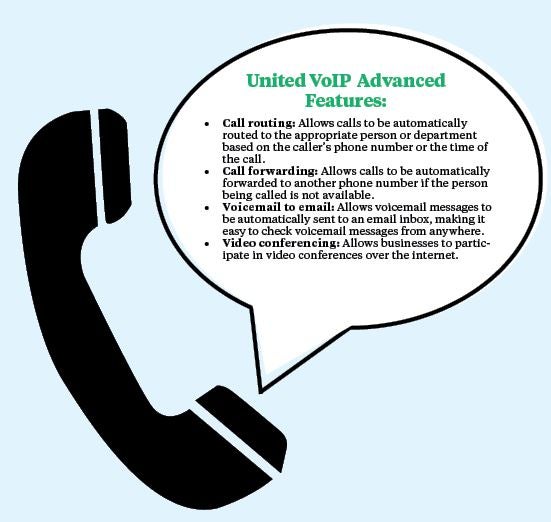 VoIP Products for Every Application
United offers a wide range of residential VoIP services that meet the needs of the member's home for $14.95/month. Residential VoIP services include features such as caller ID, call waiting, voicemail and call forwarding.
The co-op also provides two types of VoIP services designed to support the unique needs of businesses.
Business line replacement costs $19.95 a month per line, and United will become the voice provider for businesses that already have an on-premises phone system.
United also offers a hosted VoIP service. This cloud-based phone system requires no physical equipment besides the phone itself. Businesses can furnish each employee the VoIP service for only $19.95 a month and a $10 monthly phone rental fee for the handset. The entire service costs $29.95 a month per line.
United's VoIP services include advanced features that are normally associated with an extra cost when using traditional phone services.
These bonus features include call routing, call forwarding and voicemail to email, which can improve the efficiency and productivity of businesses. With the flexibility of VoIP services, businesses can make and receive calls from anywhere with an internet connection. United also has the ability to port over an existing phone number. Though this process can take up to 10 business days to complete, it prevents having to receive a new phone number, updating printed materials to reflect that new number and communicating the updated number to current customers. Businesses can also take advantage of  United's highly scalable VoIP services. This means that as a business grows, it can easily add more phone lines and extensions to its service to meet growing demand. United's business VoIP members also receive a comprehensive support service that includes technical support, training and consultation to ensure that businesses can take full advantage of their VoIP services while quickly resolving any issues that may potentially arise.
VoIP services rely heavily on the internet. Users should realize that if the internet connection is lost, phone service will be lost as well. United recommends connecting your  phone to an uninterruptible power suppy (UPS). Relying on a UPS can ensure phone usage for the duration of the UPS battery life in the event of  a power outage.
Furthermore, the quality of the internet connection can impact VoIP services. Slow or unreliable connections result in poor VoIP quality.
However, United's world-class high-speed internet alleviates this problem. United's network is built with multiple redundancies and problem prevention measures to ensure a stable, dependable connection for internet and voice needs.
United's VoIP services provide cost-effective and feature-rich communication solutions for all scenarios of residential and business applications. For more information, or to request the service, go to connect.ucs.net or call any United location and ask to speak with a United internet representative.