Members Use Paper, Online Voting to Select Directors
for Districts 6, 7 as United's CEO, Board President
Review a Year To Remember During Annual Meeting by JOHN DAVIS
First, the global COVID-19 pandemic made 2020 a year to remember. Winter Storm Uri and the Brazos Electric Cooperative bankruptcy then upped the chaos ante for 2021. This year, United faced skyrocketing natural gas prices that caused the price of electricity to jump just as dramatically for the co-op's members. Unfortunately, these natural gas price increases ramped up right as a relentless summer brought record-breaking temperatures to United's service territory.
United has faced a string of serious challenges in the past three years, said co-op Board President Patsy Dumas. Despite what appeared to be an incarnation of Murphy's Law, United did its best to stay the course and mitigate each new obstacle and unknown while continuing to deliver exceptional service and value to its rapidly growing membership.
"Despite this challenge that is finally almost behind us, there is much to be proud about at your cooperative," Dumas said. "Our employees have worked hard each and every day to provide you with exceptional service and value. Whether it's been through helping you with a new connection, performing an energy audit to help you manage your usage, or helping members understand why the ERCOT wholesale power costs increased as a result of natural gas and other market events, the employees show up every day with one purpose—serving you exceptionally."
Dumas spoke to about 250 members at United Coopertive Services' Virtual Annual Meeting Nov. 19, where officials announced incumbent Ed Cardin will serve District 6 (Granbury Area and Northeastern Hood County), and Mark Castleberry will serve District 7 (Northwestern Erath County and Lingleville).
This was the third annual meeting held virtually where members attend either online or by telephone. The concept was born out of necessity in 2020 as a successful, cost-effective compromise to meet the co-op's operational needs during the pandemic.
Despite the recent adversity, Dumas said two of the most striking accomplishments included United's recent safety record accomplishments and the rapid deployment of United's high-speed internet service.
"Just a few weeks ago, our employees achieved 1 million hours without a lost-time accident," she said. "By putting safety first, our employees do their best for you, but also go home to their loved ones every day.
United Members Select Cardin for District 6, Castleberry for District 7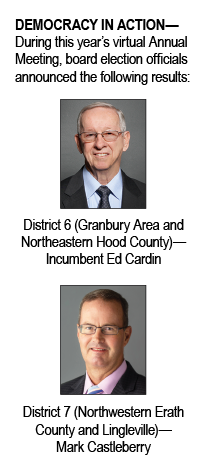 "And of course, I'd be remiss if I didn't mention the rapid deployment of our high-speed fiber optic internet service. We've now connected nearly 15,000 members to our world-class internet. And folks, they are loving it. We know there are thousands more waiting anxiously and I'm sure some of you are listening right now. Our team is working as hard as can be to get you connected just as quickly as possible."
United continues growing at a rapid pace (more than 4 percent), said United CEO Cameron Smallwood. Recently opening its seventh office in Godley, the company currently stands at 72,000 members and more than 10,000 miles of energized lines serving just over 100,000 meters. United is one of the largest co-ops in Texas with a total asset base of more than $700 million.
He also pointed out United has and will continue to run lean and mean to maximize member dollars. By hiring high-achieving employees who constantly look for ways to achieve high expectations and save money, the cooperative does more with fewer employees than cooperatives of a like size.
"One of the things that we really pride ourselves on at our cooperative is being efficient with your funds," he said. "Ultimately, that means we have fewer employees that you pay for in your bill. On top of that, we look at our operations and maintenance expense without power costs. So, this is what we're paying per meter to provide operations maintenance for your cooperative. We're at $359 per meter, whereas co-ops of our like size average about $392. And while we do spend money on operations and maintenance, we do it very efficiently. That's a benefit to you, the members, in the power cost that you pay every day."
While United does a good job managing its overhead costs on its distribution side (about 20 percent of any United member's monthly bill), about 80 percent of that bill is currently made up of the wholesale cost of electricity billed to United by its power supplier, Brazos Electric Cooperative. The cost of that energy usage is passed on to members with no markup by United.
This year, United members have felt the pinch due to this portion of the bill because of the high cost of natural gas production, which is the main fuel used in generating electricity in the state of Texas. This summer's temperatures were the second hottest on record, and that greatly impacted members' usage to stay comfortable, he said. Many members experienced sticker shock as their summertime electric bills came due.
Smallwood explained that natural gas cost was the largest reason for increased energy prices this year. What cost between $2 and $3 for natural gas in 2021 shot up to more than $8 this year. Those higher gas prices are compounded by a much more risk-averse energy market and costs associated with new state regulations following Winter Storm Uri that require energy producers to become winterized for lower temperatures and have more generation available during peak usage times.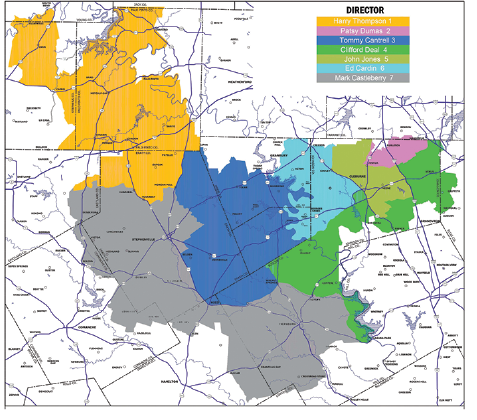 All of these market changes and related costs are flowing through ERCOT to United members through Brazos, he said.
"In the November '22 Rate Watch, you'll see our rate at 15.92 cents, and this is based on 2,000 kilowatt hours of usage," he said. "The rates around us continued to move up and down. Oncor's REP average rate currently is a little over 15 cents and not much different than ours. But the REPs  have been at 17, 18, 19 cents—and even as high as 21 and 22 cents—in the past six months. Texas New Mexico Power REPs are currently 17 cents. They've ranged as high as 23 and 24 cents. So we've been at 15.92 cents that whole time that the volatility has been going on in the market. We've been providing you value even though you probably don't feel like it. Our goal as we go forward is to continue to figure out ways to get this cost lower."
In the meantime, curbing energy usage is the best way to save energy dollars in today's market, he said.
Smallwood encouraged all members to take advantage of free in-home energy audits as well as the multiple rebates available to save on energy usage. Those having trouble paying bills should contact local assistance organizations listed on the co-op's website that are funded through the company's Operation Round Up program.
"The benefit of being a member and owner of your cooperative is we continually work for ways for you to use less energy," Smallwood said. "We have a tremendous amount of tools available to help you use less energy. The key one that I'll highlight right now is the energy audit. And we've done thousands of energy audits this year. We also have rebates to help members with upgrades. If you haven't used our HVAC tune-up rebate, you're missing an opportunity to make sure your unit is efficient. I encourage you to look at our website and look at our Facebook page that will continually communicate on those issues."