Members And Their Families Top More Than A Thousand, Consume
Energy-Savings Tips, Barbecue During A Day Held In Their Honor by JOHN DAVIS
They had to come back for more cookies and soda.
After seeing the story in Texas Co-op Power magazine, Dallin Weatherston and his 4-year-old son, Hugh, made a second appearance Oct. 14 for Member Appreciation Day.
Instituted last year during the COVID-19 pandemic when venues weren't booking events for large groups, Member Appreciation Day celebrates the members of the state's sixth-largest co-op with an afternoon of food and fun. Members are invited to all seven United locations to enjoy barbecue and fellowship with United employees.
The event has become somewhat of an accidental tradition for the pair, Dallin said, and an opportunity for some father-son bonding time during his day off. The pair were two of 539 members (most of whom brought at least one other family member in tow) who attended the newly established celebration.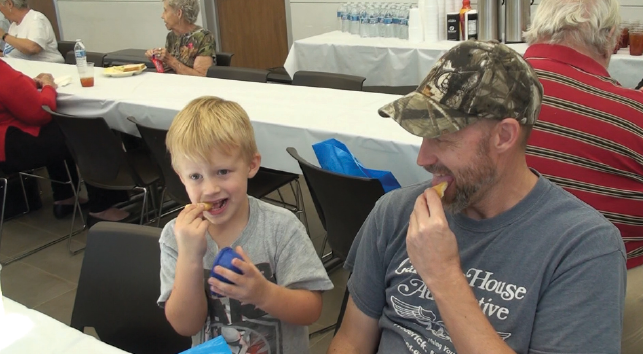 "Last year, we were at the park, and he didn't want to come home," he said. "And it's like 'Wait a second. I know something that's going on!' So, we came here and got soda and cookies. This year, he reminded me. 'Hey, remember when we had soda and cookies and there was the windmill?' So, that's why we had to come back again this year."
It might be the last time for a while that the father-son pair attend, Dallin said, as Hugh starts kindergarten next year. The two laughed and played with items in their goody-bag as Dallin explained he was happy with both his electric and high-speed internet delivery.
"We have the internet and electricity, and we've liked it," he said. "We've had the internet a year and a half or two years, and it's been great. Of course, we had AT&T before that, and United was a big upgrade."
Throughout the event, United's energy solutions specialists were on hand to help members save money on bills and learn about new energy-saving technologies and rebates.
Ryan Hoerner, who operated the energy solutions booth in Burleson, said he had many members asking him questions about everything from installing solar to switching to LED light bulbs at their homes.
"I had a few discussions with members regarding rates and the feasibility of going solar, and thankfully, most had already realized the long-term payback the solar presents," he said. "Multiple members asked me if it was worth upgrading their shop lighting to LED from outdated incandescent bulbs, and I told them the answer depended on their runtime. It would probably not be worth it for those who only use their lighting a few hours a week. However, it would be a beneficial investment for those who use their lighting at least a few hours every day.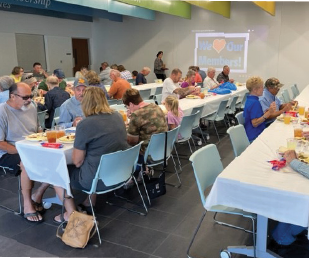 "I've noticed our members attending the Member Appreciation Day event are significantly more 'in the know' as I also see them attending most of our events, have already had an energy audit and read our newsletter religiously. These members make my job significantly easier and more enjoyable as we can dive into more complex and specific energy-related discussions."
Most members at Energy Solutions Specialists Eric Compton's table in Stephenville asked about the recent high rates due to higher natural gas prices. Several also asked him about appropriate insulation levels to ensure energy efficiency.
"One member is going down to the studs with an antique house," Compton said. "He wanted to know the benefits of foam compared to other insulation, and I was able to discuss the pros and cons with him. It helped that I had the insulation setup on my table ready to go."
While different from the Annual Meeting events held in the past, the Member Appreciation Day events at each office have helped to continue the tradition of stopping from the rigors of daily business to meet with and say thank you to United members, said United CEO Cameron Smallwood.
"If not for the members, we wouldn't be here today," Smallwood said. "I say that a lot, but it's the truth. We thank each member who came to ask questions, meet our employees and enjoy a meal on us. This cooperative belongs to its members, and we've all faced some unprecedented and challenging times in the past couple of years. It feels good to be gathering again and enjoying each other's company in person. It's important that members know, and we show, that we are always there for them through good times and bad."