Signals Sunset of Tenured Power Supply
Relationship Between Member Cooperatives. by MAURI MONTGOMERY
After nearly two years, the end may now soon be within sight for final resolution to the disastrous financial costs and effects incurred after Winter Storm Uri in February 2021 left energy providers, such as Brazos Electric Cooperative (Brazos), and millions of consumers within the Electric Reliability Council of Texas (ERCOT) exposed to what has been described candidly as abject market and grid failures.
Though resolution to Brazos' bankruptcy has been a protracted and challenging process, a Nov. 14 confirmation hearing set to finalize Brazos' Chapter 11 bankruptcy reorganization was expected (at this report's writing) to pass the muster of U.S. Bankruptcy Judge David Jones—settling all claims and disputes pertaining to the winter storm's costs as it related to Brazos, its 16 distribution cooperative members (one being United Cooperative Services)  and the hundreds of thousands of members served by those electric cooperatives.
By many accounts, Brazos was inordinately vulnerable to the February 2021 winter storm and ensuing unprecidented market costs.
The company was one of the very first electric power providers forced into bankruptcy as a result.  Other providers in the deregulated market failed, too, and will pay the extraordinary costs incurred that week in February 2021 for many years.
Nevertheless, United's cost to keep members' power on through rotating outages mandated by ERCOT during the four-day period in February 2021 is expected to come in at approximately $440 million—which was reduced in bankruptcy mediation from an estimated $560 million.
Even with the approximate $120 million reduction after mediation, the medicine will still be hard to swallow for United and its current and future members, especially when considering the cooperative's mission and obligation to keep the lights on for members, and the trust that has since been lost in ERCOT and its system providers for preparing for the worst and ensuring reliability.
As a mechanism for electric cooperatives to spread those weather-related costs across a longer period, Texas legislators passed Senate Bill 1580 in 2021, which provided the means for electric distribution cooperatives to satisfy those energy costs through securitized bonds.  The law requires those charges to be applied to all existing and future members' bills until the securitization term ends (no longer than 28 years).
Faced with prospect of a huge February 2021 power bill,  there weren't many palatable options when United Board of Directors in 2022 approved securitization as the least hurtful/best financing alternative for spreading those unprecedented costs over the long term to keep member bills from being sharply higher—allowing them to remain more affordable.
In addition to United's legal initiatives to reduce its cost exposure in the Brazos bankruptcy proceedings, the cooperative also was instrumental in obtaining an agreement to establish a $140 million Hardship Fund to help offset securitization costs for low-income cooperative members.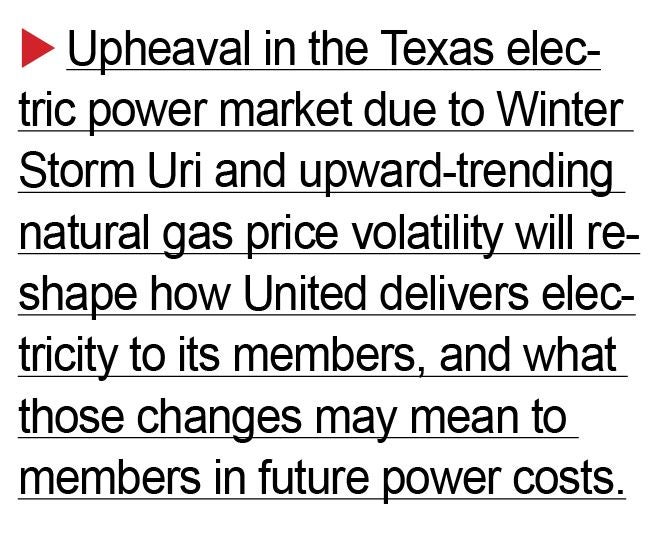 While the program has yet to be approved, qualifying United members could obtain eligibility under the Low-Income Home Energy Assistance Program (LIHEAP) guidelines—falling within 150 percent of the federally recognized poverty line. The fund would pay 100 percent of the securitized charge for qualifying members through the estimated 10-year life of the fund.
Also in the bankruptcy exit plan for consideration at the Nov. 14 hearing is a provision that prohibits Brazos from providing power to United or the 15 other distribution cooperatives beginning March 1, 2023. As a result, United has already been evaluating responses to a request for proposals from a variety of power suppliers. United's  goal is to negotiate a power supply agreement that offsets any increase coming from securitization, and that will hopefully add more flexibility in managing wholesale power costs going forward.
"We have never ceased our effort to reduce member costs, before and after Winter Storm Uri, and we are working hard now to find additional ways to mitigate the financial impact stemming from last winter's storm," United CEO Cameron Smallwood said. "We are hopeful that by the time the securitization charges are applied to members' bills, we will have been able to reduce power costs enough to make the additional charge net neutral, rather than an increase in power costs."
"Delivering exceptional service and value sets our purpose squarely on doing the best we can to support our members with the services that we provide. That mantra includes our member-focus in making our delivery services affordable, even when headwinds occur in our industry like they have recently," he said. "We are committed to our perennial goal in meeting those professional aims."