For one international company, only world-class internet
could serve their business needs. Not even the
'National Leading Brand' could provide that. by KANYON PAYNE
It's almost laughable how slow their internet was in 2010.
Daniel Sears, the IT manager at Tesmec USA Inc., smirks when he thinks how he and the other employees were forced to do business on an international scale with substandard connectivity. When the internet would go down, Sears would have to get creative. Businesses like his can lose money and potential transactions that ultimately affect their bottom line.
"When I first started here, we had two T1 lines, and we had a max bandwidth of 3 megabits per second." Sears said. "Then we upgraded to fiber with the leading provider, and most recently we have upgraded to United Cooperative Services'  fiber."  
The company, located in Alvarado, is part of Italian-based Tesmec Group. Tesmec USA manufactures high-performance trenchers for the pipeline, utility and fiber markets. Along with creating Rock Saws, RockHawgs, the largest Bucket Wheel trenchers and both hydraulic and mechanical chain saws, the company has recently expanded to include railway equipment and multi-purpose excavator machines for farm drainage and the tile industry. 
Tesmec Group has branches in Australia, France, New Zealand, and South Africa, and leadership says quality internet communication is key to keeping their business running smoothly. 
It is just one of about 250 business organizations whose employees are seeing improvement in business operations since upgrading to United's high-speed internet service.  
Quite a few changes in internet speed have occurred in the span of his career, Sears said. The latest quantum leap has gone from wireless to United's high-speed fiber internet, and he said the difference has been remarkable. 
"We have been able to double our speed and save 70 percent off our internet cost since switching over," he said.  "Everybody was happy when we made the switch." 
Patrick Best, Tesmec USA's parts coordinator, has also seen major improvements in his productivity and communications during his five years with the organization. Most recently, he's seen improvement thanks to United's high-speed internet
"As a parts salesman, I speak to all of our customers needing parts to maintain our trenchers," he said. "I deal with people all around the world— from Italy, South Africa, South America, Mexico— a lot of different places just to maintain the machines that we have. The old service was spotty from time to time, and obviously we would have to call IT to get everything working again. Now we have no issues staying online with multiple users accessing the system, we don't seem to drop anymore, and we just have a lot better service than we used to have."
Leann Williams, Tesmec's purchasing manager and a company veteran with 15 years of experience, said the organization's internet service has been crucial to making the company more profitable, more productive and more efficient in their daily operations.
High-quality internet service is vital for Williams to complete her daily tasks, and it is crucial for ensuring Tesmec USA remains in the black with their company operations, she said. Without quality internet, Williams said she cannot perform her core responsibilities as purchasing manager.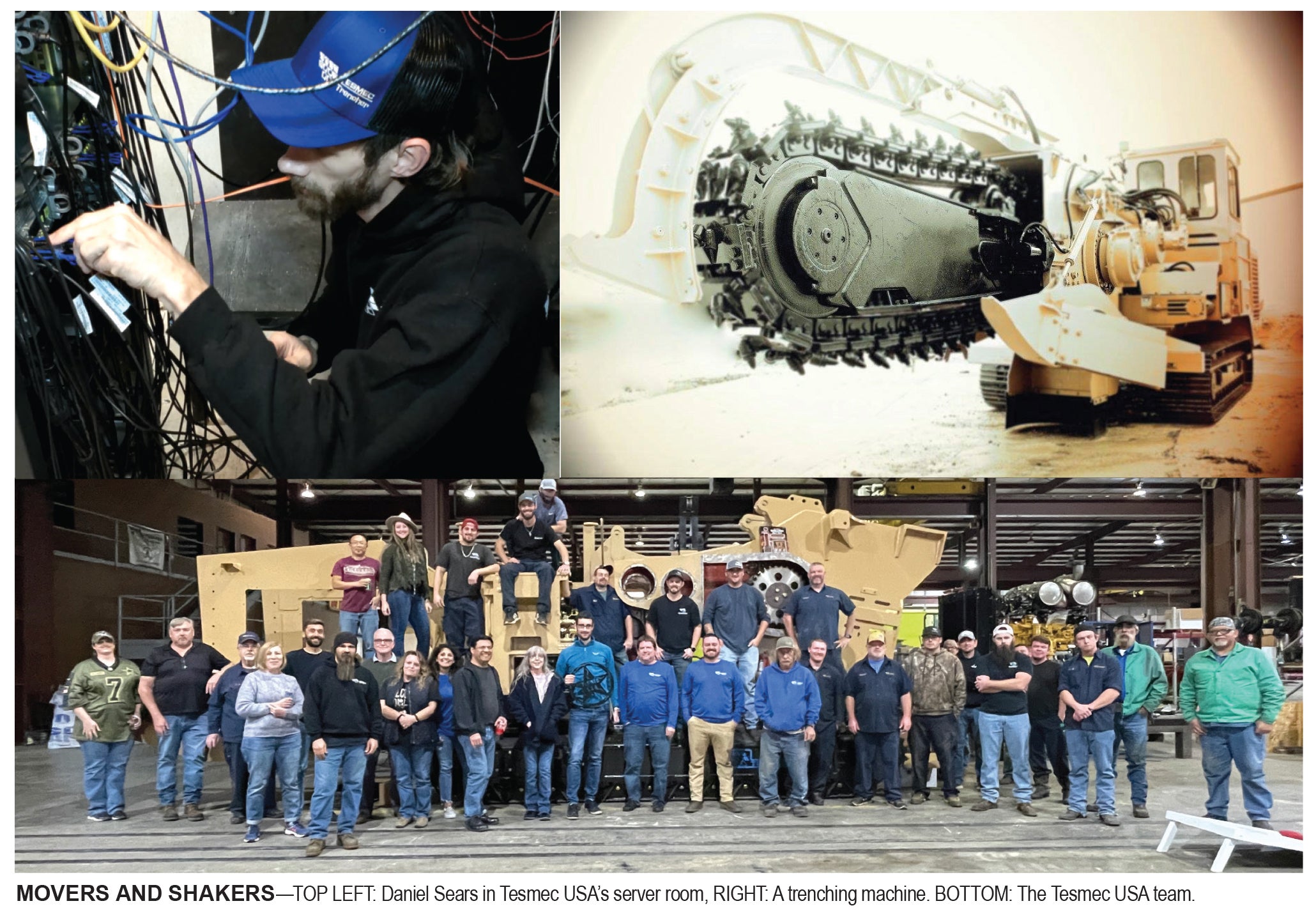 "I work with all departments: Service, Parts, Facilities, Production, Sales and other divisions," she said. "I do everything we need for our machines, our equipment, our people, to keep our facility running. The internet here has come a long way. We use it for our Teams meetings that we use globally. All of our purchasing is internet-based, as well as online equipment and parts."  
After switching from the "Nation's leading provider" of high-speed fiber internet service, Sears said Tesmec took the 70 percent savings in operational expense for internet use and then reinvested those funds.
The company now has a completely cloud-based network which provides them greater flexibility and productivity. 
"Everyone was happy when we switched over," he said. "I used that money for the network and it went to good use. One thing we use is a system called AutoCad Vault, and our engineers from all over the world can upload their engineering drawings from their location to here. It used to be slower, but now it's faster." Tesmec USA went from a 50 Mbps connection to a 100 Mbps connection with United's fiber internet service. 
Ali Hopper, a resident of Alvarado and Engineering Assistant for Tesmec USA, has noticed a difference in internet service since making the switch to United's service, but has also experienced United's world-class internet at her home. 
During the height of the COVID-19 pandemic, Hopper said she and several employees had to work remotely. The substandard service she experienced with her old provider made trying to log into Tesmec's virtual private network and working from home nearly impossible. 
Hopper has since received United's world-class internet service, and she said working remotely is easy. 
"We built a new home, and we received the internet in October," she said. "Everything was super quick with the internet." 
Marcellus Nixon, United's vice president of internet services, said United's high-speed internet has been designed to provide the reliability necessary to ensure business keeps thriving through any scenario. 
"When there is an issue, your business can avoid the time wasted being on hold with customer service reps in other countries," he said. "Your business can rest assured you can reach United's local internet team to resolve your issue in a timely manner." 
For more information on United's business class high-speed internet services, visit our internet page, or call any United office and ask to speak to an internet product and services specialist.