Their worst nightmare came true when an electrical
fire broke out under their floors. Now, a Joshua couple
is touched by kindness from Operation Round Up. by JOHN DAVIS
The piercing shriek of the smoke detectors will most likely live in Wendy Taylor's memory for a lifetime.
They definitely worked when she needed them most, the United member said, when her worst nightmare actually came true one night in January. Thanks to them, she and her husband awoke in time to escape an electrical fire that had started beneath their living room floor.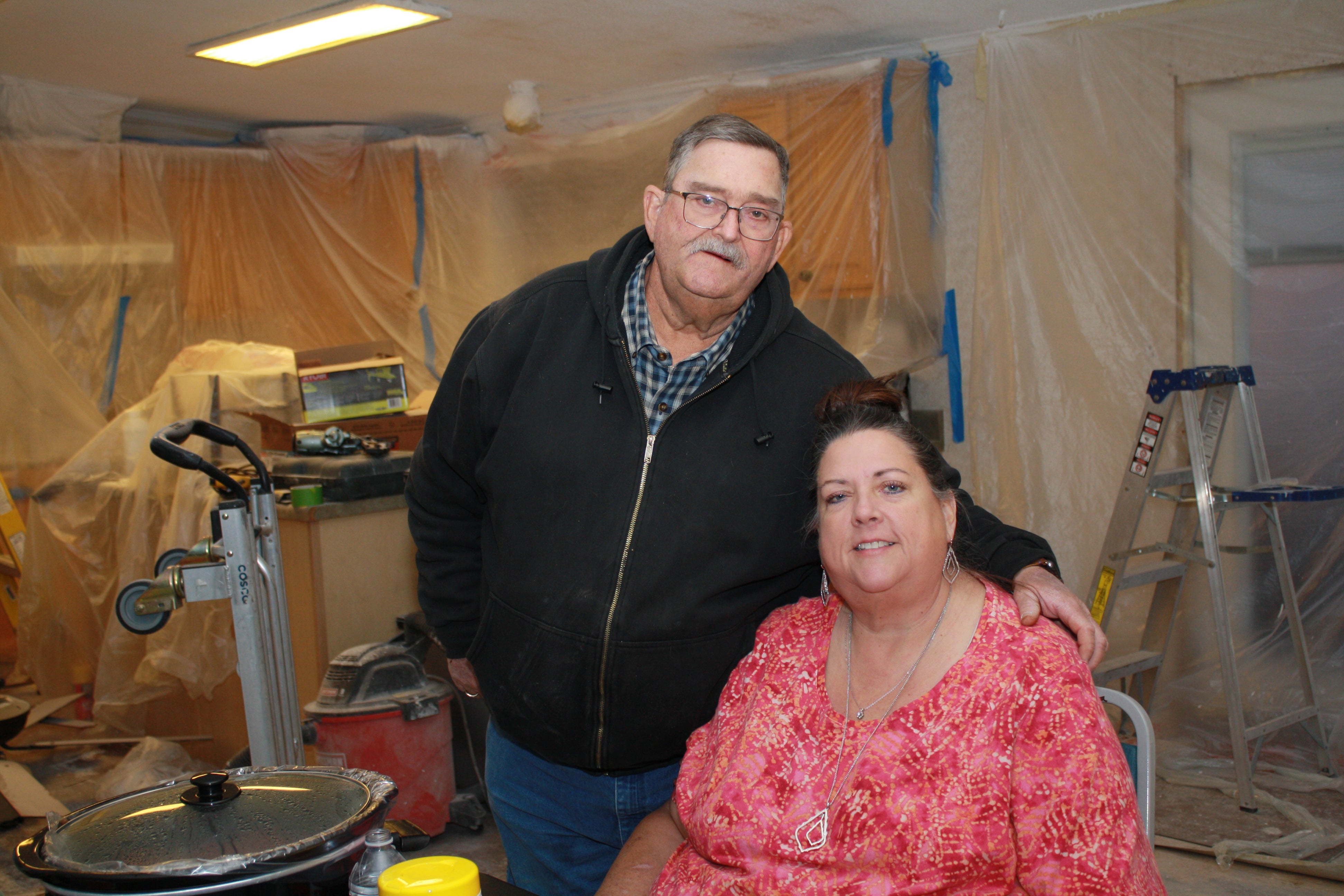 However, there is another memory she said will stay with her forever as well: the kindness that others showed the couple during a tragic time in their lives, including the payment of their electric bill through donations from other United members through the co-op's Operation Round Up fund.
"We've been very blessed through this whole thing, I believe," Wendy said. "I know it's a tragedy and a big negative impact in our life. But at the end of the day, it doesn't feel that way. We've had people—friends, family, co-workers, ex co-workers—come out of the woodwork and offer to help move us back in, help us with groceries. Anything and everything has been offered."
"We're really blessed because everything that was lost was materialistic," Mearl added. "We didn't have anything lost that couldn't be replaced."
It had been a rough two months for the couple, who have been married for 37 years. Mearl suffers from non-alcoholic cirrhosis of the liver that requires a transplant, and he'd just returned home from his fifth hospital visit in eight weeks to treat encephalopathy caused from excess ammonia that had built up in his brain.
Because of  her husband's recent frequent hospitalizations, Wendy said she had just arranged with United to pay her electric bill late. The United member service representative who assisted her understood her plight and helped her immediately by extending her payment time, she said.
On the night of Jan. 17, the couple had gone to bed at their home in rural Joshua about two hours before the detectors awakened her. Wendy remembered the clock read 10:50 p.m. as she opened the bedroom door. Smoke had filled the living and dining rooms, and flames had begun consuming the couple's front porch.
"I truly believe if it wasn't for those fire alarms, we wouldn't be sitting here today," she said.
The couple had adhered to a strict habit of changing the batteries in their smoke detectors every time the time changes in the spring and fall. Every five years, they would completely replace the old with new detectors, too.
"Even though it says 'lifetime warranty' on the detectors, I don't want to be the one that it doesn't work for a lifetime," Wendy said.  "To me, they're relatively inexpensive. Save soda money for a week or two and get it right, you know? We've done that ever since we got married."
As the detectors blasted their warning through the air, Wendy gathered the dogs, her purse and her phone to call 911. Mearl, a former firefighter went out in his pajamas and grabbed the garden hose to battle a blaze engulfing his own home.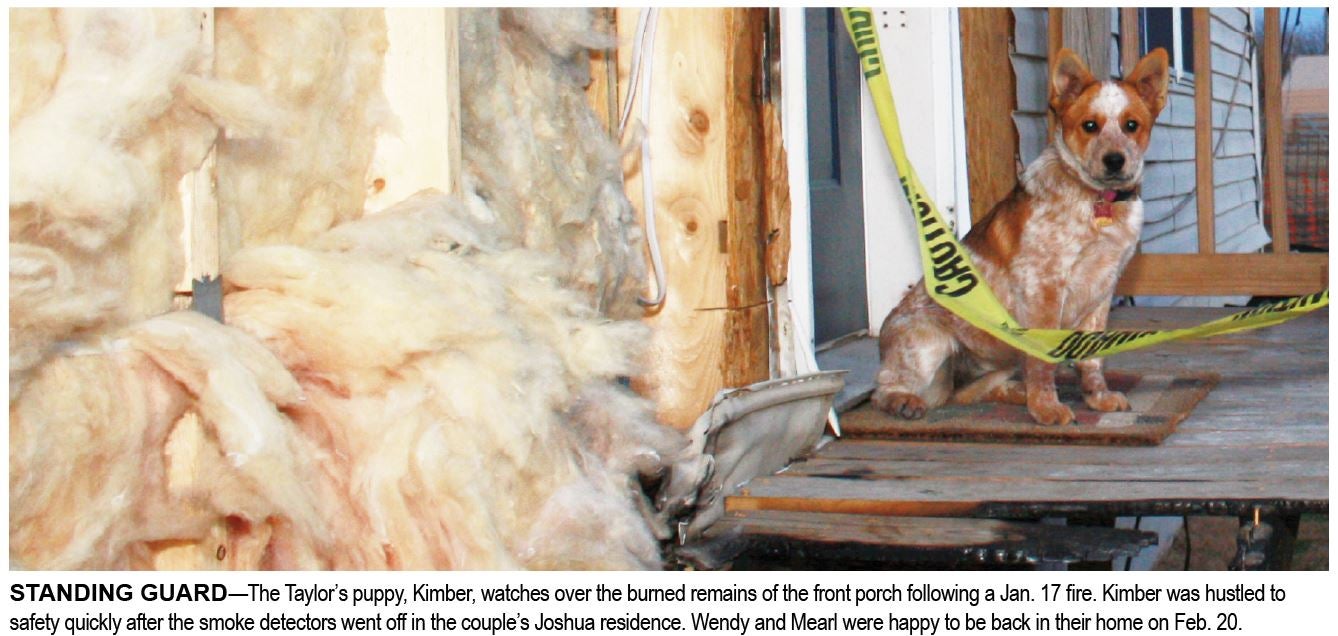 "I was thinking, 'Just get it out,'" Mearl said. "Your reaction is, 'Just get the fire out. No flames mean you're doing good.'"
Their rural location with lack of hydrants required 13 fire trucks (mostly tankers) to arrive to put out the blaze, the couple said. When firefighters discovered the electrical source of the fire beneath them, they opened up the floors with chainsaws and smothered the flames in the flooring and insulation below with foam.
Landy Bennett, chief administrative officer at United, said the co-op became the 100th cooperative nationally to participate in Operation Round Up, which officially was implemented in 1999 at Johnson County Electric Cooperative.
Since that time, United's program has donated more than $4 million to more than 8,000 families.
The funds originate from rounding a United member's bill up to the nearest dollar amount. For instance, if a member's bill is $67.63, it would be rounded up to $68.00 with the additional 37 cents going to Operation Round Up.
Several agencies providing services to United members, such as Texas Neighborhood Services, Operation Blessing, Mission Granbury, Harvest House and others, assist in administering the program funds for United members. The funds provide financial help to worthy causes in our area by combining your small monthly contribution with those from fellow co-op members.
"The Taylors are a perfect example of why Operation Round Up exists," Bennett said. "The program is a continuance of the original idea that created co-ops. It's members helping members, and it offers specific help for specific needs in communities we serve. Since United's inception, we've been dedicated to improving the quality of life for our members and the people in our communities. We do this by starting with exceptional service and value, but also through our involvement in philanthropic efforts. The program has not only provided grants to encourage and enhance multiple non-profit and service organizations throughout the territory, but also given much needed relief for members dealing with catastrophic events."
The assistance program has provided sustenance of life through donations when tornados or wildfires have ravaged parts of United's service territory. It's also assisted organizations, such as volunteer fire departments, purchase equipment necessary to perform life-saving duties.
In the past two years, more than $180,000 was distributed to charitable organizations and 475 families, he said.
A month later, tears still came to Wendy's eyes as she described the kindness of knowing that their energy provider cared. And though cabinets in her kitchen are wrapped in plastic, and the floor of her dining room and living room are littered with tools and wood, both she and her husband are glad to be back in the place they've called home for the past 17 years.
"Your people really have been amazing," Wendy said. "It's been a wild ride, but we're still together. We're OK. We're going to be OK. We're in God's hands, you know."