Despite a cooler January and a spooky cold snap in February,
North Texas could use lots of energy to stay cool as it stares
down the barrel of yet another sweaty summer. by JOHN DAVIS
The good news is that the Farmer's Almanac's winter forecast for a "season of shivers" didn't quite come true for the Lone Star State.
The periodical's prediction for 2021-2022 had many North Texas residents fearing a repeat of extreme winter weather again in 2022.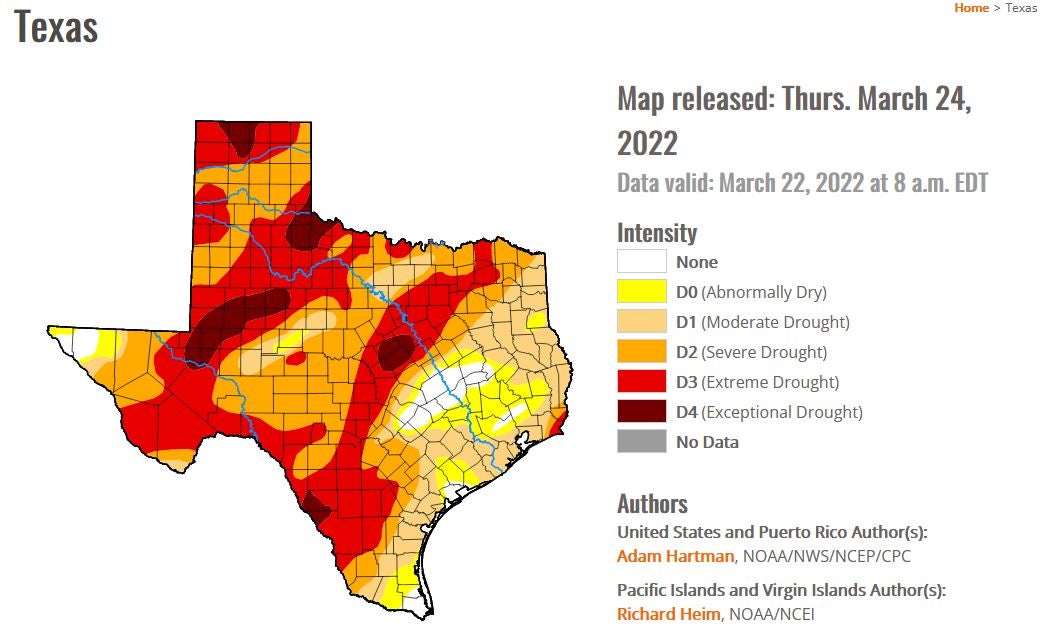 However, the overall winter weather experience was definitely unusual—even for Texas' typically frenetic weather.  
Meteorologists recorded the warmest December since 1889.  That gave way into a cooler-than-usual January despite the presence of La Niña, which is known for bringing warmer,  drier weather to Texas.
The beginning of February also tracked cooler than normal. The arrival of Winter Storm Landon reawakened concerns about grid reliability and the potential for  rotating outages that ERCOT energy providers were required to perform in 2021 as Winter Storm Uri brought record-breaking energy usage.  
Thankfully, no energy emergency alerts were issued during Landon. Other than storm-related outages, the power stayed on as Texans tried to stay warm.
Despite the cooler January and February, warmer weather from La Niña likely will crescendo into the long, hot North Texas summer everyone expects, said Bob Rose, chief meteorologist with Lower Colorado River Authority. The Austin-based public utility generates and transmits power, manages the lower Colorado River and provides more than 40 parks along the river.  
The hot, North Texas summer that Rose foresees, in turn, will drive up usage as residents try to stay cool.
Will there be enough power to get through cold snaps in winter and get through the dog days of summer? ERCOT says yes, according to its Seasonal Assessment of Resource Adequacy (SARA) and Capacity Demand Reserve (CDR) reports issued in December 2021.
A Disarmingly Warm December
The winter season in North Texas started with unusually warm weather that killed hopes of a White Christmas.
"Our winter was much different from what the Farmer's Almanac was putting out," Rose said. "Their forecast called for bone-chattering cold over almost the entire country and wet across Texas, as well. We got the opposite. December, for Texas and almost every city in Texas, recorded record highs. And not by just a little."
In a typical La Niña weather event, cold water from the bottom of the Pacific Ocean upwells to the surface. The colder surface water pushes the jet stream northward, and that can lead to dry weather or droughts in the Southern U.S. and heavy rains in the Pacific Northwest and Canada.  It also can lead to more severe hurricane seasons, according to NOAA.gov.
This year's La Niña was fairly typical, Rose said. It registered as weak to moderate, and its presence doesn't fully explain December's record-breaking heat.
But it does explain the dry conditions. North Texas' December rainfall was 2.5 inches below normal, Rose said, and January barely saw less than a quarter inch of rain. If the ground stays dry as temperatures warm throughout the spring, it can work similarly to a positive feedback loop, building more heat that can create a hotter-than-expected summer.
As of press time, United's service territory is in severe drought, and areas surrounding that territory are beginning to slide into extreme drought, according to the U.S. Drought Monitor.
Rose said it's still too early to know how spring rains will develop this year.
"The strength of a La Niña is not important," he said. "Once La Niña gets established and links up with the atmosphere, it generally starts this drier pattern. This La Niña will continue through March, but it is forecast to dissipate as we get into April. Once La Niña dissipates, it loses connection with the atmosphere. After that, it should go back to a more normal pattern of temperature and rainfall."
Meteorologists do forecast persistent warmer-than-normal temperatures into spring, Rose said. He also expects a pretty hot summer in Texas. And those hotter temperatures will mean more energy use to stay cool.
"This summer will likely be very different from what we had last summer," he said. "Last summer was kind of an anomaly. We see summers like that once every 15 years. It was way milder and wetter than normal. With us having a drier than normal spring, we're expecting a pretty hot summer statewide and especially over North Texas. Not like up in the top 10. More like a typical summer with numerous 100-degree days."
Energy Outlook
Blake Beavers, United's  vice president of member services & power supply, said ERCOT's SARA and CDR reports are projecting to have enough resources to cover the demand for the remainder of winter into summer.
"The reports show healthy reserve margins," Beavers said. "ERCOT's SARA report also provides multiple risk scenarios ranging from base, moderate and extreme. Each vary by peak load demand and generation outages. The base and moderate scenarios show adequate reserve margins. The extreme scenarios are the only scenarios that have the reserve margin below 3,000. Keep in mind the extreme scenarios are worst-case and have a low possibility of occurring."
Assuming that the ERCOT Region experiences typical winter grid conditions, the SARA report stated, ERCOT anticipates that there will be sufficient installed generating capacity available to serve the system-wide forecasted peak demand from December 2021 through February 2022. The forecast peak demand is 62,001 MW and is based on the average weather conditions at the time of the winter peak demand. As part of ERCOT's  aggressive grid management planning, the organization also included additional low-probability, high-impact scenarios.
After Winter Storm Landon left the area, ERCOT reported working with a 15 percent generation increase over 2021 and a  reserve margin of 17,000 megawatts of energy, which is roughly enough reserve to power 3 million homes.
 As for summer, the projected peak demand for summer 2022 is estimated to be 78,084 MW.  ERCOT's CDR report shows a summer reserve margin of 23.9 percent, which is higher than in years past. This reserve margin is electric generation capacity over and above what is consumed during peak usage.
"When you compare winter to summer conditions, Texas' generation fleet is built for the extreme heat," Beavers said. "Extreme winter cold can freeze gas wells, cause icing on wind turbines and attributes to cloudy weather and snow that limit the production of solar. So, the majority of the generation resources can be negatively impacted in some way during extreme winter conditions.
"In summer, the peak demand day is typically going to be a blue-sky day, in which solar will be producing, wind might be producing if the wind is blowing, and you don't have to worry about gas freeze-ups. So the diverse portfolio of generation resources really plays in your favor more in summer than winter."