New Solar Projects Offer United Members Cost
Savings, Solar Energy and No Installation Hassles by BLAKE BEAVERS
Since May 2018, United's residential members have been reaping the benefits of United's Community Solar Program through power savings that are offset between community solar energy production and prevailing wholesale energy costs.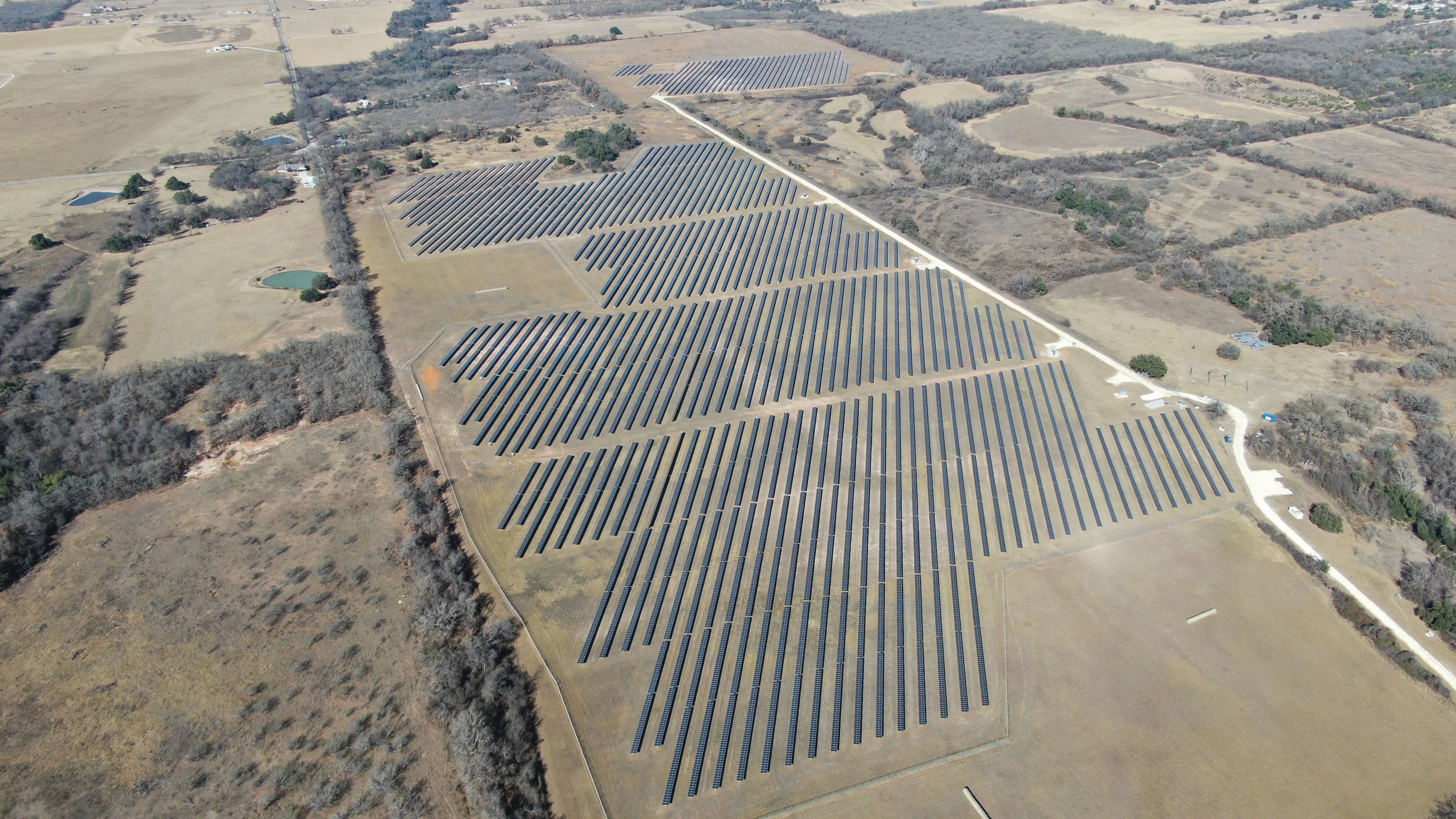 And as envisioned with United's initial community solar program development, members are benefiting from solar energy production without having to install or invest in those resources at their homes.
United started its community solar efforts with one 10 MW (AC) solar facility located just outside of Kopperl, in Bosque County. Due to high member participation levels, the program was expanded two years later to include a 16 MW portion of a solar facility located in Andrews County.  
Construction began on a third addition to United's solar plant portfolio in 2021 with a 10 MW facility located in Erath County. However, United was forced to place an enrollment freeze on the program to prevent over-subscribing available capacity in the program until the new facility came online. Project completion was delayed due to the now widely reported February 2021 winter storm event.
The good news is that the 10 MW (AC) facility achieved completion as of Dec. 28th, 2021, and is currently generating. With this additional 10 MW (AC) capacity, United reinstituted enrollment in the community solar program in February.
The three facilities that support United's community solar program vary in many aspects, including location, size, and technology. Two of the facilities are located within United's service territory and are interconnected to United's distribution system. United does not currently own any of the solar facilities, but purchases energy from the facilities through power purchase agreements designed to save enrolled members money.
About the Solar Facilities
United's first solar facility, TPE Whitney, is located in Bosque county and is an approximately 10 MW (AC) facility. TPE Whitney spans over 150 acres and has over 40,000 solar panels. This system is a single-axis tracking system, meaning that it will track with the sun as the sun moves through the sky from the east to west.  
The second facility is called Lapetus solar. Lapetus is a 100 MW solar facility located in Andrews County, in West Texas.  Brazos Electric Cooperative, United's generation and transmission provider, has a power purchase agreement to purchase the energy from Lapetus on behalf of eight participating electric cooperatives served by Brazos. United's portion of the 100 MW facility is 16 MWs. As a result of the joint business venture, the facility's competitive rate and production value equates to additional savings for United community solar participants and United members in general.  
The Lapetus facility spans across 800 acres and contains more than 340,000 solar panels.
TPE Erath is United's newest community solar addition. The Erath County facility is 10 MW (AC) and is similar to TPE Whitney in structure and size. TPE Erath solar facility covers 90 acres and has over 35,000 panels. The panel technology used in TPE Erath is different than that used for TPE Whitney. The 35,000 bi-facial panels allow absorption of any light reflected off the ground and back to the panel to be generated into energy. This facility also uses a tracking system allowing the system to maximize generation capacity.  
With the newest facility now fully online, when a member enrolls in United's community solar program, they will have the option to get up to two subscriptions, depending on qualifications.  Each individual subscription is equivalent to a 2 kW portion of United's total community solar program capacity.
For example, TPE Erath and TPE Whitney have a total capacity of 20 MW (AC). A 2 kW portion is .2 percent of the total capacity. Each month the participating member will be allocated .2 percent of the entire generation. This sounds like a small amount but .2 percent equates to a monthly average of 409 kWh.  Members who meet certain qualifications listed below, will have the option to subscribe to two subscriptions (4kW), which would double the monthly allocation.
United's goal in the program has been to make program participation easy for members by keeping the qualification requirements very basic.
To qualify for one (2 kW) subscription, the member must be on United's single-phase residential rate and average at least 500 kWh a month over a 12-month period. A member with an average monthly usage of at least 1,000 kWh a month can qualify for two (2 kW) subscriptions (4 kW total).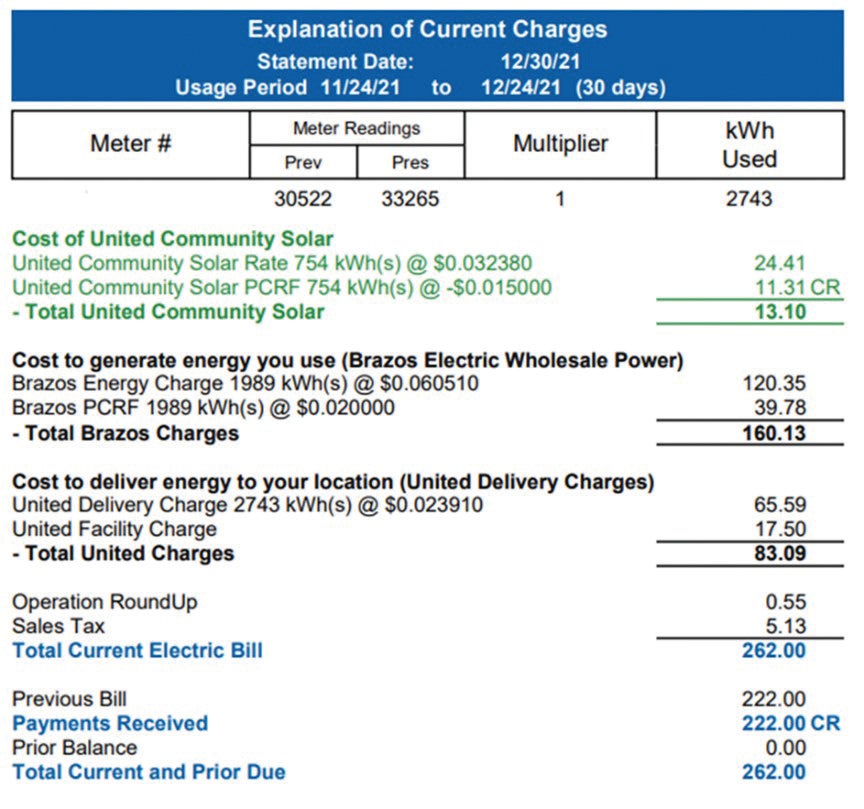 There are no upfront costs to join, no contracts to sign, no insurance required, and the potential savings begin the first month after a member signs-up for the project. Members are asked to join for a minimum of 12 months, and with the understanding that solar subscriptions are only allowed to be associated with one account. Once signed up, members must opt out of the program if they wish to be removed.  
Monthly kWh that is allocated to participating members is dependent on the generation of the solar facilities. The more generation there is from the solar facilities the higher the monthly allocation the member will receive. The summer months will provide the highest kWh allocation, and winter months will represent the lowest. In 2021, the average monthly kWh production value per subscription was 443 kWh, with the highest appearing in August with a kWh allocation of 566 kWh.  Members that had two subscriptions doubled their savings, so the monthly average was 886 kWh, with August's max allocation of 1,132 kWh.
The way United bills community solar participants is unique. The illustration (below) is an example of a member's bill that is enrolled in community solar. This member consumed 2,743 kWh in the billing period. The monthly allocation was 754 kWh (two subscriptions). The first 754 kWh of the total monthly kwh is purchased at the solar rate and solar PCRF, which in this illustration is $0.01738. The remaining kWh is purchased at the Brazos rate $0.0605. The realized savings is the difference between the solar rate and the Brazos rate.
The 5,047 members currently participating in United's community solar program received significant savings in 2021. The annual savings in 2021 for a single subscription was $232.11, while two subscriptions earned $464.02.
The solar rate will slightly increase as United blends TPE Erath into its solar portfolio, but the change is not significant. The rate will go from $0.03280 to $0.03481. This slight difference should have only a marginal impact on the overall savings members will receive.  
As has been reported in previous articles, power supply costs have increased during the past several months, and those cost increases are forecast to continue through 2022. United's community solar program is an opportunity for members to hedge a portion of their consumption, and the costs associated with their usage. The community solar rate is a fixed low rate, and as wholesale power costs increase, the delta between the solar rate and the Brazos rate will increase, which equates to additional savings.  
Again, there are no upfront costs to join, no contracts to sign, no insurance required, and the potential savings begin the first month after a member signs up. Any member who is interested in enrolling can click the United Community Solar program link or contact a local United office.