Veteran United Employee Experiences
Cooperative From Multiple Vantage Points by GARY SOWDERS
I was recently awarded the honorary title of Assistant CEO of the Week, a program designed to allow two employees every year to spend a week shadowing other employees in other departments. The opportunity allowed me to attend a variety of regular monthly cooperative business venues, including a board of directors meeting.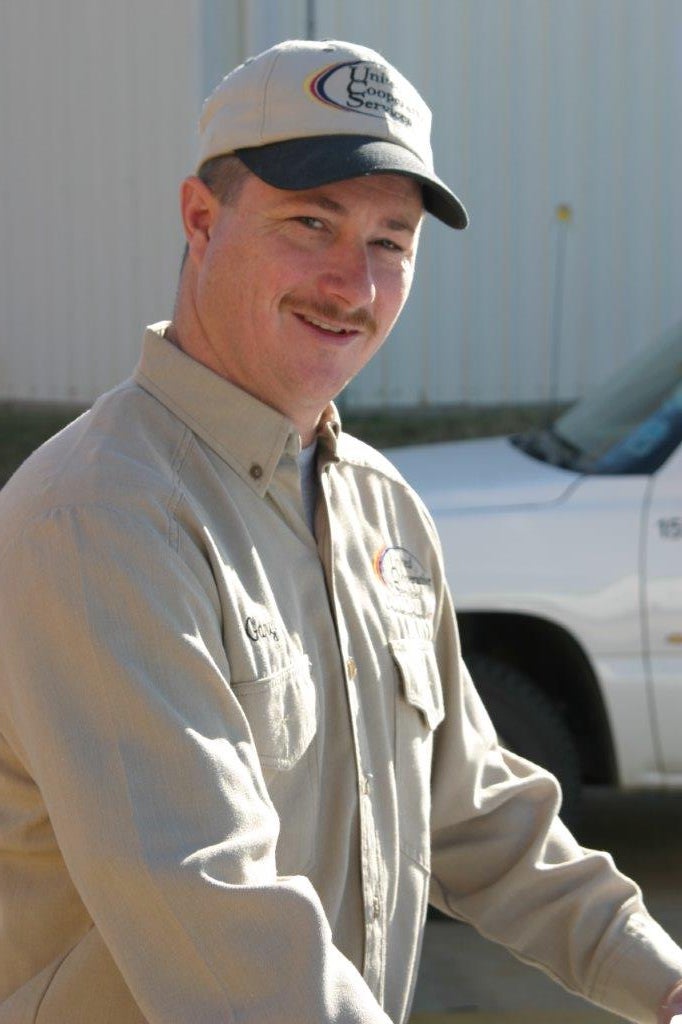 Even though I had read and heard accounts from other employees who have had the same opportunity, I was still a little uncertain about what to expect. I have worked for United Cooperative Services for almost 28 years now, and I thought I knew pretty much everything there was to know about the mechanics of the co-op. At the end of my special week, I found I knew a lot, but I realized every employee can't  fully know about the daily tracks others make—just like the ones I make every day.
As a longtime resident of Glen Rose, I started my career in United's Meridian office as a meter reader, which I did for about two years. Being a meter reader requires you to know where every meter in your area is located.
In addition to this, I became acquainted with every dog, cat and cow in Bosque County, as well as many of the cooperative's members. This was a very fast-paced job that tested my memory and sometimes my speed when running from dogs on a daily basis. I learned a lot about billing cycles and the need to get meter readings turned in on time to keep billing dates on a regular schedule.
Modern metering technology has in most instances replaced the need to manually collect meter readings today, so I have been around long enough to witness that huge change and transition to a more efficient and cost-effective metering methodology.  
After my two-year stint of reading meters, I transferred to Stephenville to become a groundman on the line crew.  I thought I had my fill  of reading meters until that first summer on the line crew—along with the heat and creosote burning my skin and eyes, I  found I sort  of missed the biting, snapping dogs. But while serving in that capacity, I began learning all the different kinds of pole framing specifications for the cooperative's overhead electric delivery system, as well as developing an understanding for how to properly construct and tie-in power lines.  
Although this was hard work, I really enjoyed seeing the finished product and having the feeling of accomplishment at the end of every day.
I was later promoted to an apprentice lineman on a service truck and transferred to the newly constructed (at the time) Glen Rose office. My duties there varied from day to day, but included such tasks as meter sets and disconnects, running services to new homes and working to restore power during outages, to name a few. This job also required me to be "on call" on a rotating basis for power restoration. Working outages taught me a lot about how distribution lines were fed, how sectionizing devices worked, and most of all how to work safely during the power restoration process.
Along the way, another important historical transition occurred. Erath County Electric and Johnson County Electric consolidated to form United Cooperative Services. After the consolidation, there was some restructuring done which opened a door for me in the Engineering Department. I moved over into field engineering and began learning how to design and stake overhead and underground power infrastructure. This position was not as physically demanding, but it proved to be very mentally challenging (and this was before we were using computers).
I've been in the Engineering Department for about 20 years. During this time, I have worked in Glen Rose, Stephenville and Granbury, and I currently hold the position of senior field engineer. My duties include supervising the employees in the Engineering Department in the Granbury and Meridian areas, designing and staking power line infrastructure in today's rapidly expanding residential developments, working with our contractors and operations group to manage these projects from start to finish, as well as many other tasks that arise daily. My move to the Engineering Department turned out to be the best fit for me. It's had its challenges and will continue to do so, and I expect to finish my career in this position.
So, as I now look back on my time spent as Assistant CEO of the Week, I've come to realize that no matter how long you've been doing something and how much you've learned at United, there is always room to learn more if you allow yourself to do so. Over the years I've been fortunate enough to see and survive many changes and challenges in the electrical industry, and within our cooperative, but one thing that has always remained the same here at United is our commitment to our membership.
I'm grateful to serve such a business model.  When I first started working here, I really had no idea what a cooperative was all about. But through my tenure, I've come to understand that being a part of this organization is more than just providing electricity, it's about providing exceptional service and value to our membership. I wish I could take credit for this phrase, but it's actually our mission statement.
Now that my retirement is within sight, I'll chalk up my career at United as only one of many collective efforts to diligently serve cooperative members and their interests. And while my tenure here may be my last professional stepping stone, I can honestly say all the stepping stones I've had at United will have led to a very rewarding career.