With global supply chain issues, some co-ops are having trouble
ordering the materials they need to build their internet projects.
United is not one of them. by KANYON PAYNE
The global supply chain shortage has put a strain on every industry across the country, including utilities who are busily building out high-speed internet for their members.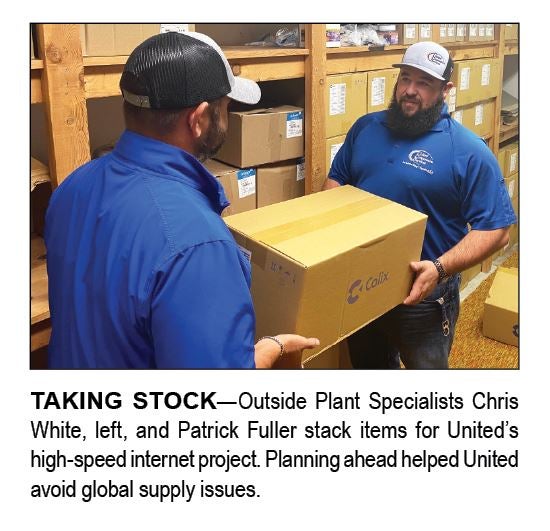 Lead times have increased in some instances six months or greater to receive materials directly related to providing fiber optic internet service. As reported recently in Rural Electric Magazine, "Fiber cable, largely a domestic product, is in extremely short supply and could stay that way beyond 2022. Deliveries of semiconductor chipsets, a critical component of the modems or gateways that produce wireless connectivity, are running at least six months behind."
Thankfully, United saw the shortage coming, said Robert Sherman, United's senior manager of procurement/facilities, and next year's build-out should progress at full steam ahead.
"Planning has always been a staple of United's supply chain," Sherman said. "We use our major projects meetings, subdivision meetings, workplan planning meetings and every other piece of forward-looking information we can obtain to fit our needs within manufacturer lead times."  
Too much demand for any given product creates a supply disruption. Add to it undelivered cargo containers, labor shortages, trucking shortages, etc., and supply issues compound. 
So far, United has been able to procure the necessary materials to continue internet construction and remain on schedule for this five-year project, he said.
 "We took a long-range planning approach and looked at what our demand was going to be years from now, and began procuring materials to be able to meet that demand," he said. "Another facet that has helped us tremendously is that United sees its suppliers as 'supply chain partners.'  This view, combined with our strategic selection of strong stocking distributors as supply chain partners, fosters a closer relationship than the traditional buyer/seller relationship.  This makes us closer as organizations and aids in the sharing of information such as United's long term planning needs and manufacturer lead times.  This continual sharing of information allowed United and its partners to recognize the tightening supply chain early and react as a team."
The supply chain  shortage comes at the worst possible time. In Rural Electric Magazine, it was reported that  at least 6.3 million households in electric co-op service areas lack high-speed internet access.
And while the need for high-speed internet has always been there, COVID-19 highlighted the need for  adequate internet service tenfold. As electric cooperatives have begun building high-speed internet networks across the country to bridge the digital divide that exists between urban and rural populations, the global supply chain shortage has strained every industry across the country, including utilities who are busily building out high-speed internet to their members.
"The one thing that makes this current disruption in the supply chain so different from anything I have seen in the past 30 years is that the disruptions seem to affect almost every product that we purchase at the cooperative," Sherman said. "In prior years we have seen maybe one or two items at most that were a challenge. This year it seems like every item is a challenge.
"I am hearing supply chain horror stories throughout the market. Many for-profit companies are even downgrading their sales and margin forecasts downward because some of these shortages are so disruptive."
United is now in a great position to be able to serve a larger region of its territory and begin providing fiber optic internet service across several different regions within United's footprint, Sherman said.
"Since we were able to recognize that demand was not subsiding through long range planning, and we were able to recognize the tightening supply chain early through communication with our supply chain partners, United and our suppliers were able to increase our stock levels before the supply chain began to totally break down," he said. "With United and its supply chain partners reacting as a team, we were able to build some redundant stock on key items which greatly helped us to mitigate the risks associated with the lengthening lead times."
In 2022, United plans to provide world class internet service to a lot more members in the Western regions. To date, United has 9,000 members with active internet service and has hung more than 2,500 miles of fiber.
United won't have to slow down and will continue to push to provide this service to many other members, Sherman said. The co-op will continue its build out in Stephenville, as well as the remaining areas in the Eastern territory, while also building a presence in Granbury, Lingleville, Possum Kingdom Lake, Morgan Mill, Bluff Dale, and Cranfills Gap.
This is in stark contrast to hundreds of other cooperatives across the country that have begun fiber buildouts to serve their members and bridge the digital divide, according to the Rural Electric  Magazine story. No cooperative is immune to the impacts  stemming from the supply shortage on these materials. The global pandemic has created an increased demand for reliable internet services as well, by highlighting the inadequate service provided to rural areas.
This has created an increased demand in these materials, creating a perfect storm for cooperatives trying to serve their members with quality internet service. Jim DaBramo, who is the president of broadband solutions for National Rural Telecommunications Cooperative (NRTC), and United's consultant for this fiber buildout, says trying to close the digital divide amid a global supply bottleneck is like playing three-dimensional chess.  
DeBramo stated in the article that strategic planning on the front end is the best solution to supply chain challenges. Businesses can no longer afford to take the supply chain for granted.
United is working night and day and has some crews working seven days a week to bring this service to our members as fast as possible. Members who may wish to receive United's world class internet should visit United's website, type in the member address at the top, and pre-register for service.
Members will be notified to complete their order when construction starts in their area.