Prices This Winter Could
Reach Highest in 13 Years by MAURI MONTGOMERY
As if consumers today haven't already worn out the carpet praying for fewer financial hurdles to jump, one more untimely challenge is looming as winter draws closer, still.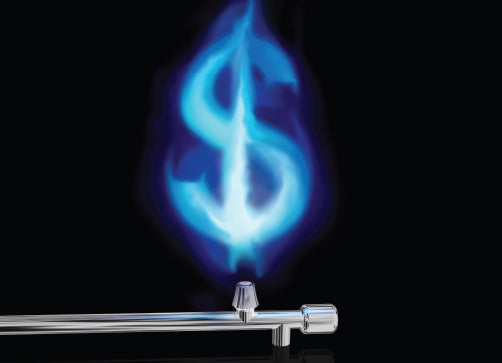 A nightmare of supply-chain snarls, tight labor markets, soaring demand, tight supply and surging natural gas prices has been brewing across global natural gas markets, and it is now fueling worries and forecasts in the U.S. about energy price hikes (the likes of which not seen since horizontal drilling and shale fracking in the oil and gas industry first began richly flooding the national market more than a decade ago).
Dirt-cheap gas prices became a fixture in the U.S. after the Great Recession in the late 2000s, but that era and its lower pricing trends have been gradually eroded by production contractions among producers in the nation's largest oil and gas plays, and supplies that have been depleted by a series of weather events.
As a result of tighter supplies and increased U.S. export of fossil fuels elsewhere, industry analysts warn that this winter's gas prices are likely to rise to levels experienced before new shale fracking technologies tilted the nation's surplus fuel storage levels to an all-time high.
Since the bulk of Texas' electric generation fleet is dependent on natural gas for power generation, natural gas prices have always served as a bellwether and a driver of costs within the electric market.
Fuel shortages abroad are already affecting domestic supply and prices, and those costs are expected to continue to creep higher as shorter supply and higher demand cross So far, natural gas prices have doubled this year and are expected to continue to rise, resulting in larger winter heating bills for consumers and higher costs for most electric utilities.
Beyond the new worries about energy costs, the old problems and costs stemming from the ERCOT market failures last February still exist despite legislative declarations that solutions were found, and that previous market ills had been corrected.
Most observers within the electric energy sector thus far view those imagined remedies as window dressings—inadequate and incapable of preventing another ill-fated energy crisis in the market anytime soon.
Just as a reminder of the impact of higher natural gas prices, in July and August of 2008, United's average cost for electricity per kWh was as high as 12.8 cents (compared to this October's all-in rate of 10.6 cents per kWh).  Even with the higher gas prices impacting United's cost of power at that time, United's rate was actually one of the lowest (if not the lowest) when compared with all other retail electric providers across Texas at the time.  This was at a time when natural gas prices peaked on July 1, 2008, at $13.28 per MMBtu.
That price seems shocking when compared to the average price for natural gas in 2020 of $2.03 per MMBtu.  At this juncture, it is anyone's guess how much the old economic rules of supply and demand will influence today's natural gas prices. The industry has seen August's price bump up to $4.10 and rates in September jumped up to over $5.50 per MMBtu on several days.
As a not-for-profit electric distribution cooperative, United passes its wholesale power costs through to its membership without markup. And while the cooperative has never had any control over those power costs, a variety of programs were developed that have for many years helped members better manage their energy usage—programs designed to aid members in wasting less energy and reducing monthly costs one day at a time.
So, to that point, hundreds of United members have learned through experience the old truism that an ounce of prevention is worth a pound of cure is still relevant.  It's never too late for members to take stock of their residential energy efficiency. No matter where power costs are, members shave costs by wasting less.
Heating systems account for the lion's share of monthly residential energy usage. Even modern residential heating systems need check-ups and regularly changed filters for optimal performance, and United annually offers members a wide range of cost-saving Energy Innovation Rebates that can help members better afford preventative maintenance on HVAC systems, as well as other energy efficiency improvements in their homes.
Another benefit to members is free home energy audits. United's free home energy audits have gained notoriety not only in detecting problems in residential energy envelopes (air infiltration, insulation etc.), but also in malfunctioning heating and cooling systems and other electric devices in member homes.
"One of the benefits of being a United member is that the cooperative is here to provide safe and reliable power to our members at the lowest cost possible," Chief Administrative Officer Landy Bennett said. "While it is true that even a cooperative such as United must provide power at a rate that will ensure the cooperative can operate and maintain its distribution system for the long term…we are not here to serve distant investors.  Our members are our investors," he said.
"Back in 1998, this cooperative set up a program called Operation Roundup," Bennett said. "That program was established to provide a way for 'members to help members.'  That purpose has never been more evident after witnessing how this program reached out and helped more than 800 families facing many struggles experienced in the past year with COVID-19 impacts and economic hardships.  We take comfort in knowing that this program will be there in the days ahead for our members as we prepare for the potential economic challenges that may be in our future."