Each Day, United Members Are Ditching the
'Big Box' Internet Service Providers for Their Hometown Startup.
Here's Why. by KANYON PAYNE
Jamila Jimison was so fed up with the "leading national brand" of internet provider that she would go to Starbucks several miles from her home just to complete her work.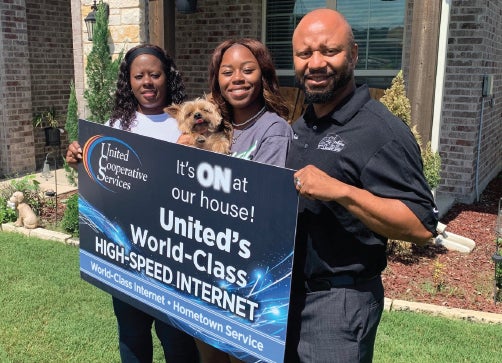 Jimison is co-owner and chief financial officer of NFaith Billing, a medical billing company. Her job requires reliable internet service to be able to complete her daily tasks and ensure her thousands of records and data are accurate, without the annoyance of slow inconsistent internet.  
She and her family are part of a growing coterie  of new United high-speed internet members who made the switch from the "big box" provider experience to United's tailor-made internet service because they said they needed fast, reliable service they could depend upon daily. And so far, all family members say they have gotten what they've asked for, and more, with United's service.
"I chose you guys because we had a lot of issues when we moved in," she said of her experience with the national provider. "We went without service for weeks.  I would have to go to Starbucks and work, or wherever they had Wi-Fi. We would schedule appointments to find out what was going on. They wouldn't show up. They just didn't have good quality service, and their prices were too high."
Her husband, Patrick, also is a business owner of J.I.T. Expedite, a trucking firm, and a real estate company called Financial Freedom Investment Group. Both require him to be on the internet that provides fast, reliable service. Having fast internet gives him a competitive advantage, he said, whether he's looking for freight loads or investment properties. The ability to quickly refresh his screen consistently is paramount to allowing him to compete for bids, he said.
"I'm always on the internet searching for land and development," he said. "Also, I'm always on load boards looking for freight loads locally and over the road. In order for us to be successful in those types of business, I'm refreshing and refreshing periodically."
Naomi, the Jimisons' youngest daughter, is a student at Burleson Collegiate High School. Naomi is ranked seventh in her graduating class, and her dedication to her schoolwork means sub-par internet service just won't do.
"I'm able to study at home and I'm trying to study for my SAT, and I'm trying to do that from home as well," she said. "Having good internet is so important to me."
The Jimison family suffered a couple of years with what was supposed to be something comparable to what United is offering, but the Jimisons found those promises were hollow as they usually are with these traditional internet providers.
The Jimson's said they chose United over a "national leading brand" because United's internet service was priced fairly, it was reliable, and the customer service was second to none. These three items are staples of United's service, whether that be for electric or internet delivery. United has consistently been recognized as an industry leader in consumer satisfaction levels for only one reason—the company's uncompromising focus on service value, service delivery and providing exceptional consumer service experiences that are constantly evaluated for continued improvement.
The same cannot be said about many other internet providers in United's territory. United conducts a monthly survey to its membership on the satisfaction of United's services. It's called the American Customer Satisfaction Index (ACSI®), and many of the national internet service brands participate in the same survey. United consistently scores around 90, while the national leading internet service providers tend to score in the high 50s and 60s.
"This significant difference highlights what United consistently delivers to members," said Marcellus Nixon, United's vice president of internet services. "While United is an electric company and an internet provider, it is also a service company at its core. United's mission is to provide exceptional service and value to its membership."
 After an overwhelming positive vote from the membership in 2019, United expanded to include internet services as well to close the internet service gap that was not being met by other  providers in United's territory.
When United first began exploring providing internet service to its members, the cooperative conducted a feasibility study with the National Rural Telecommunications Cooperative (NRTC). The study found that 87 percent of United's territory lacked reliable and affordable high-speed internet.
The study also found the reason members  have experienced sub-par service is because internet providers in the area leapfrog from one spot to another and cherry-pick system network improvements to fend off potential competition.
"They do this instead of investing in the whole network and planning for what the needs will be years from now," Nixon said. "These providers are profit-motivated, while the cooperative is service-motivated.This difference in philospohy can result in networks being patchworked together, over-subscribed and neglected, which ultimately affects the end user."  
United took a different approach by setting out to build a future-proofed network.
The co-op began by tapping into the top four internet service providers in the world. This ensures United's service quality won't be marginalized by secondary connections.
Many other service providers design their network without thinking how their upstream providers affect their service. These providers connect to cheaper, less reliable networks that are several steps removed from telco hotels that house the top internet providers.
This cost-saving measure results in poorer performance of the service. By connecting to the main source of the internet content, United has ensured better performance for members  by connecting straight to the source.
Some internet providers might be satisfied with being connected to these primary sources, given the reliability standards the top four internet providers must uphold, but United took it a step further.
"Many of these telco hotels, and internet providers housed within, have servers directly from the content providers that we use daily for our internet needs," Nixon said. "Think of the most popular streaming services, social media conglomerates, search engine providers and e-commerce enterprises. United  can connect directly to these sources, ensuring increased performance and reliability for United's members who use these popular internet content providers. By doing so, United can bring the content to its members even faster than other internet companies that use someone else's network to connect them to these sources."
United's network is built around a fiber-optic backbone that encompasses the cooperative's entire service territory.
Contiguous, overlapping distribution rings built out from the backbone provide internet service to members, and each ring in the network connects with an adjacent ring that forms a chain.
This provides additional service redundancy. If  links in the chain are severed, United can reroute service from other directions without noticeable consumer service interruptions. To date, United already has completed three of its nine rings, making considerable progress in the 5-year plan.
Apart from United's service-first philosophy, and technical superiority of its network, United also prides itself on providing value to its members by offering competitive and affordable rates.
United's not-for-profit operations structure has always been designed to serve and improve the quality of life of its member-owners, rather than to profit from its services.
"That's one of the many differences between a cooperative and other private- or publicly held corporations," Nixon said. "United's internet service rates are set primarily to recover the capital investment made in the construction and for delivery and maintenance of its technically superior network."
Along with competitive internet service rates that will never be gamed in sales promotions that are so often marketed by other internet providers, United subscribers will receive open, honest and transparent pricing without the "gotcha" rates aimed to provide an initial discount in the first year and skyrocketing the next.     
Members will not have data caps or cancellation fees that other internet providers are accustomed to passing to their customers.
"United is building this network using the core principles that made United successful for decades," Nixon said. "Although we knew it would be a 5-year project from the beginning to get all our members high-speed internet service, United is working night and day to bring this transformative service to members as soon as possible."
All of United's members will soon learn they can expect attentive, personalized service that is accountable, professional and that is not only unparalleled, but that is synonymous with quality, he said.
For more information on United's internet service visit www.ucs.net/updates to stay up to date on the progress United is making on its internet project.