Flushing Out Inefficiencies With Your Hot Water Heater
Can Save Energy and Serious Cash. by ERIC COMPTON
Often installed in a closet or a dark corner of the garage, water heaters usually stay out of sight and out of mind for the average homeowner, who may give very little thought to how to keep them running optimally.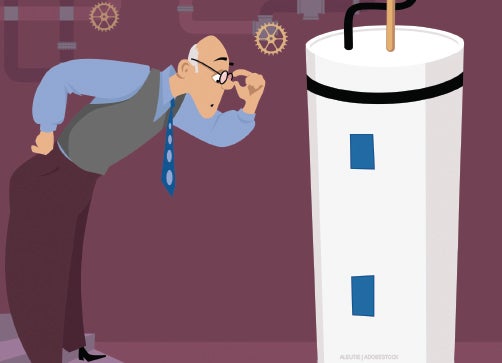 That may become an expensive mistake, as the U.S. Department of Energy estimates electric water heater usage accounts for 18 percent of a home's energy use. A traditional electric water heater consumes between 4,500 and 5,500 watts and runs for an average of three hours a day. That's about 13-17 kWh with a cost of $1.30 for each day in use, though actual energy usage will vary for each member based on their hot water needs in the home.
Any issue that arises with a water heater often results in excessive energy use. United energy advisors have seen a fair share of hot water leaks, rusted out tanks, heating elements that run continuously, faulty pop-off valves and various other problems that can go undetected until the member receives a high bill or a call from a member services representative alerting the member to the higher-than-normal usage.
These issues also can become costly to remedy as replacing a water heater tank averages about $1,100 in the United States. One of the main issues for tank failures and over-consumption of energy is sediment buildup within the tank.
Usually made from calcium carbonate, the sediment scale makes it difficult for the tank to heat the water efficiently.  Additionally, scale residue at the bottom of the tank decreases the capacity of water. If sediment buildup contacts the heating elements, this may cause them to lose their ability to heat effectively, or even cause the elements to burn out. If a second element is present, then it will run longer, using more energy to heat the entire tank.
Similar problems also surface with gas or propane water heaters. These water heaters are heated from the bottom, so sediment buildup can significantly slow their heating process. Flushing an electric, gas or propane water heater will have immediate effects on the productivity of the device.
Judy Patton, owner of P&P Plumbing and a United member, recommended that consumers have their water tanks flushed regularly.
"If a water heater is new, we recommend flushing the water heater at least once a year," she said. "It all depends on where people's homes are located, what type of water is in their area, and if the water is filtered prior to the tank. If the water is hard, then the homeowner may need to flush the water heater several times a year."
A simple tank flush can be completed by a homeowner, or a more thorough flush can be performed by a professional plumber. United recommends contacting a plumber prior to doing any kind of flush service to prevent damage to the tank. Also, due to the fuel lines involved with a gas or propane water heater, consult with a professional before attempting to flush a gas or propane water heater.
Performing a simple flush for a water heater may help remove some of the sediment out of the tank, but it will not alleviate all of it, Patton said.  Each drain valve is positioned about two inches from the bottom of the water heater, and some sediment may get trapped below the drain valve. A more thorough flush by a professional can remove this sediment.   
 "If a unit is older, you may want to leave the unit alone and not flush it," Patton said. "If the system has not been flushed in the past, then flushing could remove sediment that has blocked up any leaks inside the unit. So, it is possible that the water heater will need to be replaced after a new flush due to unforeseen wear on the unit."
Patton also said tankless water heaters should have annual inspections, too. Water runs continuously across the coils, causing scale to build up. Tankless water heaters require a special kit provided by plumbers to flush them out.
If flushing the water heater does not improve performance, and a member requires a new unit, upgrading to a new water heater can help save on energy consumption.
There are a couple of energy efficient electric water heaters on the market today. Heat Pump water heaters (HPWHs), or "hybrid" water heaters, are the most energy efficient electric tank water heaters.
Heat pump water heaters use the same technology as heat pump HVAC systems, except heat is gathered to heat water, not a home. As a result, heat pump water heaters use half the amount of electricity compared to standard water heaters with electric resistance heating elements.
Many components that are typically in an HVAC system are included in a heat pump water heater.  At the top of the water heater, there is a compressor, evaporator coils, and a fan. In the storage tank there is the condenser, and back up heating elements.  A heat pump water heater extracts the heat out of the air from the top compressor and evaporator. Cold air is released at the top, and the condenser coil in the storage tank is filled with hot refrigerant, which heats up the water. This process is more efficient than the older electric resistance heating elements used in older water heater models.
HPWHs do have back-up traditional heating coils that will produce heat in periods of high hot water demand. According to the Department of Energy, HPWHs can be two to three times more energy efficient compared to conventional tank water heaters. United also offers a $150 rebate for HPWHs.  
For any questions regarding water heater energy efficiency or total home energy efficiency, please contact your local United Cooperative Services office, and ask to speak with one of our trusted energy advisors.