A crew of seven from United assist devastated
Navasota Valley Electric Cooperative in their hour of need. by JOHN DAVIS
Temperatures had crept to a balmy 70 degrees as the convoy of six United Cooperative Services trucks pulled off Main Street and into the parking lot of the Cleburne office. Certainly, a much warmer welcome awaited the seven members of a crew who had left three days before out from a yard covered in ice to assist Navasota Valley Electric Cooperative.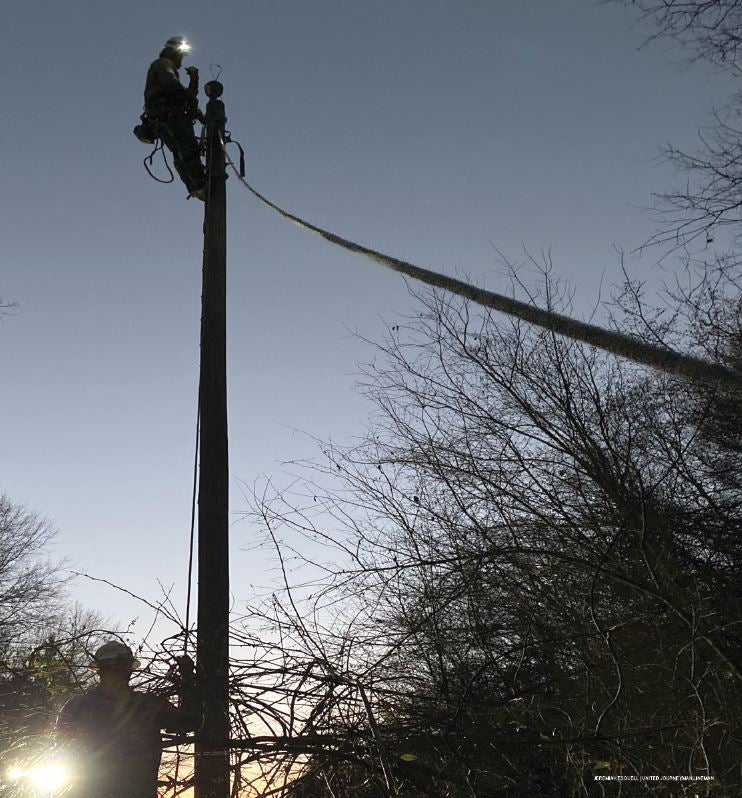 The electric cooperative, located east of Waco with 20,276 meters and covering nine counties, had been stricken by two waves of wintry weather that left, at its worst point, about 9,000 of their 14,060 members in the dark. Some of those members were without power for nine or more days, according to Navasota officials.
United's restoration crew had left following their own battles restoring United members in the days before. Jeremiah Esquell, the district foreman of Stephenville, said about 7,800 members were out upon their arrival on Feb. 19. Because of Navasota Valley's plight, he and six others volunteered to help the neighboring co-op that was struggling to cope with the massive damage caused by the storms and ice.
The damage reminded him of the February 2018 ice storm that affected more than 8,000 United members in the western half of the service territory, he said.
"When we got down there, there was still a lot of ice on the lines and on the poles," Esquell said. "Some places were still hard to get to at that point. Temperatures were right at the freezing point, and the ice wasn't melting very quickly. Mainly, it was trees down and lines down in the area we were in. The ground was wet. Even the county roads were bad."
Janet Summers, the office supervisor member services representative at Navasota, said she's never seen damage to the extent that the February winter weather waged on their service territory.
The majority of damage was caused by ice-covered tree branches that snapped and fell into and through lines, she said, though in many areas, lines couldn't handle the extra weight of ice layered inches thick and dropped under the stress.
"I've been here 42 years in March, and this is the worst we've ever had," Summers said. "This is the most extreme all the way around, considering the traveling conditions met by our guys getting through the county roads and working to repair the damage that was done. We've never had to have this much outside help come in and help us get going. This is the most extreme and we just keep telling our linemen, 'In your career, you will hopefully never see anything like this again.'"
Summers said Navasota Valley also received assistance from South Plains Electric Cooperative, Farmers Electric Cooperative, Navarro County Electric Cooperative, Hilco Electric  Cooperative San Bernard Electric Cooperative as well as a few contract crews, Texas Tree Contractors  and other tree contract crews from Indiana.
The co-op struggled to keep up with repairs as their crews fought to keep bucket trucks from skidding across severely iced county roads into bar ditches, she said. For the first time, dispatchers had to send wreckers and even a road grader to assist with towing stricken co-op vehicles because attending Navasota Valley crews couldn't assist their stricken brethren.
"The ice came in on Thursday, Feb. 11," she said. "It was a really heavy, heavy ice coating. That's what started our outages. But then we got a heavy snow—blizzard they actually called it—that topped all of that with nothing melting below it. It was Feb. 20 before we started having temperatures that started melting a lot of this.
"There have been a lot of our own linemen who have been without electricity and water during a lot of this event. A lot of them still have busted pipes at home, and they are just having to wait until we can get our members restored first. We had one lineman's family come to the office. Our office is just outside of town a couple of miles. We had them come and camp out here for several days because there was no water or electricity in town or at their houses."
It wasn't until other crews brought equipment that was better designed to handle the unusually harsh terrain that restoration progress began in earnest, Summers said. She and other officials at Navasota Valley said she was thankful for all the assistance her co-op received, as well as the level of professionalism United crews brought to the table.
"The United crews were awesome," she said. "These guys just got out there. We are just hearing back from our service men—we split our crews up to take United crews to different areas—and they said United's crews were awesome to work with. They've done so well. We cannot thank them all enough. We would still be below water if we didn't have all this help."
Eric Espinoza is an apprentice lineman at United's  Cleburne office. This was the first time he'd volunteered to assist with another co-op's restoration, he said, and the damage left behind by the storm was jaw-dropping at times.
Despite cold temperatures and hostile terrain, Espinoza said the restoration served as a learning experience,  as well as an opportunity to help members at another co-op.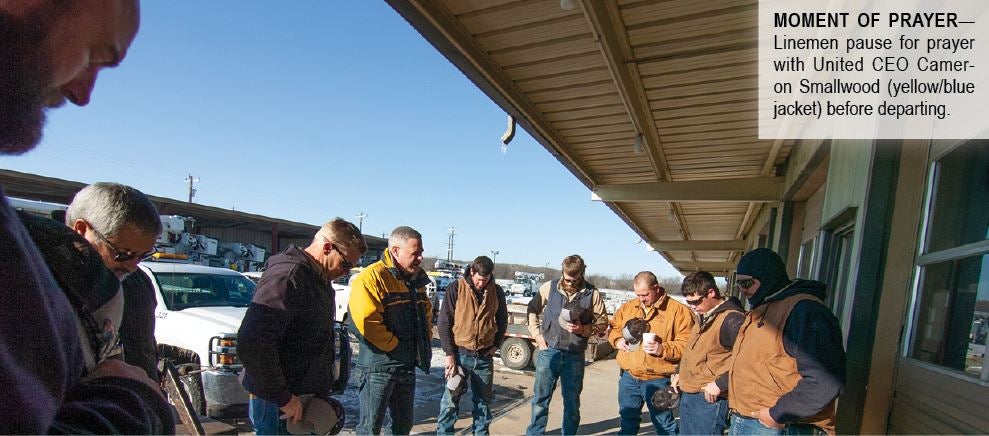 "I went because I wanted to help out the members," he said. "It's another co-op, and we all strive to get our members'  power back on. I knew there were a lot of people who needed help. Once we got there, we heard there were people who didn't have power for nine days. There was hardly any fuel supply for the generators out there at the time. Once the power was on, there was so much rejoicing.  There were people—a family, kids and all—out there literally dancing and jumping up and down by the street when we drove by because they knew we were fixing to get their power back on. It was a neat experience to see that. So many people came out to just to tell us 'thank you.'
"You know, I've only been with the co-op almost two years and that experience right there was huge for me to witness— knowing how much we could help out people. Being able to help out members like that, it's thrilling. It's a joy, It's probably one of the best experiences I've ever had in my life."
United CEO Cameron Smallwood said assisting other co-ops in completing restorations is not only the neighborly thing to do, but also part of United's guiding principles to cooperate among cooperatives.
"I have to say that I'm really proud of the volunteers who went to Navasota Valley," Smallwood said. "I'm proud of all the restoration crews. But when you consider a lot of these guys had restored United's outages related to the winter storms, they'd also experienced them as ERCOT required electrical providers to begin rotating outages through much of the week of Feb. 14. Then, despite all that, they're willing to go back out there under treacherous conditions all over again. That really does embody exactly what it means to be a lineman, and we're blessed to have them working here at United."