RELIC HUNTERS DIG, DISCOVERING WHAT'S
LEFT BEHIND FROM PREHISTORIC CULTURES by JOHN DAVIS
He can barely contain his excitement or hold back a smile.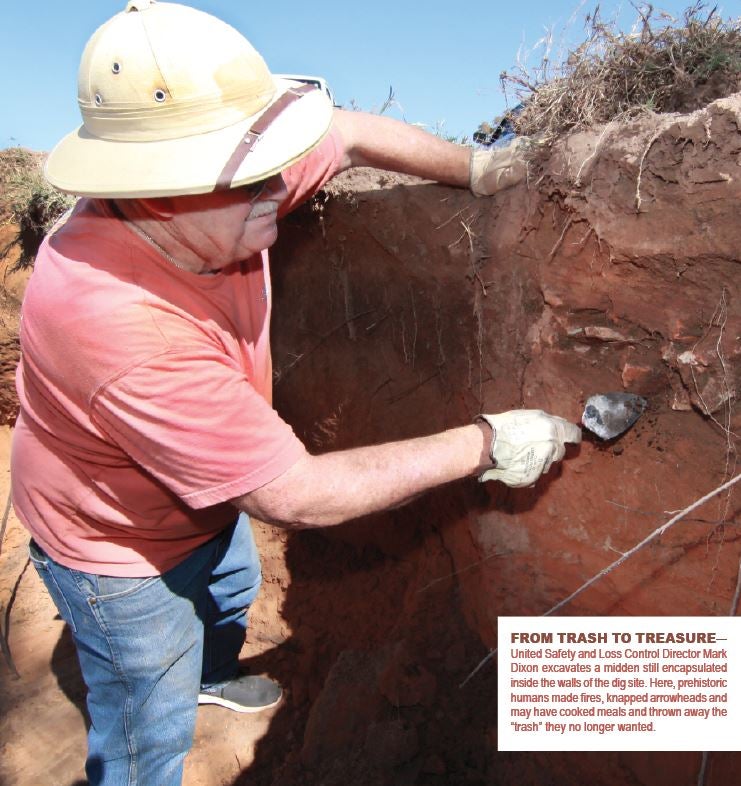 Mark Dixon, United's safety and loss control director, pulls his truck up the sandy dirt path to the digging site and shuts off the engine. It's a cool November morning that will grow balmy and comfortable with the sunny day ahead. In the pit about five feet down from the surface, eight tables with expanded metal openings a half-inch wide await the group of artifact hunters who will ply their skills on personal time away from work.
Dixon has a good feeling as he surveys the area. He can't wait to see what's hidden in all that sand. Moments before, Clint Williams, a United equipment operator who arrived earlier, showed him a bi-face knife blade found laying by the dig site. Dixon can't wait to start this day he's organized for friends and co-workers.
The dig site, its exact location undisclosed to discourage theft and trespass, lies south of United's service territory on a privately owned ranch. For years, the family has found on their property arrowheads and other materials left by native peoples. Now, they open it to paying artifact hunters who have discovered pieces spanning a few hundred years to possibly as far back as 8,000 B.C. It's clear that for thousands of years, humans made the most of hunting and foraging the land and the nearby river.
For millennia,  primitive people made fires, knapped arrowheads, ground grain for bread, hunted game, fished and gathered shellfish for food. They stayed to live life or left with intentions of returning one day, as evidenced by caches of blades buried and still awaiting their maker's return.
"I know that this site has significant value," Dixon says. "I've been in many, many sites like this before. I'd say it's in the top 10 sites I've dug in as far as it being textbook in the way the site is laid out. All the levels are how they're supposed to be in chronological order at this site. Not all of them are like that. Many of them have been dug up and potholed, and you can't tell anything about it. But this one is how it should be."
Artifact hunting isn't just a hobby for  Dixon, it's a second career that started as young as age 4 or 5 when he'd see the discoveries his older brother and brother-in-law found in the freshly churned dirt of what would become Navarro Mills Reservoir. Since then, he says he's collected countless pieces from dig sites.
"The first arrowhead I think I found would have been in a hayfield near Berry, Texas," Dixon says. "I'm guessing I was probably 8-years-old. I remember talking with my dad about how old that thing could possibly be, and he said, 'Son, it's probably even older than whatever you think it might be.' Even my dad had a little sense about the age of artifacts then."
"I started when I was 8. I'm now 62."
Maybe if life had turned out differently, he would have gone to college to study archaeology and anthropology instead of becoming a lineman, he says. His passion for artifacts never died, though. He's dedicated countless hours to the study of the ancient cultures that made Texas and the North American continent their home long before the arrival of Columbus.
He is expert at telling from which culture an artifact originated, and he knows the techniques different cultures used to make their tools. He looks at details like the way an arrowhead has been knapped to form the type of point, the edging on the blade and if it's been used and reshaped more than once. He can see subtle differences that may delineate one culture from another.  He can officially authenticate artifacts, as well, and can spot fakes—though that's getting harder to do, he says.
Today, he serves as tour guide, and interprets the age and cultures of the artifacts the diggers uncover.
There is a magic, he says, to holding an artifact in one's hand and knowing that hundreds to thousands of years may have passed since the piece has seen daylight, or to seeing the intricate artistry involved in a piece's creation, even if the person who made it may have regarded it as disposable as modern humans consider razor blades.
"One of the oldest things man could manufacture in this world were arrowheads," he says. "They're not only found on this continent. Almost all continents have some kind of primitive weaponry. I have some Native American lineage in my family. It's definitely interesting to me to know exactly where we came from as a society. I look at it more than just people using the word 'Indian.' It's primitive people—the people who were in the Americas before me."
Dixon looks at organized digs as a way to bring together amateur diggers and professionals trained to keep records and logs of items found on a site.  Rather than simply dig and remove, he hopes to show amateurs the value of discussing, researching and logging their finds to better understand the people who inhabited a site.
"A lot of sites have been dug up by people who don't keep any records or logs, and I see this as a disservice to archaeology," he says. "Even as an amateur, I encourage records on artifacts so that, someday, those artifacts may be connected to a place for continuous study on those sites. I try to be the bridge between the amateur digger and the professional archaeologist and anthropologist in the future. You know, there's conflict between those two groups. They don't always work together well, and I'd like to bridge that gap."
As digging commences, first one arrowhead, then another appear on the table mesh. Each discovery sparks a break to observe and a moment to identify approximate age group before the participants to again grow quiet and move more sand through their tables. Diggers uncover chert chips from knapping, charcoal from fires, shells from clams and broken pieces of metate (which are stones used to grind grain). All of it, Dixon says, is worth something to describe life and tell the overall story of the site.
Digging Crew
Also on site is United member Tim Davis, an electrician at MillerCoors brewery in Fort Worth. At 9 years old, he says he remembers shooting a bow and arrow trying to land the arrow into an old tire in his parents' vegetable garden near Grandview. As he retrieved one of the arrows, he looked down only to discover the tilled ground had kicked up a real arrowhead.
That experience kept Davis looking down at the ground wherever he went.
"One word of wisdom," Davis says. "Always be aware of your surroundings and look down. You may think you're the first person to set foot on this part of the earth, but you're probably wrong. There's been many a time that I've thought, 'Man, this must be the first time anybody's set foot on this spot to enjoy this magnificent view of God's creation. Then, I look down and find an arrowhead, and I say, 'Nope! There have been people coming here for a long, long time.'"
Clint Williams, an equipment operator II at United, grew up knowing Davis from church and went to school with his older brother. Williams says he remembers Davis had an eye for finding arrowheads on baseball fields and in creeks at church camp. It wasn't until about six years ago that Williams says he caught the artifact bug from Davis, and the duo began digging sites together. Davis even bought a piece of land to excavate, and both found troves of items in the sand by middens, where native peoples would discard their "trash."
Davis met Dixon through Williams, and the three regularly trade stories and show their findings to each other. All of them expressed how the thrill of the hunt keeps them looking for more. Plus, they said, there's a satisfaction to holding something  in their hands created by another human.
"To me, it's just like treasure hunting," Williams says. "And also, it's just like deer hunting or something. You're with a group of like-minded people, and everyone wants to see what everyone else finds and celebrate what everyone finds. The more people there are, the more stuff you're going to get to look at. Then, all that stuff those guys made was because their lives depended on it. They couldn't survive if they didn't make it. Then, the stuff we're finding, the last human hands to touch it may be 7,000-9,000 years old, some of it. When you think about it like that, it's crazy."
This was the first time for United's Chief Administrative Officer Landy Bennett to ever dig for artifacts, let alone find an intact piece. For years, he's found evidence of flint-knapping and broken arrowheads on hiking trips with his wife, Lezlie, who accompanied him.
Today, he hopes to finally find something that's complete. And by the end of the day, he and his wife will have discovered six pieces, including a needle-point Oakalla and a Nolan point.   
"When you catch a glimpse of the shine off an arrowhead and see it's a full piece, it just makes you stop and it almost makes you feel like you found buried treasure," Bennett says. You're sitting there going through the dirt, sifting through it, and either by touch or sight, you pull one up to the surface. Then when you realize it's a full pristine piece that's not broken, it makes you stop and admire how long it's been in the ground and wonder how long ago did they make this.
"Sharing with others what you found, and the benefit of being with other folks who knew what they were doing, who were experienced and who could explain what point you found and put it in chronological order, was great. There's immense satisfaction seeing so many broken pieces and suddenly coming up with that one complete piece. And it's  great being with friends at the co-op who are really into the hobby of looking for arrowheads and discovering past cultures."