Third Group of United Stormtroopers Assists Twice-Stricken
Louisiana Co-op After Hurricane Delta Wreaks Havoc by JOHN DAVIS
United Sends Third Crew to Beauregard in Louisiana
Kay Fox may never have been so glad to see  the arrival of November.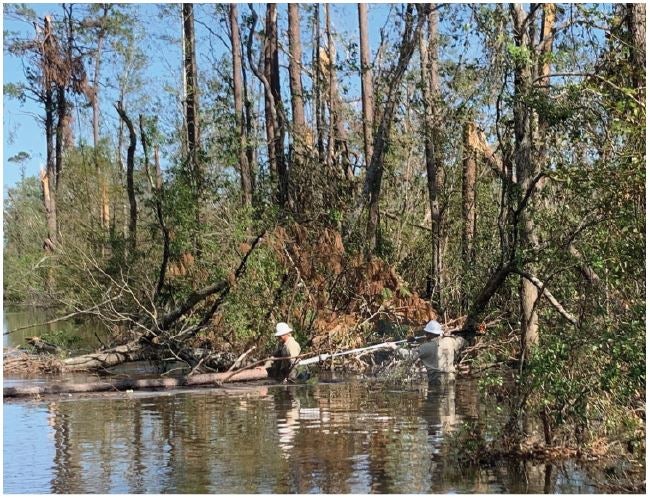 The end of the 11th month marks the end of hurricane season, and it may go to the very end this year. Hurricane Zeta hit the eastern coast of Louisiana three days before the end of October, leaving 33 days to go.
Prior to Zeta's arrival, the vice president of marketing and members services, said that she and, undoubtedly, all employees and members of Beauregard Electric Cooperative Inc. had carefully watched the latest hurricane's projected trajectory.
And then breathed a sigh of relief as it turned east.
The year 2020 will definitely stand out for the electric cooperative that serves about 43,000 members in southwest Louisiana, Fox said. In its 81-year history, it has suffered a complete blackout three times—two of which occurred this year because of Hurricanes Laura and Delta in a hyperactive record-setting hurricane season.
With two complete blackouts that took out more than 4,500 poles and the overall costs still being calculated, an army of 2,000 linemen from other co-ops and 140 contractors, helped to rebuild the damage from both storms, including three teams from United.
For all that help, she said she's eternally grateful.
"We are so blessed to have the teams from other co-ops and the other states," she said. "We had crews that just jumped in here for Delta just like they did with Laura. Some folks had been here before on their second or third time. They just came back, jumped right in and helped us. With Delta's destruction not as bad and just more water, it took a different kind of equipment the second time. We couldn't have done that without the mutual assistance from other co-ops like United."
Beauregard's trouble began with Laura, a Category 4 storm that made landfall on Aug. 27. United sent two crews to assist with this initial blackout, which was fully restored 36 days later on Oct. 1. Then, Hurricane Delta hit Oct. 9 as a Category 2, bringing heavy rains, flooding and nearly traversed the same path as Laura.
Beauregard bested their projected Oct. 23 restoration completion by five days, but there's mountains of work to complete, Fox said. Hundreds of service orders and requests for repairs to outdoor lights sit waiting, and billing still requires straightening out.
Still, she was thankful to have all members' lights back on and service returned somewhat to normal status, she said.
United CEO Cameron Smallwood said assisting other co-ops in times of need is one of every co-op's seven guiding principles. As United has benefited from other's coming to the rescue United was more than willing to assist Beauregard after such a difficult double-blackout.
"It's hard to imagine what it must have been like for Beauregard and its members to endure one major event like that, let alone one right after the other," Smallwood said. "It seemed almost unbelievable that they could get struck by lightning twice like that in such a short amount of time. So, we were more than willing to keep sending them aid to get everyone restored. They definitely needed all the help we could give."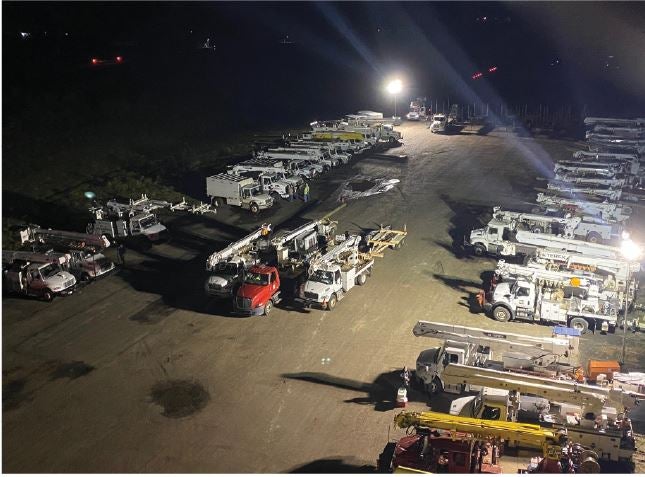 When Jeremiah Esquell, United's district foreman for Stephenville, arrived with his team of five other linemen on Oct. 12, Beauregard's crews and others had restored about 11,000 members. After seeing Laura's wind damage at Texas co-op Jasper-Newton across the Sabine River from Beauregard earlier in August for another restoration, he said his crews mainly dealt with downed trees and flooding from Delta.
Esquell was joined by Joe Ponce, a journeyman lineman from Cleburne; Jason Forbis, a journeyman lineman from Burleson; Payden Henderson, a first-class lineman from Granbury; Mathew Simmons, an apprentice I from Possom Kingdom Lake; and Kyle Harris, an apprentice I from Stephenville.
"The guys did what they had to do to get the lines back up," Esquell said. "There were just a couple instances like that where we had to go wading off into the water. Yes sir, we did think about the snakes and alligators, but we never saw any alligators though. The people down there, they were dealt a lot of misery. As they were picking up the pieces, then another storm comes through and tears it all up. You could tell people down there were very appreciative of us trying to get them back to some normalcy. You could tell it just by their demeanor that they were whupped. But they were all very nice."
Esquell said the restoration also served as a learning experience for two apprentice members of the crew who had never done restoration work due to a hurricane before.
"The No. 1 thing we tried to teach was the safety aspect of everything as far as making sure everything is tested and grounded, and not knowing when a generator could back feed onto them," he said. "They also got the feeling of accomplishment getting these people's lights back on after they've been off so long.
"That's what we do. We go help people out when they call for help."