High-Speed Internet is Here.
But What Does It All Mean? by KANYON PAYNE
Megabits, bandwidth, lag, ping. All these terms can often have us thinking we are in "The Matrix." The internet landscape can be a very confusing place. And when it comes to understanding internet speed, it is often no different.  "How much speed is right for me? How many devices can I connect at one time? What speed will ensure TV content streaming will never buffer?"
If you have ever asked these questions, you are not alone. We all want internet speeds that provide seamless and frustration-free connectivity, and without breaking the bank. But to determine what level of internet speed we need, we must first understand internet speed, itself.
What is Internet Speed?
Internet speed is also known as bandwidth. It is the highest rate data can be transmitted by the internet. Internet speeds are often represented in megabits per second. A "bit" is the smallest unit of data. When computers send information over the internet, these bits take time to reach their destination, and that time is measured in seconds. Because these units are so small, we often see them classed together by the thousands. For example, a megabit equals 1 million bits. When members look at United's Advanced 100 Mbps plan, that means the rate at which members can download data is 100 million bits per second to a single device.
Internet bandwidth can be compared to water pressure. Think of these bits as a drop of water. Now, imagine the internet connection that United brings to members' homes is a water pipe. When a higher-speed package is selected, it results in a larger diameter data pipe. The larger the diameter of the pipe, the faster the water (data) can flow through the pipe. The narrower the diameter of the pipe, the lower the volume of water (data) that can pass through the pipe in a given time.
Bandwidth is distributed among all user network devices. So, imagine each connected internet device connected is a faucet for the water (data) to flow through. As water is passing through the pipes, each open faucet is allowing water to flow, decreasing the water pressure, or in this case the internet speed per device. If the pipe coming into a home is not large enough, the result is weaker output for each device. Performance will be worsened when there is inadequate bandwidth supporting the number of internet connected devices in a home.

What Affects
Internet Speed?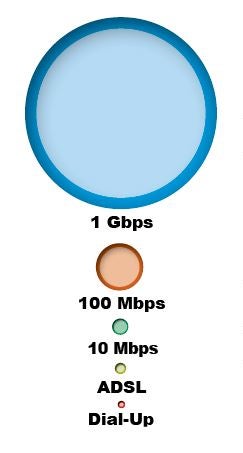 Having enough bandwidth is only one side of the coin. There is a misconception about internet speed and performance. Having the highest bandwidth possible does not always equate to internet performance. There are several factors that can affect internet speed. Some of these factors include the device's age, a connected device's distance from the router, obstructions between the connected device and the router, the type of activities being performed on the network, and finally having a wired connection versus a wireless connection.
Device Age, Quality
and Type
When it comes to the internet-connected device itself, newer better-quality devices typically always have better performance. Older devices may not have been originally designed to support the internet speeds of today. Also, Wi-Fi capable devices use antennas to transmit the Wi-Fi signal. Newer devices often have many antennas they can use to receive and transmit the data faster. Older devices have less antennas, causing slower speeds.
 
Distance from Router
Router location is key in consumer internet experience. A router should be as close to heavy internet use devices as possible. Before one of United's installation contractors comes out to connect members to United's high-speed internet services, determining the ideal location for a router in relation to large internet use locations is an important consideration. For example, if internet in a home office is used frequently, it might be best to have a router located near that side of the house. If families stream TV and movies in the living room, it might be best to place the router in a centrally located room near the living room.
Device and Router
Obstructions
Aside from distance, walls and other devices can interfere with wireless signals as well. Purchasing Wi-Fi extenders or mesh units can assist by boosting the Wi-Fi signal to distant areas of the home. United will be offering these devices to its members in the future.    Also, United members may need to look at the channel frequency on their router to ensure other devices aren't causing additional interference. Several "Wi-Fi analyzer" apps are available through your device's specific app store. These applications may be utilized to assist in determining a router's channel frequency, as well as other devices that are sharing that frequency. It is possible to login to the router to change these settings when heavy traffic is evident on the selected router channel.
Wired vs. Wireless
Lastly, there is a difference between a hard-wired connection compared to a wireless connection. Wi-Fi bandwidth works great for most household internet devices. However, there could be some activities that require a hard-wired or direct connection using an ethernet cable to experience the full potential of United's network. These activities may include competitive online video gaming or streaming 4K content.
Using an ethernet cable to hard wire directly into a device provides a direct connection to the network, providing a faster, more consistent and reliable connection to that device.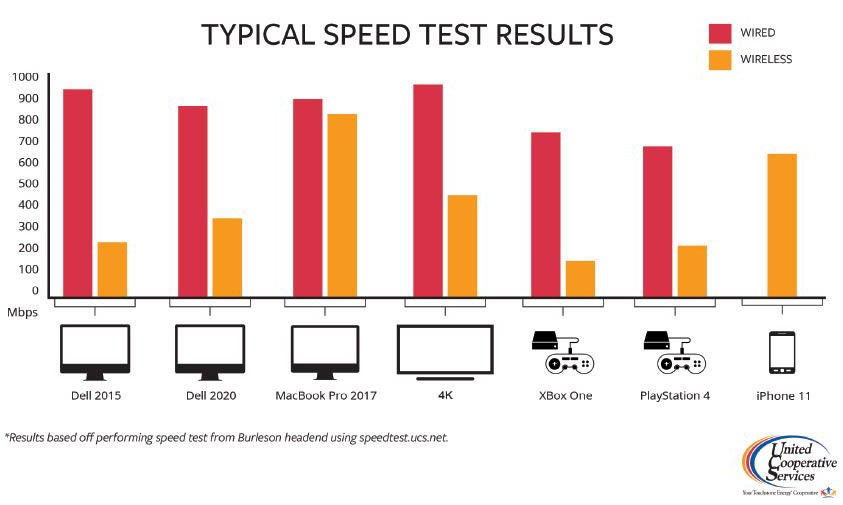 United members can visit a variety of sites to determine what internet speed is being received. However, for the most accurate results, it is best to use a hard-wired connection using United's speed test, which reports directly from United's network, www.speedtest.ucs.net.
To demonstrate the factors that may affect a subscriber's speed, United has tested several different devices, both old and new  and both hard-wired and wireless connections, to determine the total throughput for these devices.
United Network Engineer Eric Cagle tested a variety of devices 10 times from United's internet service portal directly from the cooperative's Burleson headend location and measured the results that are reflected in the graph at right.
In those tests, a hard-wired connection always outperformed the wireless connection. Another factor that can affect the throughput internet speed of a device is the internal hardware. For example, the 2017 MacBook Pro outperformed the new Dell 2020 computer on a wireless connection.
"The quality of the internal wireless network card plays a tremendous role in performance. Apple has a very high-quality network card, which translates to higher wireless performance," Cagle said.
As United continues the expected five-year build out of its network, the cooperative will continue its pledge to educate and improve its members quality of life through the delivery of highly reliable, competitively priced high-speed internet service.
For more information on internet speed, members are encouraged to call their local United office and ask to speak to one of United's internet products and services specialists today.