Increasingly Attractive Solar Options
Provide More Cost-Savings Potential for Members
by SETH ROSSER
The energy futures for United members just keep getting brighter after United recently added 16 MW of solar energy to the United Community Solar portfolio, significantly increasing the amount of subscriptions and savings available for residential members.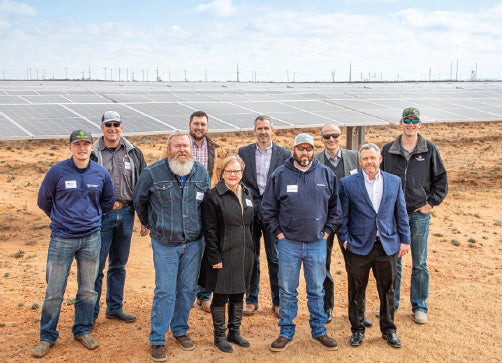 Since May 2018, United's residential members have been reaping the benefits of United's Community Solar Program. Until recently, this program consisted of one 9.9 MW (AC) solar facility located just outside of Kopperl, in Bosque County. Within the past two years, close to 90 percent of the 4,950 subscriptions have been snatched up. Due to the success of United Community Solar, United has expanded this program for its residential members— increasing  total capacity from 9.9 MW to just shy of 26 MW.
In 2019, United signed a Power Purchase Agreement (PPA) through Brazos Electric Cooperative, United's wholesale power supplier, for 16 MW of solar production from the Lapetus Solar Energy Project. Unlike the Bosque County solar facility, the Lapetus Project is not connected to United's distribution system,and is located in West Texas. The Lapetus Solar Energy Project, owned by Duke Energy Renewables, is a 100-megawatt solar facility (United's share is 16 MW) located on approximately 800 acres in Andrews County, Texas. The entire system contains more than 340,000 solar panels.
"This solar offering was very attractive for United and hard to pass up. We were able to cost-effectively lock in a fixed energy schedule, which will be especially beneficial to the cooperative during on-peak periods," stated Blake Beavers, United's vice president of power supply. "The PPA price we negotiated was even lower than our current solar offering, which was an exceedingly attractive stand-alone offer, and which is expected to help reduce member energy costs for many years to come. Blending these two solar energy resources into one offering for our residential members is not only going to lower our community solar rate, but it is going to allow more members the opportunity to subscribe to a larger portion of United's Community Solar program."  
United Community Solar is a competitive solar product for United members who may have considered investing in such technology on a residential scale, but who also may have faced challenges at home for optimal system siting, sizing, and affordability. According to United's Energy Experts, the primary reasons most members postpone or dismiss completing their own solar generation installation plans are typically that upfront costs are too high, system complexities and installation processes are often overwhelming and system operating and maintenance requirements are a continuous liability.  
Many members are not able to install solar due to siting limitations posed by shading from trees or other reasons. United Community Solar requires no equipment to be installed on member properties, making it an attractive alternative for those who have thought about solar, but who don't consider solar panel systems installed on rooftops or in yards aesthetically pleasing.  
When members subscribe to United Community Solar, they are subscribing to a 2 kW portion of the overall 26 MWs. The Lapetus project will provide an additional 8,000 (2 kW) subscriptions to United's community solar program, bringing the total subscriptions available to United's members to 13,000. With the additional subscriptions, many members will now have the opportunity to subscribe to two (2 kW) subscriptions, 4 kW total, potentially doubling their monthly energy savings.
To qualify for one (2 kW) subscription, members must be on United's single-phase residential rate and average at least 500 kWh usage per month over a 12-month period. A member with an average monthly usage of at least 1,000 kWh per month can qualify for two subscriptions (4 kW total).
Every month, the total kWh generation from both solar facilities will be blended and equally distributed to the 13,000 subscriptions to come up with each (2 kW) subscription's monthly kWh allocation. Each monthly subscription allocation equates to .01 percent of the total production from both facilities.
It is important for members to note the monthly allocation will vary month-to-month depending on the generation of the solar facility (winter months often mean more overcast skies and less generation). Participating members are billed each month for the solar allocation (.01 percent of the 26 MW total monthly). If the member has two subscriptions, then the kWh allocation would be doubled.
Participating members are billed each month for the solar allocation by multiplying the member's monthly solar kWh allocation by the Solar Rate and the Solar PCRF.
The remaining kWh consumption will be billed at the normal Brazos Electric Cooperative (BEC) rate and the BEC PCRF. United's distribution rate will be applied to the total monthly kWh consumption.
"Members who have been subscribed since May of 2018 have saved $68.07," stated Eric Compton, one of United's energy advisors. "Once subscribed to United Community Solar, members should expect to see savings for years to come. If United's wholesale power costs increase, those savings will only get larger."
To learn more about United Community Solar, please visit United's Community Solar page. To sign up for United Community Solar, or to increase your subscription level to two subscriptions (4kW total), members are encouraged to contact their local office speak with one of United's member service representatives, or use the online form.