2020 Annual Meeting Planned
Without Member Attendance by MAURI MONTGOMERY
By now, almost everyone these days should be able to recite the opening disclaimer in any public cancellation notice by rote—"Out of an abundance of caution and in consideration of current health guidelines..."
United Cooperative Services' 2020 Annual Meeting will be conducted without public attendance for the first time in the cooperative's history at 6 p.m. Thursday, Oct. 15, after United Board of Directors in June decided that the widely attended annual event posed too many COVID-19 exposure risks for members and employees.
The decision adheres to federal, state and local public health guidelines reissued in July in response to ballooning infection rates across the nation, which health officials attributed to premature  loosening of  state health restrictions and guidelines earlier in May.
Instead of traditional meeting fanfare that has included a health fair, live entertainment, and a  barbecue meal in addition to the business meeting, United members this year will be invited to dial in and hear the meeting in progress via live electronic access from the comfort and safety of their own home.
United's bylaws require the cooperative to have an annual meeting every year in October. State law governs when notification of the annual meeting is sent to members.
Although members cannot attend the annual meeting in person this year, they can still be represented by returning a signed and completed ballot, which will be mailed in September along with a postage prepaid return envelope.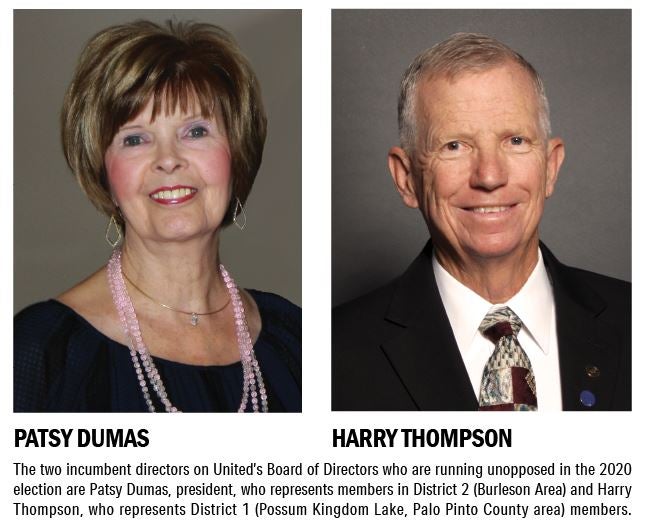 The deadline for returning ballots will be 5 p.m. Friday, Oct. 9. All ballots must be returned and postmarked before or by that date.
The return of ballots is important since absentee ballots this year will be the sole means to determine the existence of a quorum (at least  five percent of the cooperative's membership)—required to conduct business at a meeting of the members.
Previously, members have been able to register and cast a ballot in person at the meeting.  
All members who return completed ballots by the deadline will be automatically entered into drawings for special cash prizes in the amount of $1,000, $500 and $250, which the cooperative will mail to winners.
And in keeping with the tradition of door-prize drawings typically featured as a permanent fixture at the end of United's annual meetings, organizers are working on a way to continue the prize-drawing  tradition while adapting it to the virtual online annual meeting experience  that will occur for this year's event.
Immediately after the meeting, United will post the winners of the largest prize drawings on its website and on social media. A full meeting report will appear in the December issue of Texas Co-op Power magazine.