United's Youth Tour Winners Recount Tales of Friendship,
Enlightenment and Patriotism while
Exploring the Nation's Capital by SHAYNA RUSSO
She felt a little puzzled after hearing the Vietnam veteran's request, but she did as he asked.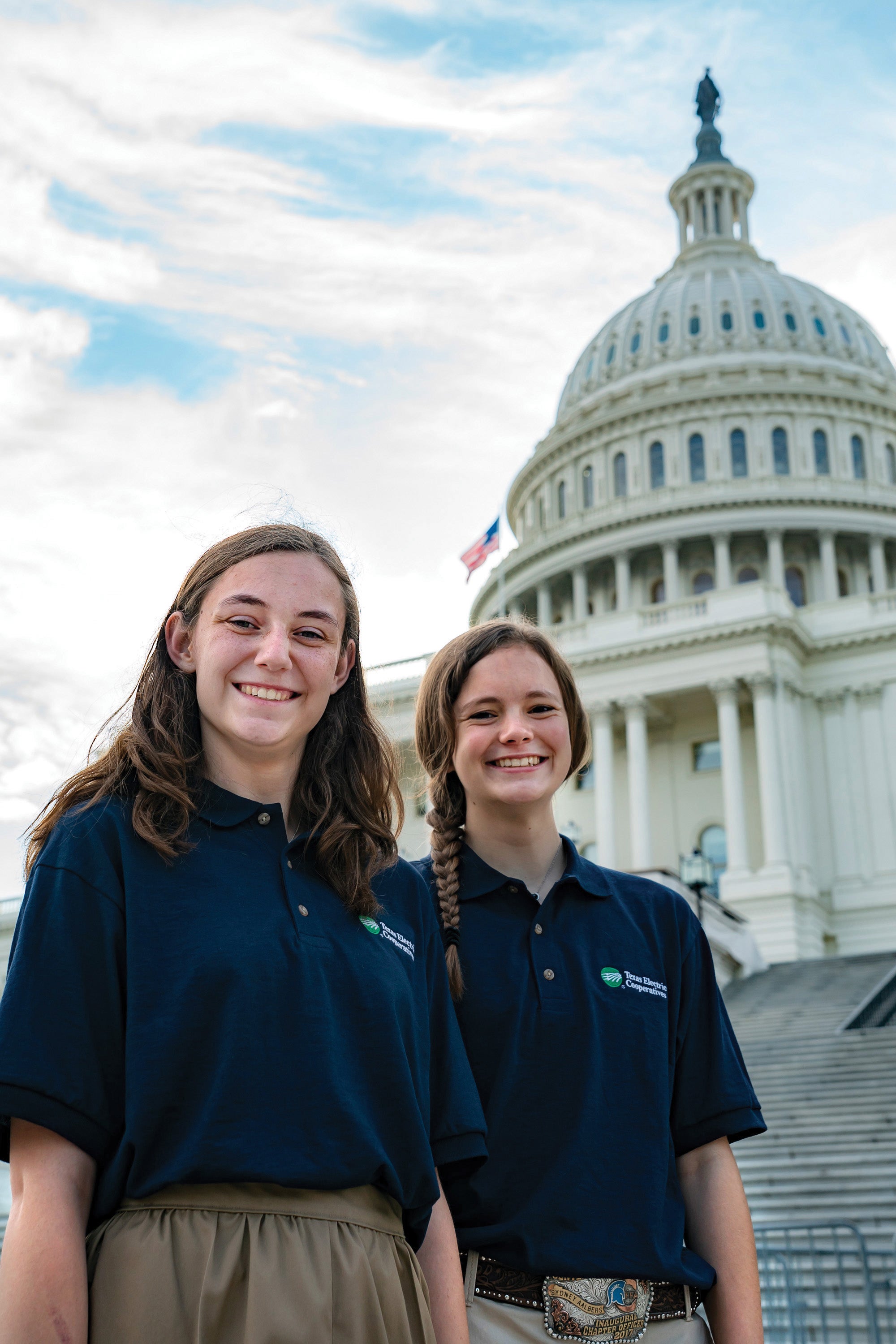 Aubrey Hendrick, a United Cooperative Services' Youth Tour 2019 winner from Lipan, had begun the weeklong tour of Washington, D.C., with  Burleson resident Sydney Aalbers, the second United 2019 Youth Tour winner.
While visiting the Vietnam Veteran's Memorial, Hendrick said she had joined other Youth Tour students in engaging veterans who also had gathered that day at the wall of  58,320 names.  
Hendrick recalled approaching one lone vet  sitting in a wheelchair and decided to thank him for his service and chat for a bit.
As they spoke, she said, the veteran asked Hendrick to touch the right side of his cheek, just under his eye. Initially, she didn't feel anything out of the ordinary until the veteran said, "Press a little harder."
That's when she felt something in his cheek—something that should not have been there. Something beneath the skin told the tale of a Vietnam War veteran's combat experience without saying a word.
"He looked at me and said, 'That's a piece of shrapnel from the Vietnam War,'" Hendrick said, and the words immediately drove home the reality of that difficult part of  American history. "I knew before that the people on the wall were all real people—all the names—but then, to all those men who were there that day, they knew those people. That made it more real to me, because they were going around trying to find the names of friends they had lost. And so, it was really, really meaningful. All of us on the trip, we all started crying at that point. There were about 157 of us. We went down through the monument, and we thanked every single veteran that we passed. It was really neat, because a lot of them got emotional, too, and talked to us and told us their stories."
That was just one of many powerful experiences that the homeschooled senior said she enjoyed while on the Youth Tour.
Youth Tour is a weeklong trip sponsored by electric cooperatives across the nation such as United. Since the late 1950s,  students who are awarded this opportunity learn about the history and importance of electric cooperatives as well as experience history first-hand as they delve into the museums, memorials and exhibits Washington, D.C., has to offer. Texas students (totaling 157 this year with more than 1,800 nationwide) also experience Austin and meet various state government officials prior to traveling to the nation's capital.
"At first, I was kind of nervous about going because I didn't know anyone," Hendrick said. "But it was lots of fun. Everyone was really nice, and there wasn't anyone that I didn't get along with. I was super excited."
Aalbers, now a Texas Tech freshman, also was nervous. She said she was unfamiliar with not only the other kids who were attending the trip, but also the entirety of the trip all together. She wondered what Washington would really be like. Aalbers had teetered between majoring in teaching and politics and wondered if  the Youth Tour might help give her the clarity she needed.
"I decided I would apply, and the worst thing that could happen is I don't get it," she said. "But I was able to learn about our government and it helped give me a better idea if working in government is something I really wanted to do."
Not only did both United's Youth Tour recipients say they had been positively impacted by cooperative contributions, but also their ancestors were as well.
"My grandparents were pig farmers, and when they were farming, they didn't have electricity," Aalbers said. "The Youth Tour helped me really understand what it was like to not have the usefulness of electricity."
Hendrick's aunts had told her how the family watched the co-op install electric poles at the family's farm back in the 1940s, and that's why her current home has electricity. She even discovered that her Sunday school teacher had participated in Youth Tour when she was Hendrick's age.
"As I interviewed my aunts and some other people from the Youth Tour, it helped me realize the importance of cooperatives," Hendrick said. "It was really cool to learn some awesome lessons."
Aalbers said her favorite thing about the trip was going to the American History Museum and explained how impressed she was with it.
"This is where government really works," she said, "I got to see inventions from the time America was founded all the way through to today and our newer inventions."
Additionally, she thoroughly enjoyed the Bible Museum, because it was something new that her family had never been to before. Upon returning home, Aalbers enjoyed that she was able to discuss her time at that  museum with family members who had never been there before; the experience was hers, and hers only.
"For my family to be interested in something that I really enjoyed that was new to them was super exciting and awesome," she  said.
For Hendrick,  her favorite part was visiting the Vietnam Memorial and meeting the Veteran who had been injured during the war.
"It really impacted my view of our country," Hendrick said. "This past 4th of July was even more meaningful to me because I got to see all of the places and monuments that had to do with people who fought for our country. I could see the sacrifice. You do not get another opportunity like this. It is a once in a lifetime experience."
Jeff Pannell, United's key account and business development manager, has coordinated the co-op's portion of the Youth Tour since 2012.
He said that supporting the program is  important to area students because it allows participants a chance to experience firsthand how government works.
"The reality is many of today's  youths will not have the opportunity to visit the nation's capital," he said. "Co-ops like United invest greatly in programs like Youth Tour to help students by not only showing them national landmarks, but also helping  to mold them into leaders of their own communities and reinforcing the positive impact that  electric cooperatives provide every day to our members."