United line crew shows its love for Heart of Texas Electric
Cooperative with February winter weather restoration. by RACHEL COLMAN
A panic ensued in Texas when forecasts of another winter weather surge were in store for early February.
For upwards of a week, the unofficially named, "Winter Storm Mara," resulted in bone-chilling temperatures and icy conditions throughout Texas. Storm-related outages occurred for United's service territory leaving more than 1,000 members temporarily without power as line crews carefully worked on a slippery sheet of ice to restore damaged infrastructure.
Luckily, the freezing conditions warmed up after about four days by Friday, Feb. 3. As the roads cleared up and everyday routines resumed for North Texans, members of Heart of Texas Electric Cooperative (HOTEC), southeast of Cameron, unfortunately were still in the trenches without power.
As freezing temperatures and scattered rain storms plagued central Texas, HOTEC's nearly 4,000 miles of service territory was heavily impacted by weighed-down lines due to ice and snapping tree limbs.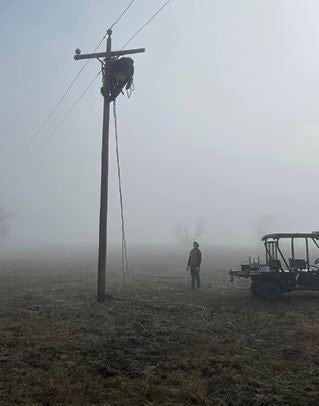 Jeremiah Esquell, United's district foreman in Stephenville, said HOTEC called for United's assistance following the freezing weather conditions in hopes of rebuilding the damaged framework and getting their power back up and running.
"United loaded up a six-man crew early Saturday morning on Feb. 4, and traveled down to Cameron after the ice had already melted," Esquell said. "By the time our line crew arrived at the site, there were around 900 HOTEC members that still were in need of having their power restored."
Accessing the line during this restoration was difficult for the crew because the service areas were not close to populated roads, Esquell said. Not having a good sense of their service area or electric lines posed an obstacle.
As Esquell and the others traveled throughout the stricken rural central Texas area, the restoration began to show further complications.
"The good news was that the ice was off the ground, but the mud left behind was a grainy, sandy texture that was different from United's service territory," said Jackie Carter, a journeyman lineman in Meridian. "It's already a challenge to put lines back up in an area that isn't home, but this location was practically quicksand as a result of the storm passing through."
After a 20-hour work day of restoring poles and voyaging through thick, muddy conditions, United's restoration revived 130 meters for HOTEC.
"When we were done working, we had quite a bit of the sandy mud in our wheels and on our trucks," Carter said. "A nearby farmer in the HOTEC community noticed our muddy state and offered to help us clean off our vehicles so that it wasn't impeding our trip back home. The willingness of neighbors and the surrounding community to help one another during storms like the one this past February will always stand out the most to me in a positive light."
Despite the service area's unfamiliarity and landscape difficulty, United volunteered to help HOTEC without hesitation, Esquell said. Extending a helping hand to neighboring cooperatives when possible is at the forefront of United's principles.
"United did an amazing job helping Heart of Texas Co-op to recover and re-establish power to our members," said Brandon  Young, HOTEC's general manager. "It's a true testament to the cooperative principles."
Living by the co-op's seven guiding principles is paramount at United, said Cameron Smallwood, United's CEO.
"When other co-ops call on us for help, United wants to answer that call," he said. "It's all about cooperation among cooperatives. That's what this restoration was about. It's something we did, and it's something we're going to continue to do in the future."