The generally warmer temperatures of this winter season
may persist into another (not quite as) hot Texas summer
requiring more energy usage to stay cool. by RACHEL COLMAN
Meteorologists predict another hot summer, but not one quite as unbearable as last year's record-breaking season. This is good news considering ERCOT's reserve margins are shaping up enough to keep the lights and air conditioners on in Texas as well.
"Despite two isolated winter events in December and February, the overall warmer-than-normal weather of the winter season will likely manifest into another hot summer for North Texas," said Bob Rose, chief meteorologist with Lower Colorado River Authority. The Austin-based public utility generates and transmits power, manages the lower Colorado River and provides to more than 40 parks along the river.
The hot summer that Rose predicts will drive up energy usage as North Texas tries to keep cool.
Following last year's record setting summer temperatures that led to record setting energy usage, consumers may wonder, "Will there be enough power to support the summer season?" ERCOT answers yes, according to its Seasonal Assessment of Resource Adequacy (SARA) and Capacity Demand Reserve (CDR) reports issued in late November of 2022.
Climate Outlook
Rose said the presence of La Niña often results in drier, hotter weather for North Texas. The La Niña that is currently waning has lasted unusually long, resulting in a three year triple dip. The common La Niña lasts nine to 12 months according to NOAA.gov.
This year's La Niña has a continual weak influence, Rose said. Forecasts call for La Niña to end in either March or April, as the Pacific ocean returns to a neutral state. Depending on when the dry influence dissolves, the upcoming summer should feature near-normal rainfall and warmer-than-normal temperatures.
Dry conditions are a common result of a La Niña weather event, and the abnormally dry to moderate drought conditions still exist in various locations within United's service territory as of press time, according to the U.S. Drought Meter.
"The forecast for drought this spring will heavily depend on when the dry influence from La Niña diminishes," Rose said. "If the dry influence ends by April and May, drought conditions could show some improvement in the mid-to late-spring. However, if a drier-than-normal weather pattern persists through April and May, drought conditions will  likely grow worse."
In a traditional La Niña weather pattern, the jet stream and storm track are kept north of their typical fall and winter position. From a more northern standpoint, the jet stream keeps the coldest air towards the north, allowing Texas temperatures to stay warmer-than-normal.
Though Rose said meteorologists are predicting a hot summer in store for North Texas, it won't feature temperatures quite as warm in comparison to last summer. Fewer 100-degree days and higher totals of rainfall are on the horizon for the Lone Star State this go-round.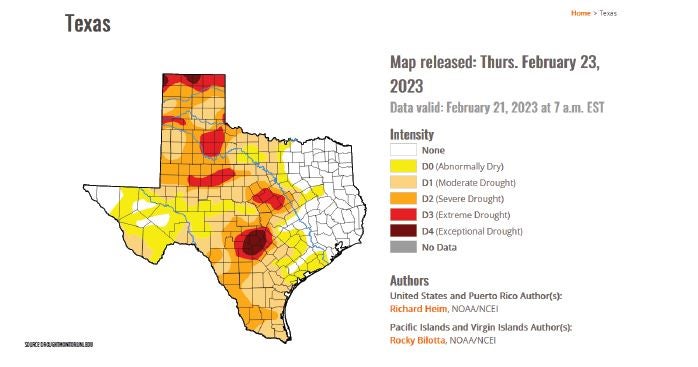 La  Niña also resulted in an unusually warm weather trend in North Texas this winter, with a few frosty hiccups along the way.
Coming off a two-fold winter storm history dating back to Winter Storm Uri of 2021 and Winter Storm Landon of 2022, weather and energy sustainability concerns were rekindled for Texans when inclement weather news hit the headlines in both December and February.
December recorded warmer-than-typical temperatures that were around 2 to 3 degrees above regular temperatures. That gave way to two cold spells towards the end of December and early February in spite of the La Niña influence.
"In late December, La Niña's dry and mild influence was overwhelmed by other factors in the atmosphere and allowed a large area of arctic air to spread south into Texas for about six days," Rose said. "La Niña returned at the end of the month and in early January, causing the return of unseasonably warm temperatures."
La Niña's influence was overpowered once again in early February as an arctic blast hit the southern U.S., stretching from Tennessee to Texas. The result of the unofficially named "Winter Storm Mara" was storm-related power disruptions and icy conditions for many Texans. The upside is that the remnants of Mara cleared up within the week as La Niña took hold of the wheel again.
Energy Forecast
Blake Beavers, United's vice president of member services & power supply, said ERCOT's SARA and CDR reports forecast having enough energy resources to meet demands for the remainder of the winter months followed by the summer heat.
"Similar to the 2022 report, this year's reserves also show healthy and sufficient margins going into the summer months," Beavers said. "When ERCOT develops the CDR and SARA reports, they base it on historical and recent weather patterns to account for base, moderate and extreme risk scenarios. With each plausible scenario varying by generation and peak demand, the report's purpose is to give an estimate of what events could take place in the foreseeable future."
In ERCOT's preparation for the summer, the projected peak demand is 82,739 MW. The CDR report depicts a summer planning reserve margin of 22.2 percent, which is sufficient considering the minimum reserve margin is 13.75 percent. The reserve margin refers to the additional generation capacity over and above peak usage.
Given that Texas generation designs are built to combat extreme heat, a 22.2 percent margin is projecting sustainable summer energy production, Beavers said.
An ideal peak demand summer scenario is a blue-sky day when solar is high producing, with the wind also blowing so turbine production is steadfast. Having numerous generation resources is more eminent during the warmer seasons and plays in the favor of United's members.
"The best tactic is always to be prepared, whether we're facing colder and hotter temperatures," Beavers said. "United is very good at communicating to our members when major weather events have the likelihood of coming up. We want members to stay engaged with United and sign up for any type of communication content possible whether that be following our Facebook, Twitter and Instagram pages, or simply signing up for text message alerts."