Constellation Energy will become United's new
power supplier, ushering in a new era of cost
savings and security against Mother Nature. by JOHN DAVIS
The switch gets thrown on March 1.
That's the date when Constellation Energy becomes United's new power supplier. After signing an agreement to last until December 2025 with the electricity provider, United officials said they hope this change will soon allow United to offer members some rate relief. Initial projections show about a 10 percent reduction per kWh in rates following the completion of the power supply relationship with Brazos.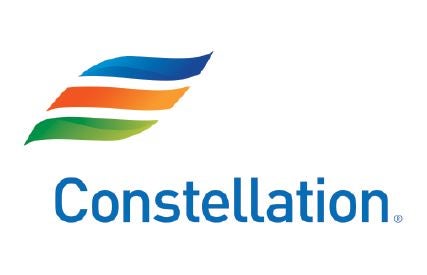 For decades, Brazos Electric Cooperative has served as an electrical generation and transmission cooperative. Now, it will cease to supply power to its 16 member co-ops, and each of those 16 co-ops will have sourced their energy from new power providers, per the November bankruptcy agreement.
The exact timing of the projected rate reduction is uncertain due to the obligation of the Brazos generation assets until sale, said United CEO Cameron Smallwood. However, if all goes well with the sale of Brazos' generation fleet, that will translate into lower power supply costs for United members going forward.
"We've never had rates this high," Smallwood said. "Our combined distribution and power supply is almost at 16 cents. Most all of the other Brazos electric distribution member cooperatives are in a similar position. It's not just us. It's a difficult time for all of us, but we are going to get through it.
"The good news for us is that our new power supply agreement goes into effect March 1. We're ready to go, from ERCOT's standpoint, to manage our own load going forward. And our contract with Constellation is complete. It is a mainstream provider in the ERCOT market. Their rates are cheaper than where the Brazos power supply rate has been recently. However, we've got some residual completing of the Brazos power supply agreement before we can realize the full impact of that reduced price. But we're getting there."
Jim McHugh, Constellation's chief commercial officer, said he was excited to work with United to supply the co-op's power in the coming years.
"This agreement demonstrates the value of competitive markets, which help customers manage market volatility and energy costs," McHugh said. "By building  relationships with our customers, we are able to understand their needs and offer value-added services on top of reliable, cost-effective energy."
Headquartered in Baltimore, Constellation provides electric power, natural gas and energy management services. It has approximately 2 million customers across the continental United States.
Finalizing the agreement with the new power supplier is the latest in a series of groundbreaking steps United and other Brazos member co-ops have had to complete following the Brazos bankruptcy in the wake of Winter Storm Uri in February 2021. It also comes on the heels of United's $451 million sale of securitizaton bonds to provide the funds necessary to pay what the court confirmed the co-op owed at the conclusion of the Brazos bankruptcy hearing.
Senate Bill 1580, passed by Texas legislators in 2021, provided a means for electric distribution cooperatives, such as United, to securitize the final debt through the sale of bonds and for the bond payment charges to be applied to all existing and future members' bills until the end of the securitization's term in about 28 years. United members will pay a securitization charge of 1.17 cents per kilowatt hour in the beginning to pay back the debt. As United's membership grows, the securitization charge will reduce.
Securitization was one of two major steps in the bankruptcy reorganization that was dubbed "Brazos 2.0" by U.S. Bankruptcy Court Judge David Jones. The second step of the mediated settlement required Brazos to sell its generation assets.
"By late spring or early summer, we hope the generation sale will be complete," Smallwood said. "Until then, we still have the responsibility to cover any net costs from these plants' operations from March 1 to the closing date of the generation sale."
Smallwood cautioned that the rate savings achieved through the agreement with Constellation Energy may be thwarted if the Public Utility Commission of Texas (PUCT) and legislators decide to make changes to the energy market during this year's legislative session.
While he's unaware of any current legislation as of press time, Smallwood said the PUCT, the governor and legislators are discussing what should happen next to prevent another Uri-style event. It's possible that future changes, if passed into law, could spell higher rates for all electric ratepayers in the ERCOT territory, including United members.
"Those would be increases completely out of our control, and everyone would have to pay," he said.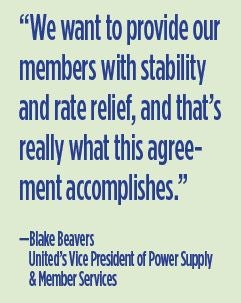 Constellation is one of the premier power suppliers in the country, said Blake Beavers, United vice president of power supply & member services. The company boasts a diverse group of generation assets, and their willingness to form a partnership with United was a major reason why United officials decided to move forward with them, following a competitive request-for-proposal process that was answered by several of the largest energy providers in the market.
"Constellation can meet all of our needs," Beavers said. "They have been great to work with to date. They were responsive throughout the process, and they are robust enough that they can provide United diverse power supply options. Due to their size and financial standing, they can shield us from risk components that we were exposed to in the past. We can't have another Winter Storm Uri. So, we looked for a product that would mitigate the risk for that from those types of events."
Along with market protection, the new, almost three-year contract with Constellation also provides United members with stability and reliability in the short term, while offering time for United officials to evaluate future opportunities that will equate to a better product and service that United can provide its members, Beavers said.
"This new opportunity provides us with the flexibility we need to continue to meet our members' needs," Beavers said. "We just came out of a long-term business relationship with Brazos, and we needed time to evaluate and plan for our future power supply needs. This contract gives us time to prepare for the next step, whatever that looks like, and we're going to evaluate all aspects and opportunities to get the best deal possible in the future for our members.  In the meantime, we wanted to provide our members with stability and rate relief, and that's really what this agreement accomplishes."