During a Year of Rapid Growth and Perpetual
Challenges, Two Employees are Commended
for Their Commitments to Providing
Exceptional Service, Value. by JOHN DAVIS
A hush fell over the crowd of more than 250 board members, employees and their spouses or significant others as they waited for the night's big announcements from United CEO Cameron Smallwood.
"Now, to get to a very special part of our meeting tonight, and that's to give our two special awards," Smallwood said. "I want to start with the Volt Award, which is for the employee of the year who is not a lineman. I'd like to call someone to the stage right now, and that's Clay Turner."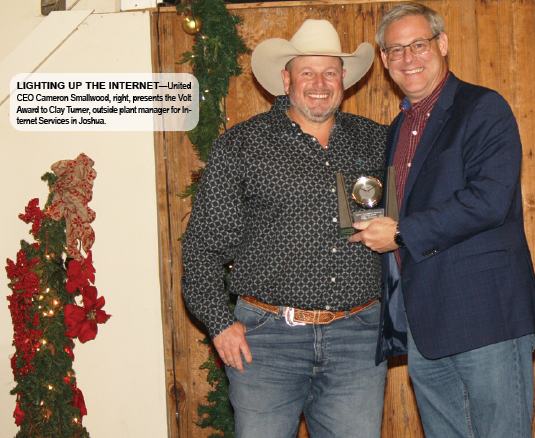 The Volt Award is an honor reserved for employees who have promoted and demonstrated the co-op's continuing commitment to safety, leadership, productivity, innovation and teamwork, as well as portrayed a professional representation of the cooperative in his or her daily work. Turner was one of two employees recognized for two different awards that night.
As the room erupted into cheers, Turner, the outside plant manager for Internet Services in Joshua, walked somewhat stunned onto the stage after hearing his name.
"Wow," Turner said. "That's the only thing to say. I'm just very thankful to work with so many people where everybody's got the same mindset. We look after our membership day in, day out. It is truly an honor to accept this award."
Turner said he was talking to another coworker at the time and was caught off guard when his name was called.
"I was very surprised," he said. "A very humbling moment for sure. As I was going up there to get it, I was thinking about all those people who deserved it as much or more than I did. I was at a loss for words for sure, which doesn't happen to me very often."
Starting as an underground inspector in May 2011, Turner joins previous winners Jason Dillard, Patty Mangum, Jerry Scott, Johnny Hazzard, Robert Bernhoft, Seth Rosser, Robert Sherman, Cory Menzel, Wes Burton, Denise Robertson, Michael Huston, Mark Dixon, Patti Wagner and Heather Wigington as the 15th recipient of the Volt Award.
Shortly after, Smallwood introduced this year's Lineman of the Year Award recipient. The award symbolizes a United lineman's commitment to safety in hazardous work environments as well as the proud heritage of service and dependability the cooperative's operations crews provide daily to United members.
"This is a very tough award to figure out every year because we've got such a great group of linemen," Smallwood said.
Meritorious Work,Careers Honored During United Awards Ceremony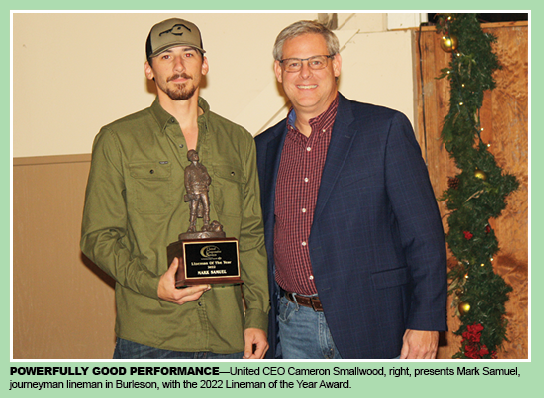 "A lot of you have won it, too. I was looking at the list of all those who won it, and many of you are still here today. I'm really appreciative of the great group of people that we have that take care of the members in the best way possible, and that's keeping the lights on. It takes a special group of people to be able to do what they do to serve our membership in the way that they do. I'm really proud of that. And so, this is a really difficult award to give out, because everybody's really deserving of it every year. But if you would, Mark Samuel, please come to the stage."
Samuel, a journeyman lineman in the Burleson office also received cheers and applause as he walked up to receive his award.
"I'm pretty shocked by this," Samuel said. "But I really appreciate it. I mean, we all put in really hard work. I don't think there's anything that we wouldn't do for this company. So, I just really appreciate it."
Starting as an apprentice lineman in March 2017, Samuel joins Ed Nuñez, Mike Fergason, Mark Buckner, Robert Rejcek, Jeremiah Esquell, Gary Sims, Jerry Don Robinson, Jeff Pannell, Travis Ashworth, Joe Ponce, Jim Young, Arick Wienecke, Carlos Martinez, Josh Koopmann, Ben Perry, Trey Carper, Thomas Smith, Bud Boenisch and Rygh Fullagar as the 20th recipient of the award.
"It was kind of out of the blue," Samuel said. "I probably blacked out a little bit. When I stood up, I checked about three times as I walked up there to make sure it was a picture of me on the screen. I thought, 'Man, I'd look like an idiot if I was walking up there, and it wasn't me.'"
Joking aside, Samuel said he understood deeply the honor he'd received that night.
"I feel like it's a really big accomplishment," he said. "You can only get it once in your career, and I got it at a pretty young age. It means a lot to me. I really do appreciate it."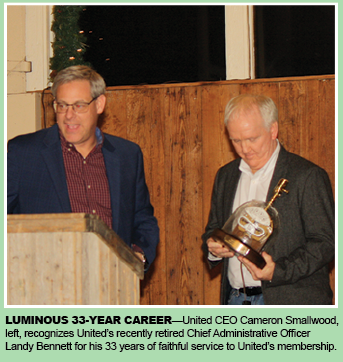 Also during the event, United's Chief Administrative Officer Landy Bennett was honored for his 33 years of service to the cooperative. Bennett, who began his career in April 1989 as a marketing assistant and energy auditor, will retire in January.
"Guys, thank you all very much for the 33 years," Bennett said. "I have appreciated it and learned a whole bunch. It is good to work for a co-op. It is good to work for a company that has a purpose.
"Today, we are literally doing with our high-speed internet project something that the folks back in 1938 got to do, and that's bringing a necessity to people that don't have it. We're doing that, and we're doing electric and at some of the largest growth we've ever seen in the past year. It's good to watch this co-op grow into the next year. So, thank you very much."