Co-op Employees Score Major Milestone
of 1 Million Safe Hours
United employees hit a major milestone for excellence in safety culture this October after accomplishing 1 million hours without a lost-time accident.
The rare achievement is especially significant when considering the business United is in—delivering electric power to the 100,000 meters powering the lives of more than 72,000 member-owners across the co-op's 14-county service territory.
United CEO Cameron Smallwood said that every day an employee returns home safely to his or her family is worth celebrating, and United Cooperative Services employees have shared many safety highlights in the years it has taken to amass a recent company record. The last time United hit 1 million hours was in May 2014. The company clocked 500,000 hours in July 2021.
Hitting the 1 million-hour benchmark is a major achievement for  United's 212 employees when compared with similarly sized utility employee groups across the state and nation, he said. It's especially telling when considering how many employees are relatively newly hired to the co-op in recent years.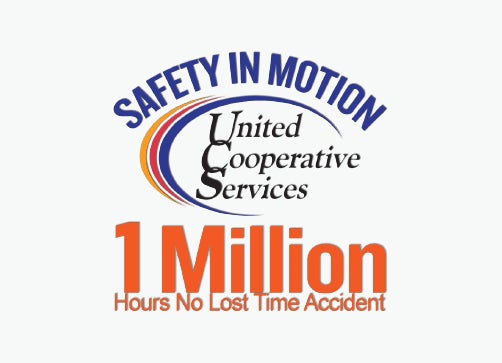 "United employees aren't here very long before they realize that no other part of our daily work supersedes safety, and that our safety culture here has to be universally owned by each employee," Smallwood said. "Our safety accomplishments haven't happened by chance. Safety is our foremost organizational objective every minute of every day," Smallwood said. "When one considers our previous safety observations are realized despite our employees' considerable windshield time in their service territory travels, restoration efforts during storm events and other natural disasters and in an industry that is traditionally rife with hazard, it demonstrates our employee commitment to zero accidents."
Assuring the reliability of United's electric distribution system often requires employees to work in some of the harshest conditions when restoring power or simply performing day-to-day maintenance. Challenges faced by employees include winter storms, tornadoes, wildfires, high winds, lightning and heavy rain. Despite these hurdles, United employees continue on with safety at the forefront.
Smallwood said the cooperative's safety program is built on the belief that everyone at the company has a role to play in safety, whether an employee works in the field or in one of United's seven area offices.
"Safety practices are not just for our lineworkers," Smallwood said. "No employee is immune to factors that can contribute to an injury or a lost-time accident, and every employee is trained to observe safety not only for themselves, but for their fellow workers, too. That was emphasized when our employee group collectively pledged its support for adopting a more inclusive employee safety campaign we call 'Commitment to Zero'—zero contacts, zero accidents and zero incidents."
Earlier this year during Texas Electric Cooperatives' Loss Control Conference in April, four United employees were recognized for decades of safe service.
Member Service Representative Joan Hughes and Line Crew Chiefs Jim Young and Thomas Smith all were recognized for achieving 30 years without a lost-time work injury. At the same event, Terry White, a United GIS technician, was honored for 40 years without a lost-time injury.
"A price can never be assigned to our blessings for having every employee at this busy cooperative go home safely to their families at the end of every day," Smallwood said. "Our employees strive every single day to ensure they provide safe, reliable service on top of exceptional service and value to our member-owners.