United Going 'ALL IN' With
High-Speed Internet As Activation
Count Achieves Historic Milestone by KANYON PAYNE
The Fogarty kids love the internet. Movies, TV, games—you name it. If it's online,  Olivia, Caroline and Jordan  are probably into it, said parents Scotty and Haley.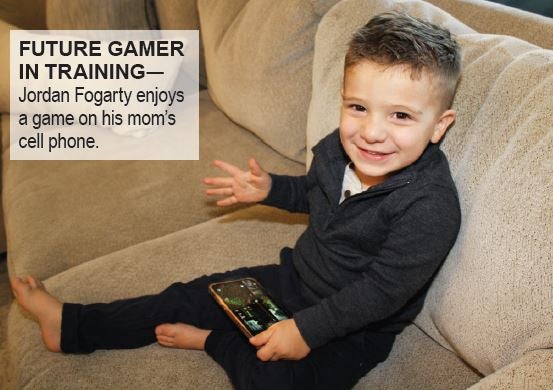 Along with the pride of knowing they are the 10,000th high-speed internet activation, the Godley couple and their three children said they couldn't be happier with the reliability their new service offers them daily.
"We have three, almost four, kids, and there are always tablets, computers, TVs—all kinds of things always going in our house," Haley said. "We are constantly using the internet. We have lots of different devices in the house, and it has been wonderful having  something much more reliable that we can count on. Even when the weather's bad, we know that we're going to have the internet and the things we need."
Scotty, a fireman with the Dallas Fire Department, said reliability with their old service was a major issue.
"One of the frequently encountered situations we have here living on a hill in an open plain is the wind," Scotty said. "And frequently when there were high winds, our satellite internet would cut out. If there was any sort of rain it would cut out. When those conditions exist, it's usually not a good time for the kids to go outside. So  now, they can actually come in and use the internet to stream on their devices, and we can watch our shows when we have to be shut in."
It's also made grading and preparing lesson plans easier for Haley, who is a fifth-grade math teacher at Elder Elementary in Joshua.
"I do have to do quite a bit of work from home," she said. "It's been really nice being able to get that work done and not have to worry about whether I have a connection or not. I'm preparing for maternity leave, so I'm able to get stuff done from home, but I'll be able to see what the kids are doing whenever I'm gone."
Granted there are bigger figures, but the number 10,000 has some heft to it, no matter what we're counting.  For example, the Bible references the number 10,000 to denote something is immeasurable or numerous. In this case, the number 10,000 also marks another important milestone for United. The cooperative has now activated more than 10,000 members with its new high-speed internet service.  
Activating 10,000 internet members is a monumental achievement given formidable regional, national and global challenges faced by all businesses during the last two years. But one of the more favorable challenges United has made accommodations for has been the immense demand from United members for high-speed internet service.  
The need to develop appropriate capacity to handle such product demand has come at a faster pace than was originally anticipated at this point in the five-year project.
Nevertheless, Marcellus Nixon, United vice president of internet services and the internal architect of United's growing network, recognized early that members were using more bandwidth than originally projected, which he said was a nice problem to have. The transition from building the system to operating it, considering the greater-than-anticipated growth, was an issue that had to be addressed earlier than expected. As the network's  distribution expansion continued, minor constraints projected to occur later for  United's network  occurred early in the project.
"We had to redesign some areas to allow for more adaptive system growth," he said. "That adaptability was always built into the network design, but we're exercising the system's flexibility sooner due to the favorable response we've received in member usage."
Nixon and his team set out to alleviate capacity constraints by procuring additional capacity, and by directly connecting to the content providers United's membership was accessing. By directly connecting to these content providers, it helped relieve many of the capacity constraints on United's network.
 "The traffic levels we've been observing suggest that members are really enjoying the service and all it enables them to do. We want our members to continue to enjoy the service, and to prepare for that demand, we are anticipating our members' internet service requirements and proactively evolving the service to accommodate those needs and wishes," Nixon said. "Advancing the network to meet system demand takes a lot of work, and often times this work gets done in the middle of the night to decrease the impact and potential down time to the memberships' internet service. From time-to-time, service challenges do occur, unfortunately, but every service provider experiences issues at some point. However, whenever members receive a maintenance notification, it doesn't usually mean that United is fixing something that failed, but rather that United is fine-tuning the network and improving it to provide a world class service."
Recent member sentiments have suggested that United should change its maintenance window to 2-5 a.m. to reduce the impact of service work even further. As a result, United will perform all service improvement activities that have potential down time from 2-5 a.m. on Wednesdays beginning in March.
"Being proactive helps us reach a substantially better stage in our infrastructure evolution, as evidenced by the maintenance activities that took place May 2021," Nixon said. "We increased our service reliability immensely, and our members reaped the benefits. Addressing these vulnerabilities aligns with United's mission to provide exceptional service and value to its membership."
United will continue evolving its network as it plans to activate more members across its territory. For 2022, United plans to provide internet service to members in parts of Stephenville, Morgan Mill, Bluff Dale, Possum Kingdom, Meridian, and Cranfills Gap. To maintain these efforts, Nixon and his team will build more headend buildings at United's local offices to support these members, and ultimately make United's network even more reliable.
Nixon said United will create for its members a community where no one is excluded due to the lack of available internet service. It takes teamwork on all fronts to build a network the size of United's electric distribution system in an expedited fashion to reach 10,000 members in a short period. What took 80 years to build for electric is projected to take only 5 years for the internet. Through these efforts, Nixon said, all members will have the same opportunities for information, education, and potential economic gain due to the availability of high-speed internet where it didn't exist before.
"United's members will no longer be on the outside looking in, and the communities United serves will prosper from the delivery of this life altering service," he said. "The impact will be the same as the impact that our cooperative ancestors made by bringing electricity to rural America. United will not stop at 10,000 active members. This project will continue until every member within United's territory has the opportunity to have fast, reliable, and affordable internet service. We are building a better and brighter world for our members, and we plan to bring our members the world at the speed they need."
WATCH THIS: United hits 10,000 Activation