COMMERCIAL HIGH-SPEED INTERNET CONNECTION FROM
UNITED RUNS BARRELS AROUND COMPETITION, IMPROVES
NON-PROFIT ORGANIZATION'S MAGICAL MISSION OF CARING by KANYON PAYNE
When Nathan Turrubiartes first attended Wings of Hope Equitherapy Center three years ago, he used a walker. Years of traditional physical therapy hadn't worked, so Nathan's mother, Flor, tried an alternative and took him to Wings of Hope Equitherapy Center.
Now at age 12, he has improved leaps and bounds on his Haflinger pony, Chicken Nugget.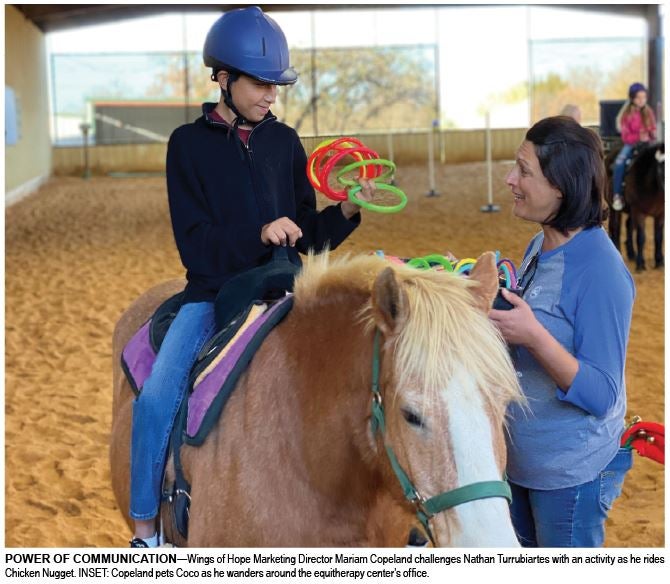 He's left his walker behind and can now tread unassisted.
"Here, we use the phrase, 'magic of horses' a lot." said Director of Development Allison Gross. "This is exactly what Nathan has experienced—the magic touch and bond with his horse that has enabled him to now walk unassisted. We truly believe that horses are God-given gifts, and they are magical."
The organization recently experienced a new form of magic with United's commercial high-speed internet, Gross said. Wings of Hope became United's 8,000th activation and one of the more than 200 businesses who have upgraded to United's internet service.
"As a rural business, we have had a lot of difficulties with our previous internet providers," she  said. "At Wings of Hope, we do almost all of our business work through the internet. So, having a connection that works is an important piece for our business to help us fulfill our mission."
When it comes to connections either with people or with people and horses, it's all about communication, Gross said. Horses are prey animals, and they read the energy and body language of their riders. Humans must learn to become calm and unafraid, living in the moment with the animal. Over time and with practice, horse and human begin working together and learning one another's signals. Through this communication and bonding, the magic of the therapy begins.
Nathan's mother sees this magic and joy in her son's eyes every therapy session. He connects deeply with the horses at each week's lesson, she said.
 "He has learned how to communicate better," she said as Nathan rode Chicken Nugget around the arena. "Whenever he started here, he was shy, and he was very insecure about himself. Now that we have started here, he is more outgoing, and he is not afraid."
Gross said Wings of Hope has produced success stories like Nathan's for more than 25 years. The business has been providing an alternative therapy method to those whose traditional therapy may not be viable, or as an addition to traditional therapy methods. After evaluating the needs of the human, they pair him or her with the right horse to accomplish a desired goal. One horse's bumpy trot may be perfect to strengthen a client's core. Another's smooth ride may be just what a client with arthritis may need.
Wings of Hope  was co-founded by Margaret Dickens and Patti Pace as a non-profit organization based out of Cleburne and currently deploys 17 horses of all different sizes and breeds from Shetland ponies to Belgian draft horses.
 "Everyone we serve has some sort of physical, mental or emotional challenge," Gross said. "Our equestrian clients range from the age of three all the way to the mid-90s, and everything in between. Our goal is to provide the partnership of the horse for people to gain tools and skills inside our barn, in the saddle or on the ground next to their horse, and take those tools and skills and apply them to their daily life."
The horses have always worked well for the center. However, Gross said the equitherapy center has suffered with inadequate internet for the past 25 years.  Many times, employees were forced to trek back home simply to upload a file.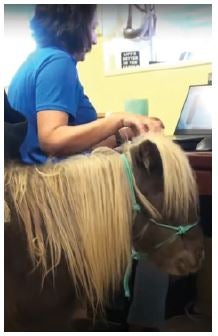 Some simple business tasks were so painstakingly slow, frustrating, and inefficient that it often caused employees to call it quits and head home for the day.
Mariam Copeland, Wings of Hope marketing coordinator, often returned to her home to complete center business.
"Prior to having United Co-op here, one of the main things we did was videos," she said. "To upload a video, I had to go to my house because it was completely impossible to upload a video to YouTube."  
It's an unfortunate way of life for many rural communities and businesses. A recent Broadband Progress Report by the Federal Communications Commission found that nearly a quarter of the population in rural areas (about 14.5 million people) lack the minimum internet speed of 25/3 Mbps. United set out to close that digital divide for its members, and businesses like Wings of Hope.
Inadequate internet access became most apparent during the COVID-19 pandemic, Gross said.
A mandatory closure of their business at the beginning of the pandemic in the United States forced the organization to suspend therapy sessions in the barn.
Despite the circumstances, Wings of Hope attempted virtual therapy sessions with the horses livestreamed to their riders.
"One of the programs we offered was a program called 'Equine Academy' in which we interacted with our horses and tried to bring people into the barn virtually," Copeland said. "We were not able to successfully do that and emphasize that program as much as we would have liked because we did not have enough bandwidth, and we didn't have a strong enough internet connection or a quality provider."
After receiving United extended high-speed internet, employees and volunteers can operate more efficiently and bring a greater level of connection than was available in the past.  
"It has absolutely made our business more productive," Gross said. "We have a very small staff of 10 total. When you have five or six of those 10 employees in the office all together, we needed a bandwidth that could facilitate that. We now have that. We now are able to all work together cohesively in the same office.
Copeland said United's high-speed internet allows employees to do work together now, enhancing their abilities to come up with collaborative ideas more organically.
Gross said she recognizes  and appreciates the value that United is bringing to rural America through its offering of its high-speed internet services.
"Being in a rural setting, most of the time we are on that outer layer," she said. "Unfortunately, services in the rural areas do get second fiddle. A lot of times consumers don't see it that way, but providers see that there aren't a lot of people in a rural area and believe it is not in their best interest to hone in on that area and provide those services.
However, with United on the electric side, having already seen the value in serving rural areas and understanding that the needs are just as great, they are just different. I think we are seeing that same thing for the internet.
"For us in a rural setting, the internet is our lifeline to get out of the rural setting and to connect to our community and tap into the Metroplex."
To learn more about United's business internet offerings and to sign up for residential or business service, visit the website.