Lineman of the Year, Volt Award Recipients Embody
Commitment to Co-op Mission, Membership Through
Winter Storms and Chaotic 2021 by JOHN DAVIS
In the moment, reticence felt right.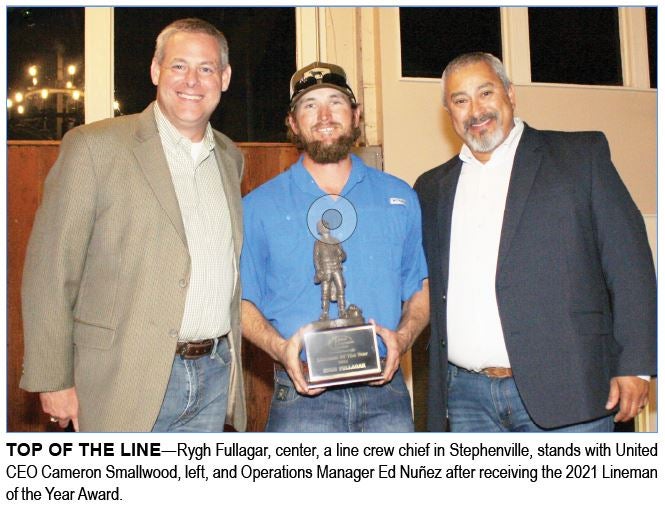 Rygh Fullagar, a line crew chief in Stephenville, remembered sitting at the table and talking with his friends and colleagues when he heard his name called as the 2021 Lineman of the Year. He walked up to receive it wondering what he should say.
The award symbolizes a United lineman's commitment to safety in hazardous work environments and the proud heritage of service and dependability the cooperative's operations crews provide daily to United members. And as he walked up to the podium to receive his reward, he said he decided it would be best to be gracious and brief.
"As I went up there, I guess I was thinking about whether or not I had anything to say, and I thought it was probably best not to say much of anything," he said. "What is it they say? 'It's better to be thought a fool rather than open your mouth and remove all doubt?'"
Accepting with a simple "thank you," he was one of two award winners that night.  
Moments before, Human Resources Manager Heather Wigington received the Volt Award for 2021, which is an honor reserved for employees who have promoted and demonstrated the co-op's continuing commitment to safety, leadership, productivity, innovation and teamwork, as well as portrayed a professional representation of the cooperative in his or her daily work.
Choosing a Lineman of the Year recipient is challenging every year, said United CEO Cameron Smallwood. However, choosing this year's honoree was especially difficult in light of the immense challenges line crews faced with winter storms, including the infamous Winter Storm Uri.
"We've got such a deserving group of men that work in all difficult circumstances," Smallwood said. "It was pretty cold in the winter storm. Anyone remember that?  It was like zero degrees  and the wind was blowing on top of that? These guys were out there re-fusing and fixing things.  It's just amazing the kind of folks we've  got working for us that do that sort of thing every day. So, for Lineman of the Year Award, Rygh, will you come up here and join us?"
Despite his reticence in the moment, Fullagar said he felt honored to receive his award that night.
"It's nice to be recognized for doing my job well," he said.  "There are some other guys that deserve it, too. That's why I don't like to talk about it too much. There are other guys who deserve it just as much or more than I do."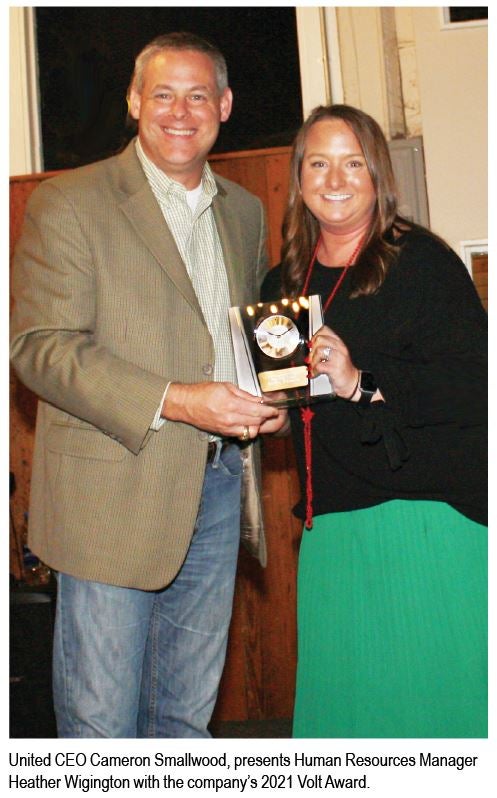 Starting as a groundman in March 2014, Fullagar joins Ed Nuñez, Mike Fergason, Mark Buckner, Robert Rejcek, Jeremiah Esquell, Gary Sims, Jerry Don Robinson, Jeff Pannell, Travis Ashworth, Joe Ponce, Jim Young, Arick Wienecke, Carlos Martinez, Josh Koopmann, Ben Perry, Trey Carper, Thomas Smith and Bud Bouenisch as the 19th recipient of the award.
"As a believer, if you love God, you love others," Fullagar said. "That reflects in helping others. That, on a day-to-day basis, is what we do. We're out there to help people. In a way, it is my calling in a broader aspect. Now, if you had asked me nine years ago  if I wanted to be a lineman, I would have told you that you're crazy."
During the ceremony, Smallwood said that the co-op is blessed to have a qualified employee group that understands its purpose and works positively together to serve the membership.
"You make things happen here at the co-op," he said. "You each get your purpose. You understand why you're here. And you understand that you're here for the members. I appreciate that more than you know. It takes this  group of employees to do what we do. We regularly score 90 and above on the American Customer Satisfaction Index, which says everything you need to say.  With everything that's going on this year and you're still getting those marks, it's just tremendous, and I want to thank you for that.
"We had a lot of nominations this year for the Volt Award, and I can't tell you how proud I am of this person.  Heather will you please come up here to the stage?"
Holding back tears as she ran up on stage, Wigington said she appreciated everyone she works with every day.
"Thank you so much," she said. "I don't know what to say, I'm so shocked. I am honored. This is great, and y'all are my family, as much as you may or may not like that. I don't know.  I enjoy every day I'm at work here. It's great. This place is amazing . We are truly blessed to be working here."
Starting as a human resources specialist in April 2016, Wigington  joins previous winners Jason Dillard, Patty Mangum, Jerry Scott, Johnny Hazzard, Robert Bernhoft, Seth Rosser, Robert Sherman, Cory Menzel, Wes Burton, Denise Robertson, Michael Huston, Mark Dixon and Patti Wagner as the 14th winner of the Volt Award.