United's Employees Earn Accolades
for Heroism at TEC Awards Event by JOHN DAVIS
A United foreman, a senior field engineering representative and a member service representative (MSR) were honored for their bravery and going above and beyond the call of duty during Texas Electric Cooperative's 75th Annual TEC Loss Control Awards held Nov. 2-5 in Frisco.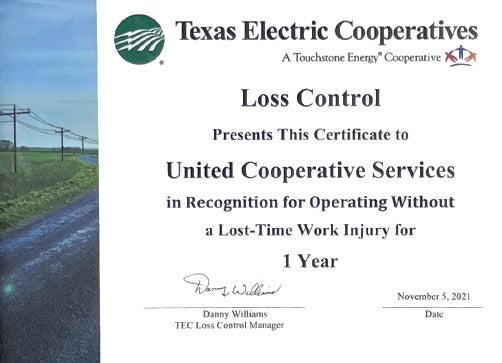 The co-op also received recognition for operating without a lost-time work injury for one year. To date, United has amassed more than 600,000 hours without a lost-time accident. It celebrated 500,000 hours in July.
Mark Dixon,  United's safety and loss control director, said he was proud of the three award recipients for their  heroism, as well as the cooperative's entire employee group for its commitment to safety on a daily basis.
"In the past few years, we have had at least one or two employees receiving the Good Samaritan award, but never three employees in these two categories at the same time," Dixon said. "United's main focus is serving its members and communities. This, mixed with our strong safety culture, the high caliber of employees we have, and the training they receive is our recipe for success, even under stress.  With these qualities indoctrinated into each of us,  it is no surprise to me that our employees  demonstrate their bravery and willingness to quickly react to any situation."
Granbury Foreman Arick Wienecke received a Good Samaritan Award during the event.
While assisting Beauregard Electric Cooperative in Louisiana with Hurricane Laura Restoration in October 2020, Wienecke said he heard screeching tires and a vehicle collision. A truck and a large SUV had crashed nearby, rolling the SUV onto its side. Wienecke ran to the accident scene, ensured  the driver of the truck was OK and then went to assist the occupant of the SUV. An older  woman was pinned under the steering wheel. Wienecke smashed the back window glass, climbed into the vehicle, freed the driver and assisted her to safety to await an ambulance. He then returned to collect the driver's purse and prescription bag.
Jesse Whitt, a senior field engineering rep from Stephenville, also was recognized with a Good Samaritan Award.
Whitt said he noticed  smoke in the air about a half-mile down the highway from his location while he waited on a member to show up for an appointment in June 2020.
He drove toward the smoke to investigate, only to discover a truck had caught fire and a man and woman running  down the fencel ine away from the flames.
He stopped and found the woman had suffered burns to one entire side of her body before she could get out of the truck. Whitt applied burn gel to her arm and face and sat her in his  truck with the air conditioning running to help cool her down until  help arrived.
In December 2020, MSR Natasha Hinkle had concerns about a member with mobility issues who came through her drive-thru lane in Burleson. She asked the member to call her after he returned home to complete the necessary business.The member never called back and didn't  answer several attempted phone calls Hinkle made to his residence that day.
The following morning, the member still hadn't contacted Hinkle. She asked United Field Engineering Rep Aaron Lowe of Cleburne to make a trip out to the member's home.  
No one answered the door when Lowe arrived, and it appeared no one was home.
After the member still did not reach out to Hinkle by day's end, she and Dixon contacted law enforcement and emergency response to do a welfare check.
The member's son contacted Hinkle back on the third day to thank her for her efforts.
The member had fallen while carrying in his groceries after leaving United. He sustained several broken ribs and a punctured lung, and he was found on the floor just inside the front door of his residence.  
Hinkle's concern likely saved the member's life, the son stated. She was recognized at the event with the Lifesaving Award.