Be Merry and Bright
When Money is Tight
by BLAKE BEAVERS
Unless they stay up year-round until they are  summoned for seasonal duty again, it's the time of year many members go about the time-honored ritual of untangling and testing a mass of bulbs and cords and risk life and limb atop ladders to deck the halls with this year's rendition of holiday cheer—Christmas lights and decorations that beckon one Dickens of a tale.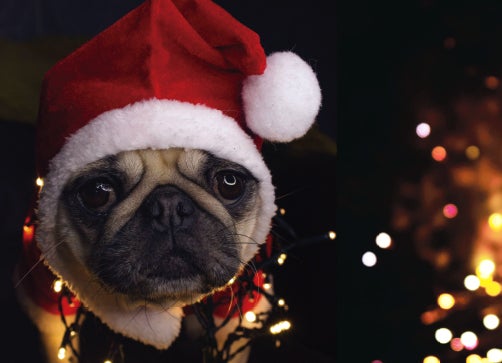 As is tradition, Christmas lights will be strung from rooftop eaves, wrapped around porches and stair rails, stuffed in bushes, trees and elsewhere to create a postcard-perfect Christmas scene. And the special effects don't go unnoticed. Thanksgiving won't have had a chance to cool its heels very long before the masses begin to pile into the family car to take twilight tours through brightly lit neighborhoods, adorned door-to-door in vivid holiday lighting themes.
Today's animated decorations, which often include elaborate musical light shows, are amazing to see and hear—at least once. But beyond our pity for the poor souls whose work went into them,  how many of us have wondered about the amount of energy those nightly productions must consume?
Every year, United Cooperative Services' energy experts are asked how much energy is used by different types of Christmas lighting and decorations. The answers they provide naturally depend on the lighting choice, but calculating which decorations waste less energy in comparison to others can be performed by every United member.
All electrical devices should carry energy usage labels that members can use to determine a product's energy consumption. The label may specify how many watts the device uses. In the case it is not labeled, wattage can be easily determined even if that information isn't provided.
If homeowners can find amps listed, watts are approximated by multiplying amps (A) times volts (V). Normal household outlets require 120 volts, but in some circumstances, 240-volt outlets may also exist.
The types of lights members may soon be stringing around their homes can make a big difference in their holiday energy costs.
There are three common Christmas lighting types—conventional incandescent bulbs, mini incandescent bulbs  and LED (Light Emitting Diode). Each one of these light bulb types exacts different electrical demands. Conventional incandescent bulbs, the highest energy consumer of the three, are typically larger bulbs that are two to three inches in length. A 100-bulb strand could use up to 700-900 watts per hour. This is equivalent to illuminating seven to nine 100-watt light bulbs simultaneously.
Mini incandescent lights were once the standard for outside decorative lighting. The average miniature light strand uses 36-50 watts of power. One strand of these lights uses less energy than operating one 60-watt incandescent light bulb.
Yet, even though mini incandescent lights are still popular, LEDs have become the market norm, and that's because they are the most energy-efficient Christmas lighting choice on the market today. They use as little as five percent of the energy normally consumed by their incandescent counterparts. On  average, LED strands operate on approximately five watts of energy.
The LED is a solid-state device, which means it does not have any heating elements within its design. And an even more impressive consideration is the comparative lifespan of LEDs—which have a rated service life that lasts years longer than incandescent bulbs. The average LED bulb can last from 35,000 to 60,000 hours. And since the LED is a solid state device, it is more durable and is not as susceptible to breakage as an incandescent light.
And while they are more expensive, another advantage of LEDs is that they do not have a recommended temperature range for operation, and that makes them more dependable for use during winter months. Additionally, they do not produce as much heat, which greatly reduces their fire risk and makes them a more attractive option for safety conscious homeowners. For those reasons, United Cooperative Services still recommends members consider investing in and using LEDs  for all their holiday decorating projects, according to United Energy Solutions Manager Seth Rosser.
"Beyond lighting choice selections, the best cost-cutting measure a member can take during the lighting season is to incorporate the use of a timer into nightly display periods," he said. "Timers can be purchased for around $20—an easy cost justification when considering the energy savings they provide."
United recommends setting the timers to turn lights on at sunset and to turn them off around bedtime.
"Timers are a convenient energy-savings tool for members who don't wish to leave their lights burning all night, and we encourage members to shop for those that appear to be the most durable," Rosser said. "They, along with the electrical cords connecting them to the power source, should be rated for outdoor use."
Inflatable outdoor yard decorations have grown in popularity over the years. They range from simple blow-up cartoon characters to more complex figures with moving parts, such as a globe with rotating internal figures and circulating faux snow. Inflatable decorations can easily use 150-200 watts in electricity, so they aren't going to win any energy efficiency awards even if they are entertaining. United recommends giving careful consideration to the operational run times of these decorations if they are going to be included in holiday decoration portfolios.
Of course, above all else, holiday safety is an important observance, too. United recommends inspecting Christmas lights for fraying or exposed wires, keeping extension cords and connectors away from water sources, replacing bulbs with proper size/wattage, and turning off lights when away from home.