Energy Detectives Find
Energy Dollar Escape Routes by JOHN DAVIS
He considers himself the world's worst salesman, and that actually works for his job at United.
It's the reason why he said he made such a lousy rental-car salesclerk, admits Ryan Hoerner, one of the co-op's energy advisors. He never had the drive to convince customers to spend more than they needed.
"I did my utmost best not to upsell people," he said. "I didn't try to cheat people. My Christian values I hold deter that, pretty much. I was a management trainee. But, that experience gave me a true appreciation for this job."
A little past the one-year mark in his new position at the co-op, Hoerner said he excels at helping members waste less electricity.
It takes a special person to become an energy advisor. From writing articles each month espousing the best ways members can save energy and the rebates the co-op offers, to crawling above, under and through members' homes to discover the secret places where energy dollars escape, United energy advisors have gone the extra mile since 2006 and performed 12,200 audits.
Find Out More/Energy Audit Sign-Up
We thought we'd take a minute to find out what makes them tick.
Straight Outta College
Hoerner drives down rural roads near Burleson to a member's home with a recent solar system installation (also called distributed generation or DG). It's called a DG field verification stop, and it's becoming more common these days as more and more members decide to install solar systems.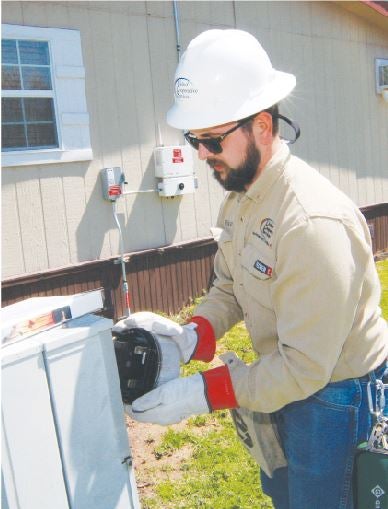 Many times, he said, members don't realize that United offers free advice to members interested in installing solar. The co-op will help them crunch the numbers to decide if a solar installation makes economic sense for the member's needs.
"A lot of times, members are uninformed how solar works and how their billing changes with us," he said. "That is, if they call us for our advice and want a better understanding. Overall, going solar is a long-term investment. Depending on the size and cost of the system, it could take 15 to 30 years to see a return. We encourage members to ask questions and contact multiple companies to ensure they get  the best deal. We try to make sure our members know how it all works."
Hoerner goes to work checking the solar equipment to ensure the installation matches all of the paperwork and meets United's interconnection guidelines and procedures.
He starts by counting the panels. As crazy as it sounds, he said, it wouldn't be the first  time that a contractor shorted a member panels or installed the wrong inverter. He also ensures that every panel in the system turns on, then simulates a "power outage" to confirm the system won't backfeed onto the lines during a real outage and create a hazard for United linemen.
Once finished, he will call the member back  at a later date to verify his findings and explain how the solar installation will alter how their bill reads.
Hoerner, a native of Houston, said he always wanted to leave his hometown and find a career that helped others. After graduating high school, he studied biology at Southwestern University in Georgetown, where he met his future wife—a native of Cleburne.
Following graduation and marriage, the couple moved to North Texas, where Hoerner said his first career in renting cars was a non-starter.
"I applied here at United out of the blue and got the job, which amazed me," he said. "My idea going into college was to help people. Health was an obvious choice. But here, I get to help people with energy audits in their homes and talk to them on the phone. It's fun. It's a neat job. I wear a lot of hats, and I enjoy the challenge that presents."
Call of Duty
In a different area on another spring day, Energy Advisor Eric Compton is driving to a member's home outside Granbury.
The member called to receive an energy audit following high energy bills. From the sound of it, Compton seems convinced that the owner's HVAC system is stuck on emergency heat—a sign there may be a problem with the heat pump.
The U.S. Navy veteran thinks he's getting pretty good and diagnosing issues even before he arrives at member residences, he said. An electric usage chart usually tells the tale, along with the time of the year.
"It's probably the heat pump messing up, and the unit is on emergency heat," he said. "That's usually the case."
When Compton enlisted in 2003, he said he intended to become a lifetime Navy man. He studied electronics while enlisted, and he served as an electronic technician aboard ship, hoping to eventually find work at a large electronics firm after he retired.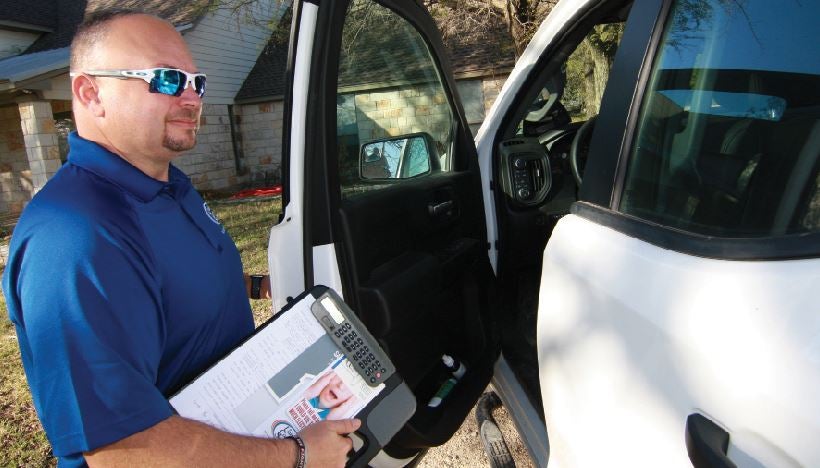 However, those plans would change in 2008 when his frigate spotted a mine while on deployment. As the ship took immediate evasive measures, the sudden movement sent Compton down a flight of stairs, and the impact destroyed his ankle and ultimately ended his Navy career.
"This job here is an ideal job that I never thought I'd find in my hometown," Compton said. "I love that we care for our members. Most jobs, everyone wakes up, and by the time they get to work, they don't want to be there. I enjoy coming in every day. By the grace of God, I was able to get in here and use my electronics skills."
Working as an energy advisor keeps life interesting, he said.
Last year, Compton traveled to a large ranch known for breeding appaloosa horses. He began inspecting one solar system and  a horse on the other side of the fence began nibbling at his shirt as he worked.
"I see this yellow helicopter," he said. "Well, I glance at it and keep working. The next thing this helicopter flies right over the rooftop of  he barn and the horse takes off. The chopper lands in a field across from me next to the house. This older gentleman gets out and drives over to talk to me in a Gator utility vehicle. He flew in a helicopter from a meeting just to meet me. Then he leaves in a Dodge Viper to go to another meeting. It was crazy."
Other times, his job is rewarding when he gets to help members who may need more assistance than his job requires.
Following the February ice storm, he said, he performed an energy audit for an elderly couple in a new double-wide on a rural property near Stephenville.
"This happened during the rotating outages," he said. "While we were talking, the power came back on. Suddenly, we could hear water running somewhere, but we couldn't find where. I asked if they had a crawlspace, and I went under their house. Sure enough, they had a busted pipe. It was like a lake under there. I was covered from head to toe in mud…I had mud in my beard. The lady said, 'Oh no,' and I said, 'Yeah. It's bad.' Water was just continuously flowing out of the front of the house. The neighbor came and shut the water off. Her husband was an elderly, disabled vet in a wheelchair. I just had to help."
Compton's heroics haven't just  been limited to saving members money. He even managed to pull an injured driver from a burning wreck in March 2019 after he came upon an accident scene on U.S. Highway 67.
"One of the DPS officers stopped me to get a statement," Compton said. "When I told him that the driver said he just wrecked his work truck, he laughed and said that the driver stole the truck from Ellis County and was on the run. The state troopers found a lot of contraband in the truck, and as we were talking, I noticed they were walking the driver up to an ambulance in hand cuffs.
"That's how we managed to pull someone from a burning wreck and apprehend a fugitive all at the same time. All in a day's work."
For his work, Compton received the Good Samaritan Award last March at the TEC Safety-Loss Control Conference.
Seasoned Detective
After working as an energy advisor since 2008, Energy Solutions Manager Seth Rosser said he's seen it all.
Well, almost all.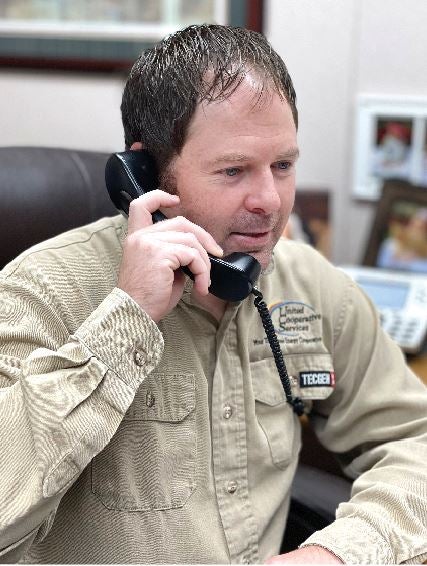 Even today, this master of his craft can find a mystery.
Along with performing the energy audits and DG verifications, Rosser also spends his time training Hoerner and Compton about the tricks of their trade. And it all starts with communications, he said.
"A good energy advisor must have great communication skills," he said. "They must be able to listen to members to  identify the issues at hand, and they must be able to break down all information and recommendations and communicate those details back to the member so that everyone understands.  Energy advisors are teachers, analytical thinkers and problem solvers. Also, a great energy advisor shows compassion and empathy for others."   
Many times, energy advisors can assist members in saving money with easy fixes, he said. The most common problems he's seen can be cured by adjusting thermostat settings, changing out dirty filters and taking advantage of United's HVAC rebate to have clogged A-coils cleared and HVAC systems maintained annually. He also advises monitoring the use of space heaters, window units and pool pumps, and making sure homes have proper insulation throughout.
Energy auditors don't just visit residential properties, he said. He's helped many large and small businesses, including a deer breeding facility near Meridian and even Fossil Rim Wildlife Preserve.
Technology also plays an important role in the detective work energy advisors perform. One home in Granbury, Rosser said, suddenly experienced a large increase in usage for no apparent reason. During the interview, he heard an interesting piece of information.
"The member said she hadn't noticed anything different, but she did say that she walks around the house barefooted most of the time, and there was one area of her floor that was hotter than the rest," he said. "She had written it off because it was close to an outside wall heated by the summer temps. With a thermal imaging camera, I was able to determine that it was a hot water leak in the slab that was heating up the floor.  I confirmed it through her water meter, a glowing-red water breaker in her breaker panel (the water heater was operating) and the electric meter."
In the end, Rosser said it's all about helping members the best the energy auditors can.
"The most rewarding part of my job is helping people," he said. "The more I am able to help them, the better I feel about the appointment.  I have helped a lot of members over the years that have fallen on hard times. You could hear it in their voice and see it in their eyes.  Many members have opened up because they just needed someone to talk to.  Those are the energy audits that keep me going.  Don't get me wrong, I like the big finds that lead to significant savings for years to come, but it is interaction with members that makes my job rewarding."