Yet another 'perfect' winter storm in February unmasks weaknesses within
The Lone Star State's electric grid. Here's what United CEO Cameron Smallwood
says needs to change to prevent history from repeating itself.
Again. by CAMERON SMALLWOOD
I think it is safe to say that everyone in Texas is quite aware that we have issues with the electric grid.  The issues are not just one, but many.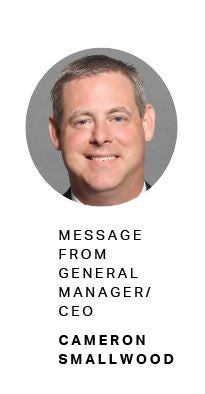 As some of you know, I was asked to testify in the Texas Senate and House hearings to discuss how our electric cooperative, United Cooperative Services (United), operated within the challenges that occurred.  I was very happy to report that United operated as we were expected to.  While our members did have to endure many rolling outages, we collectively did our part to keep the Texas grid from a complete blackout.  Had we not taken these extreme actions across Texas, an uncontrolled blackout would likely have occurred.
This would have had even more of a catastrophic impact on all Texans.  Thankfully, that did not happen.  While we have recovered operationally from this situation, many extreme financial implications still exist for many market participants, including Brazos Electric Power Cooperative and its 16 member/owners of which United is one.  It will be some time before we are able to work through the many difficulties we face as an industry.
With this said, United believes there are many steps that need to be taken in order to keep this type of event from ever occurring again.  The purpose of this open letter to our lawmakers is to share these thoughts for their consideration. Some of these steps need to be written and placed into law.  Other actions should  be taken with any updates to Public Utility Commission of Texas rules and the Electric Reliability Council of Texas (ERCOT) Protocols and operating guidelines.  We believe we can all work together as an industry and with all stakeholders to ensure Texans never again see this type of event.
Texas Natural Gas Gathering, Transport and Delivery  Systems Should be Mandated by Rule or Law to Be Winterized
The availability of natural gas is vitally important to the generation of energy in Texas.  This is due to the fact that 51% of electricity generation is reliant on delivered natural gas.  This is even more important during the high usage times in both the winter and the summer.  There are multiple generation owners that reported low gas flows and were not able to operate their generation units during the event.  The natural gas gathering, transport and delivery systems must be free-flowing during these weather extremes for Texas to have reliable energy.
Generators Operating in the ERCOT Market Must Be Mandated by Rule or Law to Be Winterized
When peak winter weather usage occurs, it is vitally important that all generation facilities are available to support the electric energy needs of residential and business customers across Texas.
A number of generation facilities were unavailable because of operations failures related to the extreme cold weather event.  Multiple freezing events occurred at many generation facilities that kept them from operating and this is unacceptable.  Generation owners should have to show what changes and plans have been made that will be implemented to keep generation operational during extreme winter weather conditions, even to the weather extremes recently encountered.

Texas Needs to Take an Affirmative Step to Ensure All Types of New Generation Are Supported and Developed
The majority of the new generation resources interconnected in the past five years to the ERCOT system have been wind and solar.  During this timeframe, the actual amount of thermal generation (coal, natural gas, and nuclear) has decreased, mainly due to the retirement of out-of-market coal resources.  Both wind and solar have the backing of multiple tax credits and due to the zero cost of renewable energy sources, they have caused the energy markets to be, overall, less expensive.
Due to this impact on the market prices, new thermal generation has not been developed.  It is important to realize the reliability impacts of relying on a large amount of intermittent resources.  Texans shouldn't have to be concerned about the availability or reliability of their electric system.  Our State needs to develop innovative methods in order to incent the development of new and efficient thermal generation.   This could likely be supported through property tax abatements, development incentives, streamlined permitting and the development of a capacity construct within the energy market.
The ERCOT Energy Only Market Needs to Be Reformed
It is clear to Texans that $9 per kWh is not an acceptable wholesale energy price, regardless of the situation.  The average all-in price of energy, transmission, delivery and billing in Texas is generally under $0.10 per kWh.  This cost difference of 90 times is extreme and considered by many Texans to be within the definition of 'price gouging.'   
In defense of the wholesale energy market, it clearly has been helpful to many Texans collectively because Texas generally has enjoyed lower energy prices than much of the United States.  However, such a system should not be vulnerable to collapse in just four days.  It has been stated by several experts that the market was never expected to see this kind of event.  
One of the reasons originally cited for instituting the high market cap price was that it was supposed to attract new generation construction. This has  simply not been the case.  Instead, the application of this very high market cap rate has led to significant financial strain within the Texas energy market as a result of last month's extreme weather event, leading several parties to file bankruptcy, and with probably more to follow.  Costs to be borne are being reviewed, with many proposing corrections and adjustments, while others are proposing that all costs of the February events be passed to electric customers.   
It is time to reduce the high market cap to something more reasonable that doesn't create such financial stress.  When the market was first created, the initial high market cap was $0.99 per kWh, which is still high, but does allow for the market to still exist and be successful.  A reduction to the current $9 per kWh cap would still allow the market to function successfully.  For the last five years ending December 2020, there were only 167 15-minute price intervals that exceeded $999 per MWh out of 175,200 15-minute price intervals  (0.0953%).  For generation prices exceeding the $999 per MWh due to higher fuel prices, there could be a market protocol that allows exceedances to be allowed and uplifted to the complete market when grid reliability requires such.
Finally, as mentioned above, the market reform needs to include a review as to how to incent new thermal generation to be built and interconnected to the grid.
Rules Should Be Clarified and Communicated to All Distribution Utilities Relating to Rolling Outages
Distribution utilities had a varied response to the rolling outage requirements to keep the grid from experiencing an uncontrolled blackout.  Some distribution utilities, like United, followed the expectations very closely as has been directed in the past.  Others chose not to take any outages, while even others placed their electric customers on long sustained outages.
This variability among providers is not acceptable.  
Rolling outages for a duration of 30-minutes to one hour when and where possible are best for electric customers.  It gives them the ability to keep heat and/or cooling available in their home to protect themselves and their personal property and does so in such a way that some planning can take place. Further, a thorough review of different types of customers that can and can't be curtailed should be done at each utility, and rules should be applied to those decisions that are consistent across the State.  
In another step, it is apparent that the Under Frequency 'safety net' needs to be reviewed.  As you are likely aware, this 'safety net' requires certain loads to automatically disconnect from the electric grid if the electric grid becomes unstable more quickly than can be controlled with manual load curtailment.  Even in this most serious event, ERCOT's steps didn't allow frequency to decline in such a way as to disconnect any of these safety net circuits.  But, around 25% of circuits at distribution utilities were declared 'off-limits' for rotating outages.  There is a possibility that these circuits could be used in a way that doesn't significantly impact the 'safety net,' but does allow at the same time a fairer allocation of rotation of controlled outages.
Distribution Utilities Should be Paid for Providing Resources to the Grid
When a distribution utility performs rolling outages, it is basically providing 'generation' into the market.  When the rolling outage request at ERCOT was at 20,000 MW of requirement, United was required to provide over 100 MW into the grid in order to keep it stable.
Had United had a generator of 100 MW capacity that was generating during these times, it would have been paid $21.6 million per day under the current market design, which would have provided some power cost relief to the United membership.  Our membership received $0.
It could be argued that this generation could have been considered an ancillary service, and in that case, United could have been paid $60 million per day for supporting the grid with 100 MW of load curtailment, again relieving a portion of the power cost burden to United's members.  
In the future, distribution utilities who follow an established rolling outage requirement should be rewarded with payments that are considered within the reformed market constructs.
A Statewide Communications Process Needs to Be Developed and Enacted to Better Prepare Electric Customers of Possible Future Events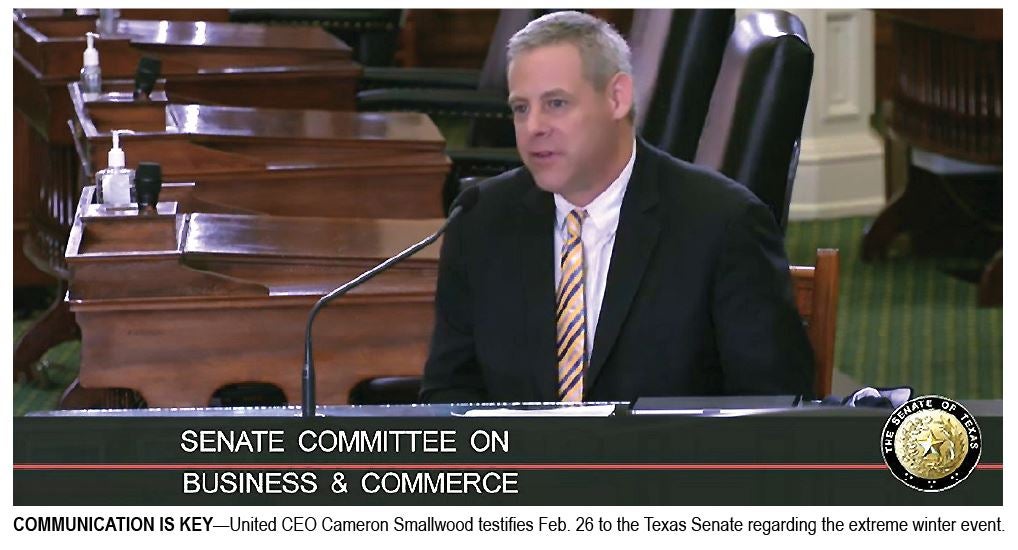 There is no doubt that delivery of information to electric customers in Texas was uneven and many didn't have the information they needed during this event to best assist them in making appropriate decisions for safety and protection of personal property.  
There should be rules developed to clarify responsibilities of all those responsible to communicate to electric customers.  At United we believe we successfully did this locally and others can do it, too.  However, there needs to be rapid communications to the larger group of all Texans so they can be better prepared.
State Emergency Plans Need to Be Updated to Include Utility-Related Events
The emergency planning officials within the state of Texas need to develop statewide emergency planning for outages of electricity, water and sewer and gas services that might better prepare our State when outages inevitably do occur.
There needs to be a more 'ready' plan to deal with the support of Texans in their needs without these sometimes life-sustaining services.   Utilities should be allowed to participate in the development of these plans and be a part of the coordination of response in such events.
The State Should Provide a Financial Support Mechanism to Keep Extreme Market Costs from Being Passed On to Texan Electric Customers
It is clear that many Texas market participants have been severely financially impacted by the runaway high market price cap applied to the energy market price and by extremely high natural gas prices as a result of the extreme weather event.  Some generation owners were impacted with events beyond their reasonable control, but they are being held financially accountable due to the fact their generation was not running and serving the market.  
Further, cooperative and municipal utilities have been negatively financially impacted by effective rolling outages.  By keeping the energy flowing to customers by effective rolling outages, exposure to extreme and extraordinary market pricing has occurred.  Multiple bankruptcies have occurred and many more are likely currently, by necessity, being discussed.  One method to address this issue is to perform a market price adjustment and lower the high market cap during the event.  In the case any generators ran with an exceptionally high costs for reliability reasons, those costs could and should be uplifted to the entire market.
I am sharing these thoughts with you and our area's elected officials in order to offer some solutions to the issues that we all have shared in recently.  It is my feeling that we cannot move forward from this event without some major resolutions and appropriate planning for the future.  It is not acceptable to have a replay of this event at any time in the future.
Sorry for the long column this month, but these are important issues we must focus for the safety, health and financial well-being of our members, both now and into the future.  I would like to close by wishing you a Happy Easter.  
May God bless each of you and your families as many of us celebrate the resurrection.  He is risen!