It Pays to Save with
United's 2021 Rebates by SETH ROSSER
For more than a decade, United has been assisting and educating members on ways to better manage their energy use. United continues to invest in its members by offering FREE home energy audits and rebates for energy efficiency upgrades.
The co-op recognized that conscious efforts made by a member to waste less energy not only would keep hard-earned money in the member's pocketbook, but also  would help drive down costs for the entire cooperative membership.
Close to 30,000 rebates have been awarded for various residential energy efficiency improvements since 2010. Member participation in United's Energy Innovation Rebate Program continues to grow each year, and United expects this year to surpass all the others.
The following residential rebate incentives are available for year 2021. There was only one change to the rebates from the previous year, and this change appears with thermostat rebates.  
Go To The Rebates Programs Page
Thermostat Rebates
This year United will offer a $50 rebate for new purchases of Nest, Ecobee, and Honeywell Smart Wifi-Enabled Thermostats. A rebate application must be filled out and sent to United, along with a proof of purchase. For additional savings, members should consider enrolling qualifying thermostats in United's current and coming Thermostat Control Programs.
Beginning in February, members can learn more about the expanded offerings on our Bring Your Own Thermostat page.
When a member installs any other brand of WiFi-enabled thermostat, they can receive a $25 rebate for each thermostat that is installed. The WiFi thermostat must replace a non-WiFi thermostat. An energy audit is required prior to the change-out, or the member can provide United an invoice proving the prior thermostat was a non-WiFi thermostat.
The thermostat must be new, and the member must provide United with proof of purchase to qualify for the rebate. Nest, Ecobee and Honeywell Smart Wifi Thermostats do not qualify for this $25 rebate.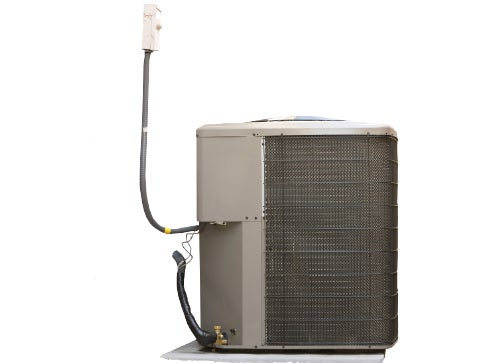 HVAC Tune-Up Rebate
By far, the most utilized rebate offered by United is the HVAC tune-up rebate.  Experts estimate heating and cooling accounts for more than 50 percent of energy consumption in a standard residence. Due to this fact, HVAC maintenance is a vital aspect of managing energy consumption. If an HVAC system is not operating up to par, the first place an operational inefficiency is likely to be noticed is on the electric bill. United recommends continuing maintenance of an HVAC system, and offers $100 per unit, per year for having regular tune-ups performed by authorized HVAC technicians. This helps to ensure systems are running at peak performance.          
Air Source Heat Pump Rebate
When an HVAC system finally exceeds its life expectancy, and tune-ups are no longer effective in keeping a unit running properly, it may be time to replace the unit. United members can take advantage of the heat pump rebate to help absorb some of a new system's cost. The rebate applies to heat pumps with a 16-SEER rating or higher. United determines the appropriate rebate amount from the AHRI certificate and the tested energy efficiency rating of the complete system—both inside and outside units operating together.
United will give $200 for 16 SEER, $300 for 17 SEER, $400 for 18 SEER and $500 for 19 SEER and above. The technician signature and AHRI certification number need to be provided on the rebate application. The rebate is only available for complete system change-outs.
Ground Source Heat Pump
Members who install a ground source heat pump, also known as a geothermal unit, can receive a rebate of $200 per ton of the unit installed. To qualify for this rebate the geothermal heat pump must reach a minimum EER of 11.
Attic Insulation Retrofit
United's attic insulation rebate not only has efficiency benefits, but also offers yearlong household comfort. If a home does not have a proper insulation level, it can leave the home's energy envelope more vulnerable to ambient temperatures. This can leave the home feeling cold and drafty in the winter or hot and stuffy in the summer. As a result of inadequate insulation, HVAC systems typically run more to offset the tug-of-war between comfort settings inside the home and extreme external temperatures, increasing energy consumption.
To receive a rebate for attic insulation, a FREE home energy audit is required before an install. When a United energy expert verifies a member has 8 inches of insulation or less, then the member qualifies for the retrofit attic insulation rebate, paid only up to a maximum depth of 12 inches. United gives 2 cents per inch installed, per square-foot of the attic space. For example, if a member had 5 inches of insulation, and the attic was 2000 square feet, the rebate calculation would be as follows:
12 inches, less existing inches (5 inches) = 7 inches
7 x .02 x 2000 = $280.00
Fuel Conversion Rebate
In general, it is much easier to monitor and control emissions at the power plant level rather than at the point of use for residences, so for members who wish to be more environmentally conscious, or who are concerned about having gas or propane in their home, United offers a $100 rebate for converting from gas or propane to electric.
Members who switch from a liquid propane or natural gas HVAC system to a heat pump can receive a $100 rebate. This $100 rebate is also available for members who remove a propane or gas water heater and install an electric model.
Level 2 Electric Vehicle Charger
The same motivation to alleviate environmental emissions by eliminating end use emission products prompted a rebate for a level 2 EV charger rebate. United offers a rebate for 50 percent of the cost of the charger up to $500 for a level 2 EV charger. Electric vehicles produce zero tailpipe emissions of any kind. In contrast, a typical passenger vehicle emits 4.6 metric tons of carbon dioxide per year, according to the Environmental Protection Agency.
Heat Pump Water Heater
In a typical residence an electric water heater is usually the second-largest electric consumer in the home. Heat pump water heaters are twice as efficient as standard electric tank water heaters. If members upgrade their water heater to a heat pump water heater, they can receive a rebate for $150. To qualify for this rebate, the heat pump water heater must be at least 40 gallons and have a minimum energy factor of 2.0.
Solar Screens
Solar screens assist in maximizing energy efficiency as well as comfort levels, so United offers members a rebate for these, as well. Windows account for 25-30 percent of a home's heat loss/gain. One of the most cost-effective measures for decreasing the amount of heat gain through the windows is the use of solar screens. Solar screens have proven capability of blocking up to 90 percent of the heat absorbed through a window. United will pay $5 for each 15 square feet of window covered to a maximum of $50. This rebate is eligible for all windows, excluding north-facing windows. A United FREE home energy audit must be performed prior to install.
Helping members understand how to manage energy usage is fundamental to United's mission and commitment to providing exceptional service and value to its membership.
The cooperative's rebate program is one of the many resources available to members in that continuing aim.  
For additional information on rebates, or to learn more about the many other ways United can help members manage energy usage, such as scheduling a Free home energy audit, contact a local United office today.