Solar Subscribers 'In the Money'
with New Community Solar Project by JOHN DAVIS
More United residential members will be able to cash in on solar savings this year after United Cooperative Services adds a second community solar project to the cooperative's renewable energy portfolio this February in Erath County.
The project is designed to generate 10 megawatts (AC). It's similar in size and generation capacity as United's first solar facility, which went online in 2018 in Bosque County.
Both of these projects, producing 20 megawatts (AC), will be pooled with 16 mW of energy from a solar facility in West Texas to provide 36 megawatts of solar-produced energy, which increases the total number of 2-kilowatt (kW) subscriptions available to United members to 18,000.
The best part is not one member will have to install any panels or pay for upkeep, said United CEO Cameron Smallwood.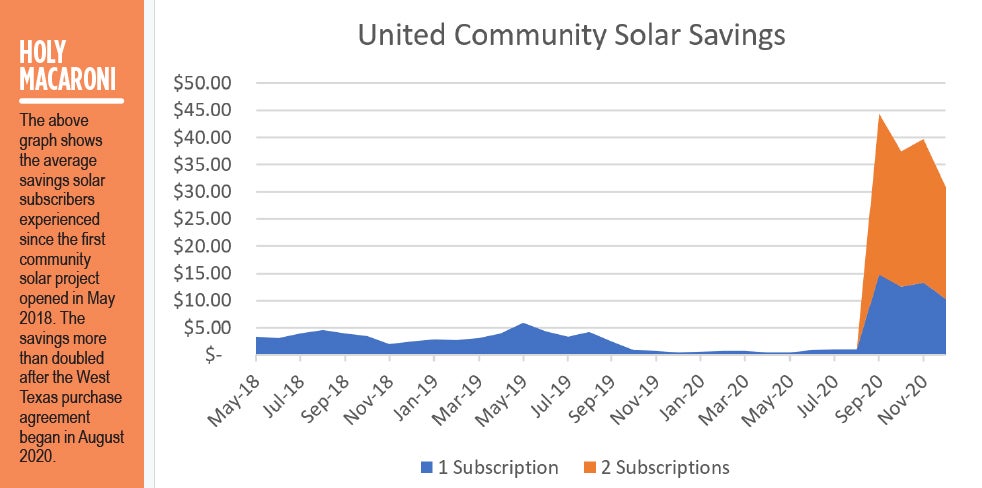 "From the start, United Community Solar has been about offering reliable alternative energy sources and cost savings to United members," Smallwood said. "Community solar stands at the very core of what we promise in our mission statement, which is to provide members with exceptional service and value.
"If you look at those who signed up since the beginning, they've saved about $78 for one subscription. Members who qualified and signed-up for two subscriptions, when it was made available in August, have saved more than $115. And all they had to do was call to request it or sign up on our website. There are no fees to sign up for community solar, and there is no installation of any equipment. It doesn't get much easier than that. Once this project is in place, we can offer those savings to even more members."
United partnered with Navisun and TurningPoint Energy on this project, Smallwood  said, and this is the second community solar project partnership between United and TurningPoint.
"TurningPoint Energy is excited to deliver on a second community solar project for United and support its customers' energy needs with sustainable energy," said Jared Schoch, President of TurningPoint Energy. "Our past experience and relationship with Navisun as a solar investor and owner-operator was critical to actualizing this project and preserving the best project economics for United."
Navisun, a solar independent power producer, will finance, build, own and operate the Erath solar project.
"Navisun is proud to invest in Erath County and help bring more low-cost, clean solar energy to local communities," said John Malloy, co-founder and managing partner of Navisun. "We have completed numerous community solar projects nationally and understand how critical partnerships are to the successful completion of projects like Erath Solar. We appreciate the opportunity to work with TurningPoint Energy again and serve United and its community."
Blake Beavers, United's vice president of power supply, said residential members can subscribe to a 2-kW portion of the overall 36 MWs. With the additional subscriptions, many members now qualify for two 2-kW subscriptions, allowing them to sign up for 4-kW, thereby doubling their monthly savings.
"Basically, the savings from United Community Solar is free money," Beavers said. "In the past three months, participating members received an average monthly savings of $13 per subscription, or $26 for two subscriptions. While that doesn't sound like much in a month, it adds up in a year, and continues doing so into the future."
To qualify for one 2-kW subscription, the member must be on United's single-phase residential rate and average at least 500 kWh a month over a 12-month period. A member with an average monthly usage of at least 1,000 kWh a month can qualify for two 2-kW subscriptions (4 kW total).
There are no upfront costs to join, no contracts to sign, no insurance is required, and the potential savings begin the first month members' sign up for the project. Members are asked to join for a minimum of 12 months, and with the understanding that solar rate subscriptions are limited to only one account per member. Members must request to opt in and out of the program, he said.  
United Community Solar has been a success since its launch in May 2018, when the first members began filling the initial 5,000 subscriptions. Though current solar rate offerings are already providing power cost savings to United members, new United solar assets are expected to provide co-op members more noticeable, beneficial  savings as wholesale power costs increase.
Officials at United decided to increase the community solar program's capacity to support the growing interest and future needs of United members.
"Solar has proven to be a great resource to include in United's energy mix, and we will continue to expand our solar portfolio when we see a need and the economic aspects make sense to do so," Beavers said. "Solar will continue to grow in Texas and will play a valuable role in ERCOT's generation resource mix."
For more information or to sign up, call  any United office or visit our solar sign-up page here.