Jack Frost Can Steal Energy and Create
Lost Fortunes for Many United Members.
Here's How to Stop Old Man Winter. by RYAN HOERNER
Winter is upon us, and with the fluctuating temperatures, energy usage could rise significantly.
Taking the appropriate steps toward maximizing energy efficiency can correlate to quite a few extra dollars in consumers' pockets. While every home is different, there are a few proven energy efficiency measures that will pay out dividends for many years to come.  
Heating Systems
Heating is by far the largest factor of an energy bill in an all-electric home, contributing to upwards of 60 percent of a homes' monthly usage. While there have been great strides made over the past decade or two in the innovation of heat pump technology, most homes in Texas and throughout the southern United States utilize electric resistance heating. Electric resistance heat is 100 percent energy efficient, meaning that all the electricity consumed is converted into heat.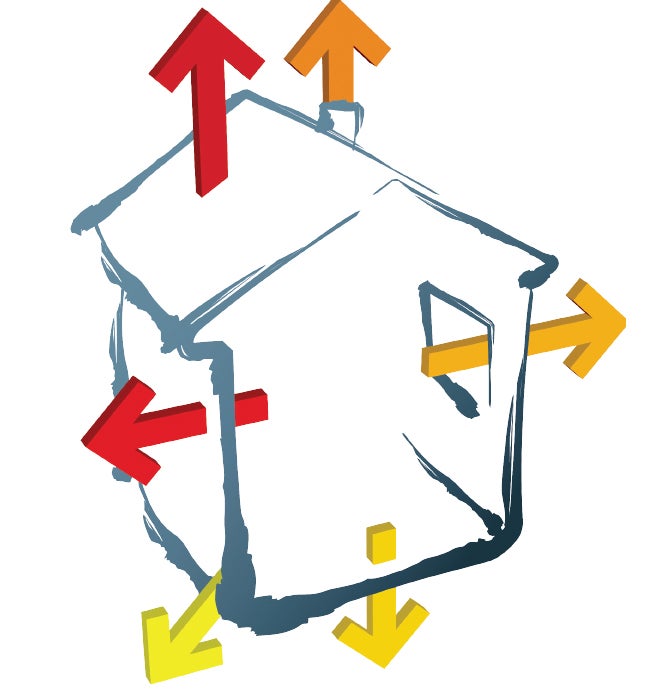 However, the amount of electricity consumed is large. On average, electric resistance heaters consume three to four times the amount of electricity central heat pumps or central air-conditioning units consume. If replacing an AC unit with a heat pump is out of one's budget, adjusting thermostat settings is a great way to decrease electrical consumption. United recommends setting the heat to 68 degrees or lower during the winter. Each degree higher than 68 degrees  will equate to an additional 5 percent on the energy bill. If consumers can remain comfortable within a home at these decreased temperatures, the reduced runtime of their heat will pay off over the course of winter.
Even if a home is equipped with a heat pump, keeping the thermostat at a lower setting will also aid in lowering energy consumption. Emergency or auxiliary heat is electric resistance heating, which will activate as backup to a heat pump under a few circumstances.
First, to reap the energy benefits of the heat pump, make sure the thermostat is set to heat, not emergency or auxiliary heat. Secondly, raising the thermostat several degrees at a time will cause the system to  automatically default to using electric resistance heating to heat the home quickly. Be sure to only raise the thermostat one or two degrees at a time to allow the outdoor unit, or heat pump, to heat the home. Lastly, heat pumps operate when the ambient temperature is above freezing and will default to electric resistance heat when the temperature is below freezing.
According to the Department of Energy, having a heat pump can easily cut energy usage by 50 percent in the winter when compared to electric resistance heating.
If there are only a few spaces within a home being occupied at night, consider space heaters for each utilized room. Contrary to popular belief, space heaters that are used in conjunction with a lowered thermostat setting for the central HVAC system can provide considerable savings.
To put this in perspective, a common household space heater uses 1,500 watts where as central electric resistance heaters use anywhere from 12,000 to 28,000 watts, depending on its size. These space heaters can keep a few bedrooms in a home warm while the unused spaces in the home are cooler. Make sure to limit the runtime on these space heaters as much as possible, as if they are being used around the clock, they could ultimately increase winter bills.
Another prevalent method of energy loss within a home is a fireplace. Fireplaces make a great family gathering spot within a home, but when used in conjunction with central heat, they can lead to a significant heat loss and increased cost.
While using the fireplace, make sure to turn off or lower the central heat to 50 to 55 degrees and close all doors that separate the fireplace from other areas of a home. This will keep the heat from continuously running while the fireplace displaces most of the conditioned air up the chimney. Overall, routinely lighting a fireplace is an inefficient method of keeping the valuable heat within the home and will translate into higher winter energy bills.
Last, but certainly not least, change the HVAC system's filters on a regular basis and take advantage of United's HVAC tune-up rebate. Clean filters will allow for more efficient heating and cooling and may even extend the life of the system. Additionally, having an HVAC professional inspect the system before summer and winter gives consumers peace of mind that their system is running at its upmost efficiency.
United will help members with up to $100 per year per residential system with the cooperative's tune-up rebate. Feel free to call any United office with questions or visit the rebates page.
Infiltration/Insulation
Thermodynamics reveals  that hot air chases cold air. As temperatures decrease outside, warm air within the home will find any possible route to escape. Sealing common areas of leakage can help keep the home warmer while minimizing the run-time of the heating unit.
Doors and windows are common areas of leakage in the thermal envelope of the home. Making sure exterior doors are weather-stripped can limit the air leakage out of the  home during the winter months. Properly caulked windows can improve energy efficiency and can be accomplished inexpensively.
Replacing windows can be an extensive endeavor, so United recommends installing a window film insulator if windows are exhibiting signs of age. These window films, which seal to the interior of a homes' windows, act as an additional pane of glass for a fraction of the cost. Another way to make a home more efficient is opening window shades or blinds during the day to allow the sunlight to naturally heat the home.
Other common leakage areas within a home include plumbing penetrations and attic entrances. Every plumbing entry point through a wall or floor should be completely sealed using spray foam. Additionally, all attic entrances within the home should be insulated and weather-stripped to minimize as much conditioned air from escaping as possible.
Of course, insulation should be a primary consideration when seeking winter energy efficiency, and for good reason. Insulation presents a valuable thermal barrier between the conditioned interior and unconditioned exterior. Having insufficient insulation in a home can lead to unnecessary wear and tear on a heating system as it struggles to maintain a constant interior temperature.
Members with questions regarding the insulation of their homes should call United and speak to an energy advisor, who can schedule an energy audit, as well as advise members about how they might qualify for an insulation rebate if they have less than eight inches of existing attic insulation.
Winter can be a harsh reality of how inefficient a home is and, for many, will contribute to the highest energy bills of the year. Making conscious decisions to lower usage and being informed on how much energy appliances use are the first steps in tackling these cold North Texas winter snaps.
United's energy experts are always here to assist members in lowering their energy usage and improving the energy efficiency of their homes.