Smart Shoppers Choose Smart Gifts To Save Energy
and Energy Dollars In the Coming New Year by ERIC COMPTON
United has a few practical gift ideas that can bring joy and many happy returns (cash savings) throughout the years.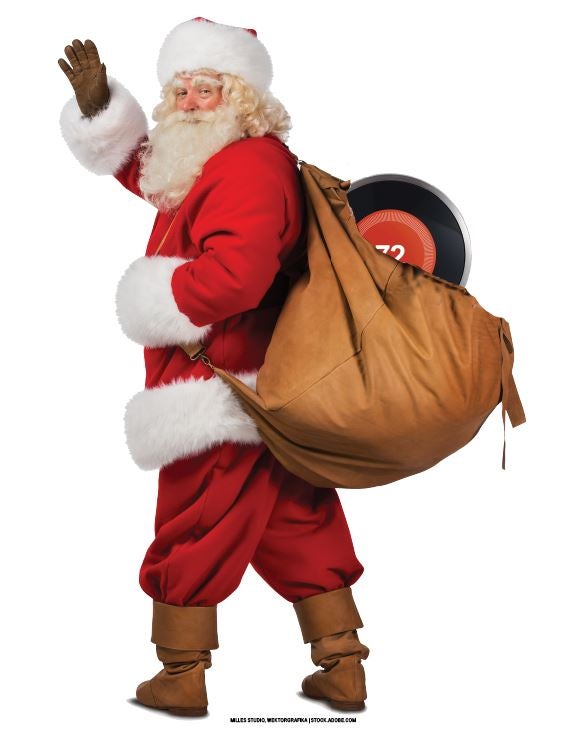 The electric industry has witnessed considerable advancements in how technology is incorporated into the average household in the past five years, and these can allow consumers to monitor and control almost every appliance and device. The term "Smart Home" means having the ability to monitor and control many functions within that home, and these ideas help consumers smarten-up their homesteads quickly and affordably.
Smart/Learning Thermostats
A smart/learning thermostat is a perfect example of a great gift idea for any Smart Home enthusiast. Multiple options exist for smart thermostats, but the key feature that separates them is if it can learn the heating and cooling habits of the household and automatically determine and set residential comfort levels that are more energy efficient. According to Consumer Reports, the best smart thermostats of 2020 are:
Ecobee Smart with Voice control—The Ecobee smart thermostat has many features that make it one of most desirable smart learning thermostats on the market. It features:
Remote monitoring and control through Ecobee app

Programmable

Alexa built-in functionality

Touch-screen interface

Occupancy sensor adjusts temperature set points if residence is not occupied

Learns and adapts to household routine

Comes with one smart sensor to help manage temperatures in a specific room

Available at most home improvement stores or online for $249.
Google Nest thermostat—The Google Nest thermostat is one of the most widely used thermostats on the market. Google Nest was a pioneer in developing thermostat learning capabilities, and these devices:
Monitor and control through Google Nest App

Are programmable

Feature touch-screen interface

Occupancy sensor to adjust temperature setpoints if residence is not occupied

Adapt to household routine

Notifies the thermostat when occupants are away, and thermostat will adjust to away settings with Home/Away feature

Feature sleek round design with seven color options

Are available at most home improvement stores or online. Prices vary by models between $160 to $250. Further rebates exist for United members.
Smart Plugs
Smart plugs are a cost-effective way to make a home smarter. With smart plugs, any device that plugs into a wall outlet can be controlled or monitored from the convenience of a smart phone, providing flexibility, remote control and greater safety. The plugs require a WiFi network connection to control or monitor the connected appliance or device, and the plug's proximity to the router may cause an issue with its operation.
A host of manufacturers options for smart plugs exist.  Smart power strips fit the bill when multiple devices are plugged in at once. Options vary according to the control and monitoring levels they provide. Some can monitor and control each individual device that is plugged into the power strip. Cheaper models are limited to monitoring and controlling the entire strip as one device. Below are a few options for smart plugs, and power strips.  
Wyze—These smart plugs integrate easily with other Wyze products, such as sensors that provide motion-detection capability and security cameras. Wyze is recognized as the best value choice, being one of the lower-cost smart plug options with features such as:
Monitoring or controlling from anywhere through mobile app

Controlling devices by voice with Google Assistance or Alexa

Capability to set schedules for devices to turn on or off

Available at most home improvement and retail stores or online for $19.97 (package includes two plugs).
TP-Link Wi-Fi Smart Power Strip—These strips can control multiple devices in small, contained spaces with the added benefit of surge-control protection. Other features include:
Independent monitoring and control of each of the six plugs and three USB ports

Monitoring and Controling strip elements through the Kasa smart app

Voice control through Alexa, Google Assistant and Microsoft Cortana

Setting a schedule for each individual plug and USB port

Available at most big box home improvement retail outlets or online for $79.99.
Home Energy Monitoring System
Home Energy monitoring systems vary by the level of monitoring and the amount of information reported. Today, many security companies also provide energy-monitoring service options that allow insight on home energy consumption.
For those who do not wish to pay a monthly subscription and would prefer to purchase a device that would provide similar information, there are other options available. One is a device that can be installed at the breaker panel level. Even though the system is being monitored at the electric service panel, the technology can decipher what equipment is on and consuming energy by identifying the unique electrical signals of the device.  These monitoring systems are Wi-fi compatible and provide monitoring convenience using a mobile app.  The Sense home energy monitoring system is one option that has been proven reliable and accurate. Below are a few features of the Sense device.
Sense—This home-energy monitoring system is an option that provides granular information on the household's consumption patterns. The system can also monitor solar production, for those who have installed solar technology at their residence. Other features include:
Usage trends by day, week, month, and billing cycle

Development of goals or targets to improve consumption patterns

Monitoring device activity in real-time

Programmable alerts and parameters for energy consumption

Device integration with Alexa, Google Assistant, smart plugs, lighting and others

Monitored through any mobile device through the Sense app  

Available at most home improvement stores or online for $299 or $349 for the solar option
For more information about energy efficiency or to request a free in-home energy audit today, please call a local United office.