Laura's Wrath Handed Louisiana
Co-op Total Blackout Status by JOHN DAVIS
United Linemen go to Beauregard's Aid after Hurricane Laura
The Atlantic's hurricane season set records in 2020. "Hyperactive" might classify the reality of what forecasters feared in their springtime predictive modeling. The season started June 1 and produced a whopping 23 named storms through Sept. 21.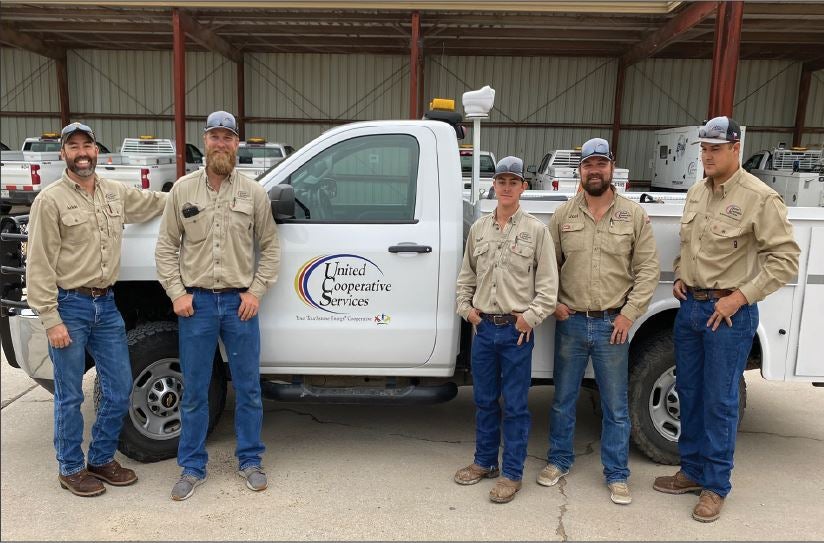 That's double the average.
Luckily, forecasters say records haven't been set for intensity. As of press time, that is. The season doesn't end until Nov. 30. But that doesn't mean storms haven't caused considerable damage to electric co-op providers and disruption of service to their members.
The initial Laura restoration at Texas-based Jasper-Newton Electric Cooperative was reported in the August newsletter. United has since dispatched two more teams in September. We caught up with crews to find out why they went and what they found after Hurricane Laura, a Category 4 storm, came ashore on the Texas/Louisiana border and plunged thousands into darkness.
Laura Tangles with Texas
No two ways about it. Hurricane Laura set some records.
Measuring by maximum sustained winds, the deadly storm that came ashore Aug. 27 tied the 1856 Last Island Hurricane as the strongest recorded hurricane to make landfall in the state of Louisiana. Though the storm quickly weakened in intensity as it traveled inland, it claimed 77 lives and created $10.1 billion in damage.
Not only did she roar into Louisiana, but  also she served a glancing blow to East Texas that nearly took out all the members of Jasper-Newton Electric Cooperative based in Kirbyville.
Joey Davis, the co-op's director of member relations, said his co-op was nearly blacked out by Laura's fierce winds, and those winds caused most of the damage they faced.
"We watched it coming into Louisiana," he said. "It was probably about 2 or 3 o'clock in morning when we started seeing the wind starting to affect our southern parts," he said. "It started to affect Kirbyville, our corporate headquarters, around 3 or 4 o'clock. Hurricane Category 2 winds were what we were feeling in certain places. We have more than 21,000 without power. We lost transmission, but we were able to keep some of it up in the northern part of our system.  It caused damaging winds and tornadoes, a lot of trees down and broken poles."
Newton County, which abuts the Sabine River and the Louisiana border, was hardest hit, he said. All electric services affected by Hurricane Laura were restored on Sept. 8th and took 12 days to complete.
"We continue to work with members who experienced damage to their electric service that requires them to make the necessary repairs," he said.
When United's  team arrived Aug. 28 in the piney forests that comprise Jasper-Newton's service territory, Josh Koopmann, a journeyman lineman from Meridian, said he and his four colleagues found most structures were fine, but the wind had caused lots of damage to pine trees, power lines and poles.  His team stayed until Sept. 5
"I'd say we made major headway on the first night we were there," Koopmann said. "We were in this town called Roganville. We got it pretty much completely restored in the first three days. Then, we went on to some bigger stuff. Comanche Electric Cooperative teamed up with us, and they're right next to us in Stephenville. We rebuilt a lot of three-phase circuits and really started cooking and making headway then."
Davis said the co-op could not have restored as many members so quickly without assistance from the 20 other co-ops who came to the rescue.
"In an outage event such as Hurricane Laura, the benefit of electric cooperatives assisting in restoration is crucial on many levels," he said. "Without the assistance from electric cooperatives, our restoration efforts would have been more difficult. We had approximately 150 cooperative employees assisting us in restoring power to our members. Their skill set, equipment and work ethic provided us with the support to restore power to our members."
Koopmann said he noticed the appreciation from Jasper-Newton's members the most. It might be because these members live on the coast and are more used to long period outages, he said, but their excitement was palpable when line crews showed up in an affected area.
"This is probably, for me, one of the better restorations we've been on," Koopmann said. "We met a lot of good folks. I remember we were able to get to a restaurant before it closed at 9, and there were about four waitresses. They all chipped in $20 bucks to buy our meal. It's stuff like that where you realize how much people really do appreciate you. People see you, and they know they're going to get lights on pretty soon."
Louisiana After Laura
For the second time in their history, a hurricane caused a complete blackout at Beauregard Electric Cooperative Inc.
Kay Fox, vice president of marketing and member services at the Louisiana. co-op, said that all 43,000 members were without power following Laura's arrival. Beauregard's territory sits directly across the Sabine River from Jasper-Newton.
The only other blackout experience the co-op had was with Hurricane Rita in 2005, and that was the measuring stick by which folks in Louisiana tend to measure future oncoming storms.
Now, she said, it appears Hurricane Rita has passed the mantle to Laura.
It took two and a half weeks to restore 59 percent of the membership, she said. But as Hurricane Sally bore down on Eastern Louisiana, Mississippi and Alabama, the restoration crews assisting Beauregard had to leave to prepare for their own storm damage.
Ben Perry, district foreman for the Possum Kingdom Lake area, said the number of downed trees seemed more than he'd seen in similar storm damaged areas. Many were uprooted and snapped off, and many homes had blue tarps covering holes in roofs, windows and walls.
"The biggest challenges were terrain and debris," Perry said. "Working up and down through ditches, up and over fences, and constantly tripping and pushing through brush and debris was an all-day thing. We also had to deal with traffic around us. Lots of people were going to and from work, stopping to ask us how much longer, and expressing thanks to us for working to get them back on."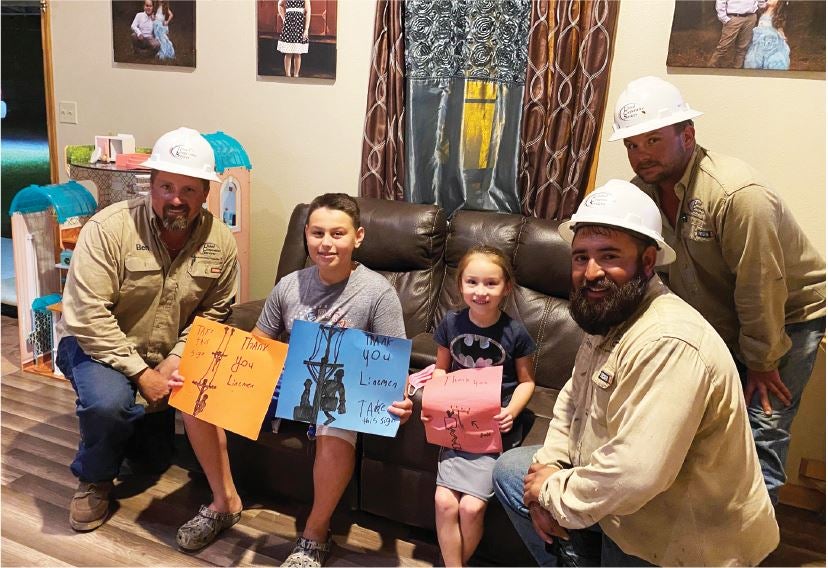 Perry and his team stayed from Sept. 16-25 in a tent city by an airport strip on the west side of DeRidder, Louisiana. It consisted of two large sleeping tents, a food tent and multiple bathroom and shower trailers.
"The second night we were able to get a section of 40-50 meters turned on. Of those, there was a family who had made us some signs thanking us for getting their power back on. They wanted to take pictures with us, and the gentleman told us he was going to cook us dinner the next night. We told him thank you, have a good night, and left to head back. The next day, we were working further down the line away from him, and he drove down to find us and make sure we were coming to eat. We, of course, told him we would and were able to get over there that evening to find a feast. He had cooked T-bone steaks, pork chops, boudin sausage, baked beans and several other dishes. He welcomed us into his home and treated us like family. He told us to stop by anytime day or night. If we needed anything, just to swing by and let him know. That made the whole trip worth it."
Offering help to neighboring co-ops isn't just the neighborly thing to do, said Cameron Smallwood, CEO of United. It also is one of the guiding principles that cooperatives follow.
"Because the next hurricane came in, that left Beauregard without the help they needed," Smallwood said. "So, they reached out to their Texas counterparts and asked 'hey, could you help us?' That's why we sent our crews to Louisiana. At United, we really enjoy when we have a problem that cooperatives reach out to us and send crews to help us out. We've experience that several times over the last decade with the ice storm and the fires. When folks call us, we want to answer that call, because it's all about cooperation among  cooperatives helping each other out. That's what we did and that's what we are going to continue to do."
As an example of damage intensity, Fox said Hurricane Rita took out 1,200 poles. By contrast, Laura took out more than 4,500.
"Overall on the outage, we restored 91 percent by Sept. 24," she said. "Some of the poles were so destroyed that we actually had to use GPS systems just to find the location of where they were originally. We are so blessed that we had the teams from other co-ops from other states. They've jumped in and really know what it's like to go through a process like this. It's really helped our co-op."
Brad Morrow, a lineman from Meridian, said he was looking forward to getting people's lights back on. He was one of five crew members who left Sept. 24 as the relief crew for the first team.
"You can just see the relief and joy in people's eyes," Morrow said. "I think it's a good opportunity for co-ops to help others as part of our seven guiding principles. Without effort from other co-ops, these people could be out for two, three possibly four months if it was just that one entity trying to get it on by themselves."