United Announces Next Phase In
War Against Weedy Wilderness to
Promote Electric Reliability
A small, brightly outfitted army gathered along a United right-of-way in early September and listened attentively to attack plan essentials as another phase in the cooperative's integrated vegetation management (IVM) plan was launched against brush, climbing vines and small trees that would inevitably grow into power lines.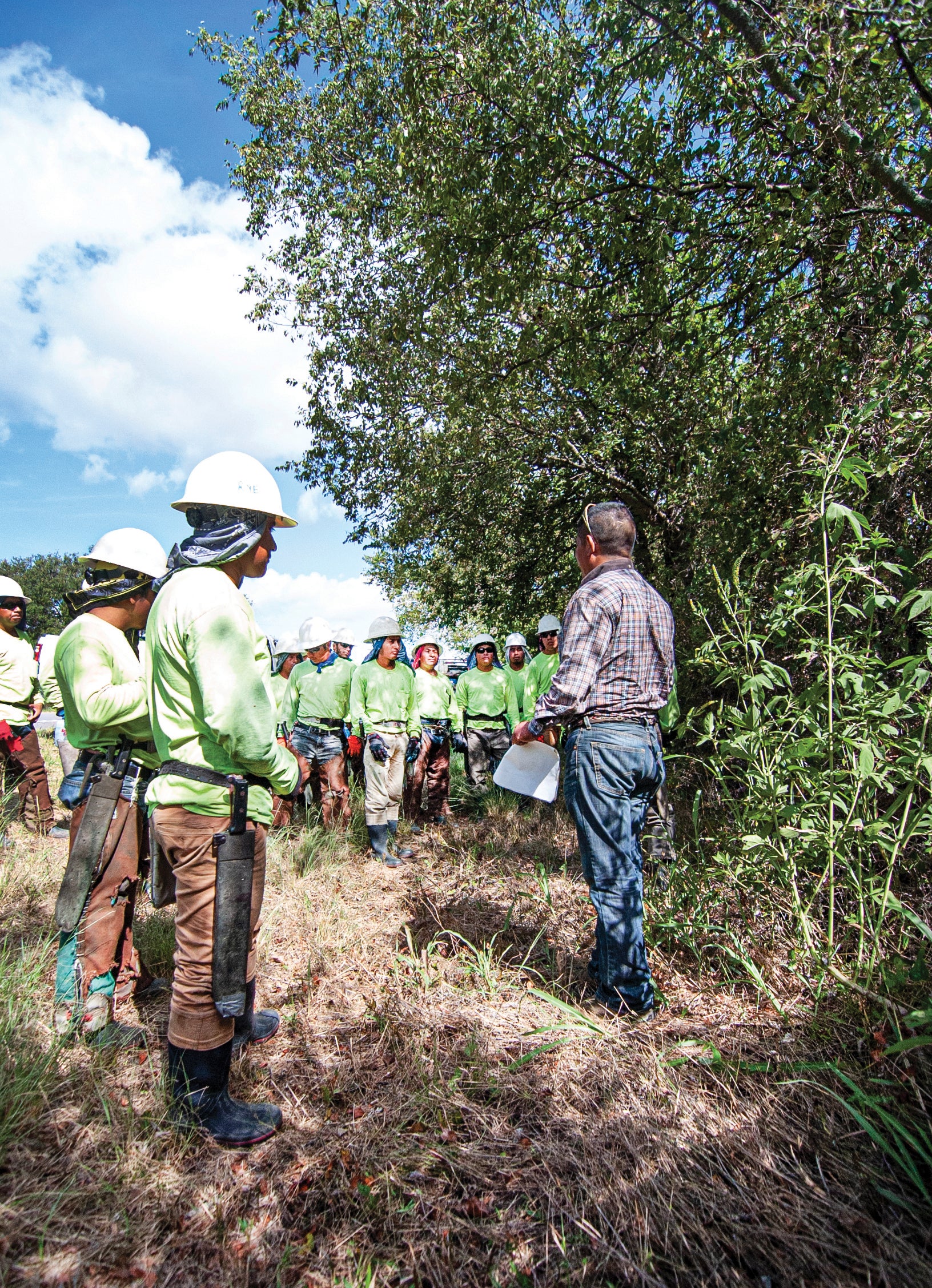 Armed with sharpened machetes, backpack sprayers or handheld pressurized spray bottles, these jungle soldiers exited their battle briefing and  basically booted their way along a pre-approved 350-mile stretch of United's overhead distribution system in eight days. They sprayed only the bottom 12-15 inches  and root collars of nuisance trees and brushy undergrowth  (those not having larger than a 4-inch diameter at chest height) that were growing within 15 feet on either side of  the cooperative's utility easement.
The basal bark and stem spraying treatments apply oil-soluble herbicide mixed with an oil carrier instead of water. It's applied at low pressure to avoid herbicide drift. Such spray treatments are never conducted around standing water sources, in front of member residences other than by member request, and member requests not to have fence lines sprayed are honored—as were indicated in some instances on crew maps during this campaign.
Read More About Our
Vegetation Management Program (IVM)
"Using selective herbicide application was always going to be an important facet of our new proactive strategy and investment in vegetation management going forward, as is communicating with members about what we're doing, why we're doing it and how we plan to do it," said Quentin Howard, senior vice president of system engineering. "The herbicide program will concentrate on areas where circuit mechanical cutting has already occurred, and it also will address any start-up growth that has emerged or that wasn't mature enough to cut when some of those 'hot spots' (areas that are prone to have more reliability challenges due to vegetation) were getting cut."
One of the biggest influences on service reliability that United members might not be aware of or even think about is vegetation management, he said. And in a way, the goal is for members to not have to think about it. That's because vegetation management ensures members' homes and businesses remain powered without interruption from outages caused by trees touching or falling on lines. Vegetation management, executed properly, identifies these hazard trees and other vegetation that poses risks to power distribution and addresses them scientifically and methodically.
"We believe we're on the right track, and that selective herbicide treatments will be an important tool in extending the time between cutting cycles and reducing the overall future cost when the areas are revisited," Howard said. "While the results of the new emphasis and strategy we've developed within the IVM program today may not always be visible, the data shows we are gaining momentum—which will make our continuing investment in vegetation management more manageable in the future, and provide our distribution system greater immunity to weather effects."