Providing Exceptional Service, Value
Noted in Latest Member Satisfaction Score by JOHN DAVIS
The mobile home she rented in the countryside seemed like the perfect place to live.That is, until she received her electric bill.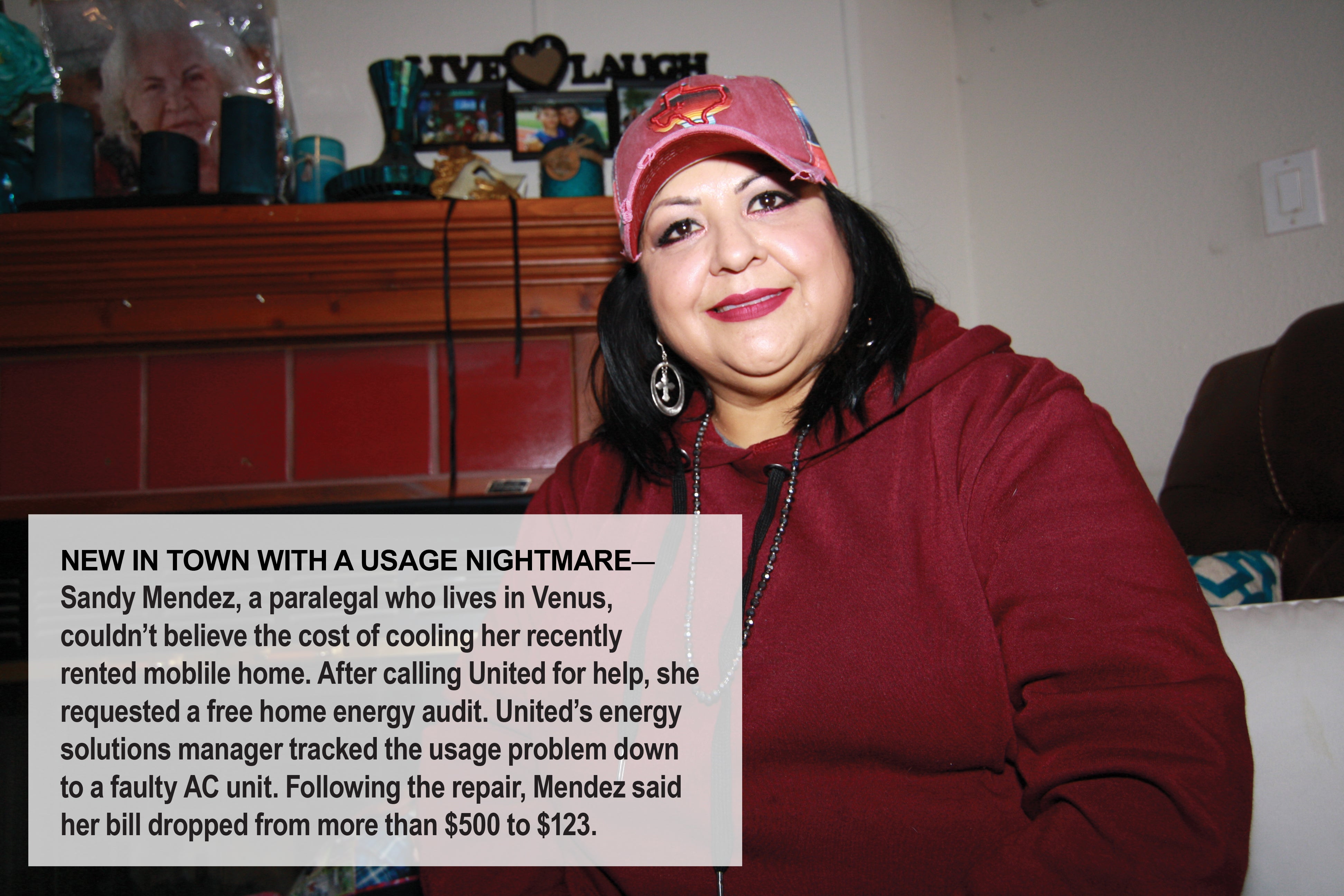 August was hot, but something seemed wrong to Sandy Mendez, a paralegal who lives in Venus. To have racked up a $500 bill within the first month living at her new address seemed implausible.
That's when she said she decided to call United and, after doing so, discovered the problem for the high bills as well as the cooperative's commitment to delivering exceptional service and value to its membership.
"I mean, it's the bill," she said. "I have to pay it. But that's somebody's car payment. We knew there was no way we were using that much. I questioned it, and I wondered if I was being double-billed somehow. That's when the girl I talked to suggested a free home energy audit. It was like, 'Oh!' I was pleasantly surprised."
Mendez was not the only co-op member pleased with their service. Overall, members gave United a score of 90 for the third quarter of the 2019 American Customer Satisfaction Index (ACSI®). This was the third quarter in a row for United to have scored a 90 or above, which kept the cooperative's average for the past four quarters well above scores earned this year by electric cooperatives grouped collectively by Touchstone Energy Cooperatives, the national brand alliance for electric cooperatives.
The snapshot between July and September also provided the co-op with an honest appraisal of specific areas that can still be perfected in its mission to deliver exceptional service and value.
For Mendez, coming home to her quiet little patch of Johnson County is the perfect way to end the day's travails after working in the hustle and bustle of downtown Dallas. When she found the rental property earlier this year, she thought it would be the perfect place for her, her 12-year-old son and her white husky mix, Snow, to call home.
After signing the lease, Mendez said the landlord had to make an adjustment to the initial deposit because the high bills reported by the previous tenants. Once August and then September passed with impossibly high bills, she said she thought she should call her power provider to see if her home might be connected to a neighbor's as well, or the possibility she might be paying for both homes' energy usage.
Mendez made an appointment with United Energy Solutions Manager Seth Rosser, who began poring over the home's usage and looking for a culprit.
 "Ms. Mendez did say that the air-conditioning unit seemed to run non-stop," Rosser said. "The air coming out of the vents was not as cold as it should have been.  There was not a big difference between the temperature going into the system, and the air coming out of the system, after it was supposedly conditioned.  The refrigerant line also was cool to the touch, not cold and sweating as it should have been. I suspected a stuck heater valve might have been the culprit, although I wasn't sure."
Rosser also found the air conditioner was using more power than it should when operating. He noted a baseline of energy usage from the home when the air-conditioner was in the off position, then calculated what the air conditioner was supposed to be using when it was on.  When he turned it on, the AC unit used considerably more power than it should, he said.      
"Seth was really nice," Mendez said. "The people who rented before me never figured it out and quit using the AC. I understand that's why they moved out. They didn't call to see if there was a problem. Maybe they didn't know that someone like Seth could come out and see what could be using up so much electricity. The AC unit had to be replaced. If Seth had not gone to check on that, I'd still be paying $500 this month. My bill went from $500 to $123, and he gave me more tips on how to reduce the amount of energy I use. I learned a lot about energy use. He called to let me know he was on his way. After the audit, he said, 'Here's my business card. You call me on the weekend if you need to.'  He made himself available. That was pretty nice."
Rosser said while finding issues with high energy usage is part of his job, educating members on how they can further reduce their bills is also part of each energy audit.
"I left her with a checklist of recommendations for the home that she could think about implementing to lower her energy usage even further," he said. "She was very receptive to what I was telling her. I could tell that she trusted me and the information I gave her. She just wanted and needed help, and I was more than happy to do that. I'm glad we figured it out for her."
United CEO Cameron Smallwood said the recent 90 score comes from daily examples such as Mendez's experience where United employees continuously put members first.
That's why it's important for United members to agree to give up a brief amount of personal time in their busy schedules to participate in regular quarterly member satisfaction surveys. While most comments are positive, others play an important role in improvements the cooperative continually tweak in its service delivery to them, he said.
"Positive member reviews may be a regular occurrence, but we never take them for granted," Cameron said. "We also never concentrate solely on the positive while ignoring the constructive criticism we also receive. When you have an organization, such as United, that is built on membership service principles, you must constantly evaluate how well our goal in providing superlative service experience is being met. The 90 we received demonstrates our cooperative's commitment to serving the membership. Compared to other co-ops and for-profit utilities, we're still at the top of our field. And we will continue raising the bar higher each time."
Scott J. Saff is manager of research services for North Carolina-based TSE Services. He supervises day-to-day operations on the survey and coordinates data collection, analysis and reporting activities.
"There are very few organizations, in any industry, that achieve an ACSI score of 90 or above," Saff said. "It is an outstanding achievement and a sign that the organization is providing excellent customer service to their consumers. Nearly 70 electric cooperatives nationwide participate in this quarterly assessment of member satisfaction. United's ACSI score is significantly higher than scores for all energy sector entities referenced in the report."
The American Customer Satisfaction Index (ACSI®) analyzes customer satisfaction for 10 economic sectors and 46 key industries that together represent a broad swath of the national economy. The ACSI scientific model provides key insights into the entire customer experience as well as indications of micro and macroeconomic performance.
The ACSI measures customer satisfaction and retention using four standardized questions. The four questions focus on the following attributes: overall satisfaction, confirmation of expectations, comparison to an ideal utility company and intention to choose said utility again.  Through TSE Services data collection and the ACSI's satisfaction metrics, United Cooperative Services receives a proven, independent third-party assessment of member feedback.
The ACSI reported this March that nearly every investor-owned energy utility had registered weaker customer satisfaction levels this year. Overall, consumer satisfaction across the industry declined 2.7 percent—to an ACSI score of 73—as reported in the organization's Energy Utility Reports 2018-2019. Cooperative utilities continue to have the highest customer satisfaction despite sliding 2.6 percent to 75.
Online surveys have been part of the survey since 2018, he said, and United's most recent ACSI scoring featured a higher percentage of online surveys than ever before. Approximately 50 percent of all the surveys conducted in the TSE Services Satisfaction Tracking System are completed online and are delivered through an email invitation.  
The member clicks on a link to the survey in the email and can take the survey at a time convenient to their schedule.  The online survey also provides members the ability to complete the questionnaire on any device.
"Online surveys are becoming more mainstream and provide better coverage of the entire membership," he said. "Phone surveys are becoming increasingly difficult and expensive to complete.  The almost universal coverage of smartphones makes it easier for members to screen calls and harder for telephone interviewers to complete their surveys. Even so, it's still important for all members to take the time to give their input, whether through the telephone or online."
As for Mendez, she said she was very happy with the personal, first-hand experience she had with Rosser and United Cooperative Services.
"I never even thought the sort of  help I received would be offered by any company," Mendez said. "It's not something you think is there. It sure means a lot, especially to a single mother."